The High Winds Fund
The High Winds Fund was established in 1956 through an initial gift to Macalester College from DeWitt Wallace to prevent the problems of urban blight he had seen in other college and university neighborhoods. 
Our mission is to maintain and improve the beauty, serenity, and security of the area surrounding the campus of Macalester College.
Macalester College is a unique institution – a nationally respected liberal arts college in the heart of a thriving urban environment. The High Winds Fund helps to support and improve that critical environment for the benefit of Macalester's students, faculty, staff, and neighbors.
The High Winds Fund is assisting in the promotion of: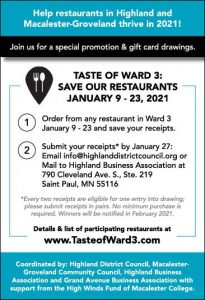 All you need to do is eat at local, Ward 3 restaurants and turn in your receipts for a chance to win!  All the details and links can be found on the Taste of Ward 3 website.
Please see the Macalester Events Page for more information about what is happening on campus. We frequently invite our neighbors to join us. The best way to know if an event is open to the public is to add the "public" filter in the lower right corner of the events page.