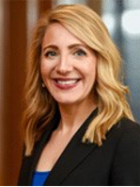 High Winds Fund Committee Member

Erin Sindberg Porter helps clients achieve results through innovative strategy and practical advice grounded in a deep understanding of each client's unique circumstance and objectives. She represents clients in complex litigation, federal government investigations, and state attorney general enforcement matters and has extensive experience conducting internal investigations. Erin has substantial experience across industries, representing public and private companies in the health care, food, financial products and services sectors.
An experienced commercial litigator, Erin has represented clients in state and federal courts in each phase of litigation from pretrial counseling to appeal. Her litigation experience includes multidistrict, multiparty, and consolidated actions. Erin also assists clients facing regulatory and compliance matters, responding to government subpoenas, conducting investigations, and representing clients in administrative hearings and civil and criminal lawsuits.
In 2020, Minnesota Governor Tim Walz appointed Erin as Chair of Minnesota's Commission on Judicial Selection, a 49-member commission of attorney and non-attorney members who solicit, evaluate, and recommend to the Governor judicial candidates for state district court vacancies.
Erin maintains a robust pro bono practice, representing youth in foster care through the Children's Law Center and representing low-income Minnesotans seeking to enforce their legal rights through the Volunteer Lawyers Network. Erin also serves on the Children's Law Center Board of Directors.
Erin graduated from Macalester College in 2000. Since that time, she has eagerly given back to the College in a variety of ways. Erin served on the Macalester Alumni Board for six years, including as President-Elect/President. Afterwards, Erin joined the Career Development Task Force, has hosted first-year dinners, participated in Reunion and was a Class Agent. Erin returned to St. Paul in 2004 after living in London and Seattle. She lives in Highland Park with her husband and two sons. Macalester is such a prominent college in her family that when she and her husband took their two young children to Harvard's campus several years ago (which is where my husband, father-in-law, and sister-in-law attended undergrad), her children announced on the tour of the campus that they were actually attending Macalester. Sorry, Harvard.