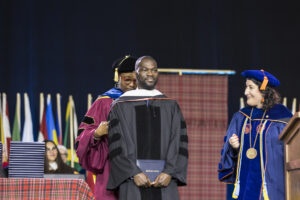 The College awards honorary degrees to formally recognize and honor people for preeminent achievement in their professions or in service to society. Honorary Degree recipients through their character, creativity, and contributions reflect the mission of the college. 
Macalester Honorary Degree recipients demonstrate:   
Leadership or significant accomplishment in civic, spiritual, academic, and/or professional activities      

Commitment to living Macalester values of internationalism, multiculturalism, and service to society  

Unselfish and effective service in their lives and work to the community, the nation and/or the world.  
The Honorary Degree is the highest honor that Macalester College bestows. As such, it is awarded sparingly, and the college selects its recipients with great care. Honorary Degree nominations are received by the Macalester Honorary Degree Committee. This committee is chaired by the Provost with representation from faculty, staff, and students. 
Nominations are accepted on a rolling basis, and the Honorary Degree Committee meets in November and March to consider nominations. A call for nominations will go out to the campus community prior to the fall and spring deadlines.
Candidates selected by the committee are presented to the President of the college. Those approved by the President will be voted on by the faculty, and then sent to the Board of Trustees for final action. Following approval by the Faculty and Trustees, the President may invite an honoree for whatever occasion may be appropriate. 
Nominators will receive a confirmation of the nomination. Given the sensitive nature of the deliberations, however, nominators will be notified of a decision only if the candidate has been invited to receive the Honorary Degree.
Please note that:
Only in exceptional circumstances should a current Trustee, faculty or staff member be considered; 

Honorary degrees will generally not be given in absentia; 

Honorary Degrees may be conferred at Commencement or at other appropriate occasions; 

While Commencement speakers may be nominated and considered, there is no expectation that they be presented with an honorary degree as a matter of course; and 

Nominees of all backgrounds are encouraged. 
If you have questions about eligibility or process, please send an email to [email protected]. 
The most effective nominations are able to show the tangible impact of the nominee's work, and all nomination letters should include: 
The name of the nominee,

A description of how the nominee's work and/or service has been transformative to their field of work or exceptional in their area of service, and 

The ways in which the nominee demonstrates Macalester's values.

Any links that you would like to include to support this nomination. These links may include articles or the candidate's c.v. or resume.

Please limit the use of links provided in support of the nomination. Your own words are the most powerful and persuasive.
Please submit your letter of nomination and any supporting materials to [email protected].
---
2022-23 COMMITTEE MEMBERS
Lisa Anderson-Levy, Executive Vice President & Provost, Chair
Lesley Lavery, faculty member at-large
Theresa Klauer, staff member at-large
Mike McGaghie, EPAG representative
Julie Hurbanis, Assistant Vice President for Marketing and Communications
Sylvia Choi, student representative