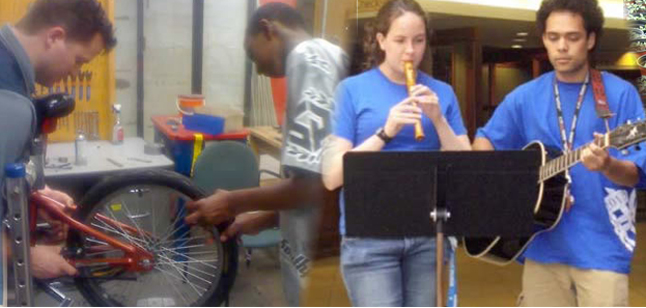 ---
Examples of what others have done with the Action Fund…
Promoting Youth Wellness in the Community
Three Mac students, along with MACTION and Mac Athletics forged an ongoing partnership with Parking Crossing, a Project for Peace in Living (PPL) low-income affordable housing site, in which primarily families of East African descent live. Students purchased athetlic equipment and mural-painting materials, hosted a community painting day, and sponsored two days of community learning about sports with Mac Athletes and the Wellness Center. The effort aimed to encourage children to play outside and learn healthy behaviors, make their outdoor play areas safer and more appealing, and foster community in the apartments.
Software for English Learning Center Computer Lab
The English Learning Center (ELC) computer lab is a place where adult students go to learn computer skills and practice their English. One of the tools used in class is a CD-ROM which provides essential listening, reading, and writing skills in an independent-study format. One Mac student requested funds to help the ELC have access to more copies of this CD to strengthen the computer learning experience for students.
Hubbs Center Lounge/Tutor Room Improvements
One Mac student worked to improve educational resources at St. Paul's Hubbs Center by furnishing the tutor lounge with bilingual dictionaries. This student also coordinated a luncheon on Macalester's campus in an effort to recruit students to volunteer with the Hubbs Center.
Worming Our Way to a Better World
Three Mac students supported the Macalester-Groveland Community Council's neighborhood campaign "Make Dirt Not Waste". They went into the Mac-Groveland neighborhood to educate citizens and install compost systems. These students served as the link between Macalester and the community in this endeavor to bring composting resources to students who live off campus.
Whittier International Elementary School Education Garden
This garden served as a learning lab for Whittier International Elementary School students and for elementary-level youth enrolled in SEED Camp (Summer Educational Enrichment Day Camp) a youth development program offered by Project for Pride in Living. The project fostered collaborative partnerships between Whittier International Elementary School, Bethlehem Community Center/Project for Pride in Living, and Youth Farm and Market Project.
Building Environmental Awareness & Empowerment in Somalian Communities and Schools A Mac student worked to raise environmental awareness and involvement in Somalian communities in the Seward Tower West apartment buildings through education, subsidization, and action. This project involved collaboration with the Minnesota Internship Center, Macalester College Sustainability Department, Civic Engagement Center, and Cooperative Energy Futures.
Jane Addams School Victory Garden
This project involved the planting of a victory garden at Baker Community Center on Saint Paul's West Side. Through the process of creating the garden, students had intentional conversations about culturally significant foods and worked to empower participants at Jane Addams School for Democracy to learn and engage together across cultural and generational differences.
Medicinal Melodies
Two Mac students arranged performances to lift the spirits of the patients at United Hospital in St. Paul. Student volunteers organized and travelled to the hospital once a month.
Mural de Esperanza – Mural of Hope 
This project grew out of one Mac student's volunteer work with East Side Neighborhood Development Program and the domestic abuse program of Casa de Esperanza. Youth from an after school program created drawings based on group discussions about their Latino identity and the individual drawings were combined into one large collage. The collage was transferred to a wall in Plaza Latina (a market housing Latino-owned businesses). Mac volunteers worked with the youth five times, teaching them how to transform their thoughts and interests into art and non-violent forms of expression in general. The supplies were paid for through the Action Fund.
Mounds Park Community Garden
Three Mac students helped create a Community Garden at Mounds Park Elementary school. They used the money to buy supplies to get urban kids involved in gardening, cooking, and art projects that teach the children about the environment. One student said, "The best and coolest things about the program was that older kids who usually avoided any type of organized activities took on leadership positions to help the younger kids."
Immigrant Film Project 
One student created a 30-minute film that explores individual and community responses to the entrance of new immigrant populations into local communities. Churches, schools, and other organizations use the film to prompt discussion of feelings, stereotypes, and fears that play into the way communities respond to new immigrants.
Sabathani Tutor/Mentors Girls Program 
Three Macalester women who mentor at Sabathani Horizon's Youth Program took a group of preteen and teenage inner city girls to a retreat center that uses rope courses and other experiential activities to help the girls develop leadership skills, learn group cooperation, and have fun in a wooded location. The Mac students paid for the ropes course and transportation through the Action Fund.
Hmong Legislative Project 
This project involved bringing legislators together with Hmong ESL students to encourage new immigrants to be civically involved and to educate Senators and Representatives about concerns of these community members. The project included letter writing to encourage literacy and clarifying of the issues, a field trip to the State Capitol, and a trip to Hmong American Partnership by lawmakers. Students wrote an article for the Mac Weekly to educate the campus about the project.