2022 Projects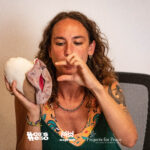 Alice Bruno '23
Sicilia conSenso: Making Peace with Our Bodies by Teaching Consent
Sicily
Alice completed her summer 2022 women-led project aimed to improve sexual health outcomes in Sicily by enhancing the availability of and access to sexual reproductive health information among young Sicilians. The project entailed two main endeavors: first, the creation of a digital campaign tailored to youth; second, a two-day intensive training for teachers and youth workers on sex-education methodologies. By training educators, the project promoted sustainable change by enhancing access in the long run.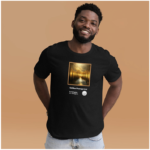 Yosan Worota '23
Fere (Seed) Project: Expanding Educational Access
Originally planned for Khartoum, Sudan, but relocated to Indonesia due to political unrest
Yosan worked with Eritrean refugees on economic and professional empowerment. Refugees learned to design original t-shirts and other merchandise to sell on a collaboratively-created website hereproject.org. "Focusing on the most vulnerable fraction of this demographic, the refugee youth community, initiating projects that support their livelihoods through entrepreneurship and education-access programs promotes self-reliance by providing ways to earn their income," Yosan wrote in her final report. "As a result, self-sufficient young refugees will have the necessary tools to confront critical issues and to be agents of their own fate, which is how I define peace."
2021 Project
Janica Kozina '21
Listen to the Sound of Change: Interethnic Cooperation for Children with Disabilities
Bosnia and Herzegovina
Janica traveled to Bosnia and Herzegovina to work with volunteers who recorded 35 audiobooks for children with neurodevelopmental disabilities. She also launched a free website with Soundcloud so these recordings would continue to be accessible, and engaged more than 20 radio stations who will continue to narrate age-appropriate children's books for the website.
2020 Project
Note: this project was completed in 2021 due to Covid-19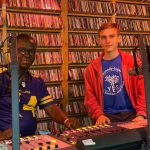 Matthew Wilkinson '22
Community Building with Alight
Twin Cities, Ghana
Initially planned to take place in Ghana during the summer of 2020, Matthew shifted his project due to the pandemic and focused on developing relationships between the Congolese refugee community in the Twin Cities, Alight, and Voice in the Wilderness. By facilitating these connections, local refugee families were able to access rent aid and home supply donations while the two nonprofits also grew in their ability to collaborate in the future. Additionally, Matthew established a new biweekly adult English class, specifically tailored to suit the particularities of the Congolese refugee community, through Voice in the Wilderness as well as Karibuni Minnesota, an educational podcast that elevates Congolese refugee experiences to a general audience.
2019 Project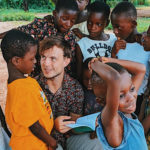 Lukas Matthews '19
Promoting Peace and Hope through Education
Mponwaakrom, Ghana
Lukas partnered with Emmanuel Nimo at Ashesi University for his project with Mponwaakrom primary and secondary students. Since the two main options to make a living in this community of 500 are farming and illegal mining, the goal was to provide the students with the educational resources and facilities to inspire them to excel. "Our repetition of the theme that education would allow more opportunities for self-advocacy and reallocation of resources struck a chord with many in the community. And our presentation of what is possible with books, electricity, and cellular connectivity astounded citizens young and old alike," Lukas wrote in his final report.
2018 Projects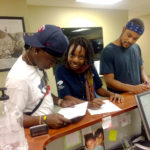 Ayaan Natala '18
We gon' be alright: Introducing Artrepreneurship to Formerly Incarcerated (Ujamaa) Men
St. Paul, Minnesota
Ayaan partnered with Ujaama PLACE, a Minnesota nonprofit dedicated to helping formerly incarcerated men find employment, education and housing opportunities. The project aspired to transform approximately eight African-American men exiting the criminal justice system into "artrepreneurs" — creative individuals who combine art and entrepreneurship for financial autonomy.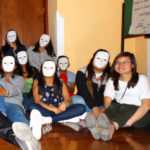 Olivia Chew '19
Mediante Nuestros Ojos: Reimagining a Future Free from Gender-Based Violence
Quito, Ecuador
Olivia's project aimed to address the problem of gender-based and familial violence in the Central District of Quito. Throughout 16 weeks, she worked with 30 youth and young adults ages 13-20 in a series of workshops based on the themes of gender and sexuality as well as a segment on theatre as a therapeutic process. In the long term, empowering the young adults as educators on gender and gender-based violence will continue to fuel the movement against violence.
2017 Projects

Khadidja Ngom '19
Dello Buumu Yaakaar: Restoring Hope among Senegalese Talibés and Albino Children
Senegal
Khadidja partnered with "Les Petites Gouttes" to develop a camp and curriculum for Senegalese children with albinism and for children who must beg in the streets for their income. The camp exposed the children to basic French, computer education, Quranic teachings and skills in crafts, storytelling, and public speaking. The camp brought together 40 participants from Dakar and other regions of the country. They created an inclusive environment where children from vastly different walks of life could learn about each other's stories in order to stop prejudice and discrimination.


Kava Garcia Vasquez '17
Skate into the Sun: Empowering Maputo's Young Women through the Art of Skateboarding
Maputo, Mozambique
Kava partnered with the "Skateboarding Association of Mozambique" (ASM) to create Meninanda, Mozambique's first skateboarding club for girls. With a focus on facilitating peace and empowerment, Meninanda transformed ASM into a youth center girls could learn to skate, do their homework, create art, exchange ideas, and seek mentorship. It also became a space where she and other mentors could have difficult and necessary conversations about gender, poverty, sexism, education and their own ideas for peace.
 2016 Project

Gao Thor '18
Empowering Hmong Women: Peb Muaj Nuj Nqis (We Are Worthy)
Saint Paul, Minnesota and Laos 
Gao launched the "Peb Muaj Nuj Nqis" (We are Worthy) program in an effort to engage Hmong women to recognize their worth, know that they are valued and feel empowered to resist the cultural expectations placed on them. She connected young Hmong women transnationally and created a safe space for them to share their personal narratives surrounding gender inequity in the Hmong culture. Gao used the train the trainer model to support the cohort of Hmong Minnesotans and Hmong Laos in developing facilitation skills. By doing so, she was able to empower change agents who will act as catalysts to provide more spaces for Hmong women to discuss gender inequity in their lives and strengthen the role of women in Hmong culture. She states that this  project "reminded me of how proud I am to be a Hmong woman" and helped her realize "that we have within us the ability to change and shape our culture into one that values women."
2015 Project

Lianna Novitz '18, Haimeng Zhang '18
Seeing Through a New Lens Together
Anhui province, China
Lianna and Haimeng ran a three-week summer camp for middle-school age children in Anhui province, China. The camp focused on artistic self-expression to give the children, who had little access to such services in their rural town, greater self confidence in their schoolwork and inspiration for their futures. The leaders ran photography, music, literature, and drawing classes for approximately 100 students. At the end of the camp, Lianna and Haimeng took a small group of students to Shanghai to see the city and practice communication skills. During the camp, the children benefited from the freedom of expression allowed in the classes and an array of skills that will have a lasting effect on their futures.
2014 Project

Ngan "Jasmine" Nguyen '17
Cultivating Peace:  Virtual Learning Buddy
Rural Vietnam (Vinh Phuc Village)
Jasmine learned that peace can come when committed people work together on a common goal. She recruited local volunteers to help her set up an interactive learning center with 10 computers and 500 books for over 50 rural youth in Vietnam. Volunteers taught small group classes in using technology, public speaking and English. The classes gave the students, ages 10 to 18 years old,  concrete skills and encouragement to dream and plan for their futures.

Valentino Grbavac '15
Reconciliation Through Education
Bosnia and Herzegovina
Valentino's goal was to improve the quality of education for local children and promote multicultural understanding and reconciliation among the students still experiencing the effects of the 1990s war. He worked with others to renovate the school's chemistry classroom into a working lab and to purchase lab supplies for chemistry, physics, and the IT lab. Workshops with youth and a local media campaign promoted the peace-making goals of the project.

Joseph Vandy Sengeh '16, Andrea Grimaldi '16, and Omar Mansour '16
Zinc and Latrines for Peace
Kpetema, Sierra Leone
After the 10-year civil war in Sierra Leone, families returned to their village and have been struggling ever since to rebuild. This team replaced the leaky thatch roofs with zinc roofs on 15 homes, the mosque, and the birth attendant's home before the rainy season started. They also worked with villagers to build additional pit toilets and repair the water pump. Finally, the women learned to make soap and started a soap production business while learning the importance of good hygiene.

Selamawit Gebremariam '13
Green Lake Water Project: Sustainability, Safe Water for All
Ethiopia
Selam worked with the Green Lake community in Ethiopia to help provide reliable access to safe water for their community and clinic. Together they repaired the existing water line, installed a new septic tank, and provided water filter and water safety lessons to families. The community water sanitation educational program ensures the project's stability. Also, providing safe water and new equipment at the clinic as improved residents' health.

Charlotte Fagan '12
The Bike Library for Carishinas
Quito, Ecuador
Charlotte worked with Quito women to create an infrastructure that would lend bicycles, helmets, locks and reflective vests to women through a Bike Library. The Bike Library's goals are to assist low-income women in learning how to use a bike as transportation and to help them purchase their own bikes, thus giving them increased independence. She also organized an urban cyclist mentoring program connecting experienced and inexperienced female riders.
Rayanatou Laouali '12
Peanut Processing and Women: Women's Enterprise and Community Development
Niger
Rayanatou worked with women in her home community in Niger to develop a thriving cooperative that benefited the whole community. She helped the women expand their peanut processing business by teaching them organizational skills, fair pricing, and the importance of hygiene, and provide them with their own peanut stock and other work materials. They registered their cooperative with the major's office as "Self-Sufficient Women," which exemplifies the intention of the project. Profits support the cooperative while providing for their families. She also encouraged school attendance and provided needed school supplies.
Michael Manansala '12 and Cecelia Martinez-Miranda '13
Building Walls and Breaking Barriers
Manila, Philippines
Michael and Cecilia collaborated to install a vertical vegetable garden, rainwater collection system, and compost bin for a school that serves children whose families survive by scavenging in a gigantic garbage dump. Called "Smokey Mountain," the 2 million ton garbage heap is the waste disposal facility for metropolitan Manila. A large squatter community collects glass, metal, paper, and plastic each day, selling to middlemen who in turn sell to recycling factories. Because about 700 families depend on their children to help generate income, thousands of children don't attend school. A new school, run by the Philippine Christian Foundation, offers free education to students from the Smokey Mountain area, along with free lunch, uniforms, shoes, and school supplies. The school is constructed from shipping containers. Students and teachers were trained to maintain the systems, creating a sustainable source of food for the community and opportunities for the children to remain in school.
2009 Project
Douglas Mapondera '11
Empowering Vuka Resettlement Community
Zimbabwe
Douglas refurbished the irrigation infrastructure in Vuka Resettlement Community, his home village in Zimbabwe. A former commercial farm community with an irrigation system damaged by war, the village currently holds 70 family sites. Without irrigation, the 700 villagers must carry water far to nourish their crops. Douglas set out to provide a reliable water supply, a key step in creating sustainable income and cash crops. The project required buying new pump sets and repairing existing equipment. Concerned about security, the village also gave land to a man in exchange for him guarding the pump sets. The project also helped villagers secure their own food supply, thereby reducing the odds of malnutrition. In Douglas's own words: "When the water started pumping, the feeling of hope and success was evident in the village and dispelled doubts that their situation was insurmountable … It was a thrill to share their joy and for them to not be disappointed again by unfilled promises of outside groups. Hope was revived."
Leah Roth-Howe '08
Ending the Silence
Chicago, Illinois and Cambodia
The Khmer Rouge genocide is not included in the formal Cambodian education system. Leah initiated a series of workshops that provided a safe space for Cambodian students to confront their country's history of violence, ask questions, and creatively express their reactions. Her project began in Chicago: Working with the Cambodian Association of Illinois, she organized intergenerational dialogues among survivors, their descendants, and other students. She next traveled to Cambodia to work with Youth for Peace (YFP), creating additional workshops. Workshop participants, including students, Khmer Rouge survivors, and former Khmer Rouge soldiers, were better able to express themselves through visual imagery than through words. Leah connected with galleries in the United States interested in exhibiting the artwork and at the request of YFP, led subsequent workshops at its International Youth Peace Conference.

Zainab Mansaray '09 & Arthur Sillah '10
Sierra Leone Muslim Brotherhood School
Sierra Leone
Arthur and Zainab set out to rehabilitate the Sierra Leone Muslim Brotherhood Primary School and organize workshops that encouraged the students to unite in collective community service. The idea of collaborative service for the public good was a new concept for the children. The workshops motivated students to create different projects to help others, such as cleaning the local hospital and distributing malaria nets. A major effort included building a two-classroom structure—furnished with desks, chairs, blackboards, and 900 government-approved books—that continues to house most of this school's classes. Every student received school supplies and 10 were given scholarships for a full year of tuition, books, and supplies. Students now study within a classroom rather than under trees.
Dara Hoppe '10
Project for Sustainable Development
Brazil
Dara created and facilitated a jewelry-making workshop for people living in the Brazilian Amazon. The workshop taught community members— primarily subsistence farmers—to generate an environmentally sustainable, alternate source of income using seeds to create jewelry. The project brought to the community sewing machines, as well as a computer and a small law library to help support local farmers in complex land-rights cases. Prior to the workshop, women had few opportunities to gather. Making and marketing the jewelry united women in continuing relationships. Trading and collecting seeds raised consciousness about ways to benefit from local natural resources. Dara continues to establish markets for the jewelry in the United States.
Fiorella Ormeño Incio '09
Peace Building Workshops
Peru
Fiorella organized a series of Peace Building Workshops in public and private schools throughout Peru, which were aimed at defusing racial and gender discrimination issues in high schools. These workshops trained teacher-leaders from local schools to identify discrimination and support their students' conflict resolution skills. The teachers stepped beyond the workshops to develop a book of strategies for teachers and students in affected communities, and students established Peace Clubs in their schools, helping ensure the ongoing effect of the project.
A complete list of the participating schools, summary of projects, and a video interview with Davis from 2006, is available on the program's web site: davisprojectsforpeace.org.