Ceol Traidisiúnta na Cathracha Chúpla: Irish Music in the Twin Cities
By Morgan Sleeper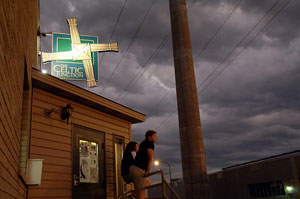 When I set out to research Irish music in the Twin Cities, I was at first overwhelmed by the vibrant scene that seemed to belie these cities' prairie location and marginal status in the Irish diaspora. Narrowing my focus a bit, I discovered a musical locus in St. Paul called the Celtic Junction, a meeting place for Irish musicians from the Twin Cities and beyond. In Ethnomusicology we like to talk about 'music as culture' – the Celtic Junction is an example of what we might call 'music as cultural center'. Housing not just only Center for Irish Music but also dance schools of both Irish and Scottish traditions, Irish art, Irish language classes and scholars, as well as community and after-school programs, the Celtic Junction is a unique hybrid of musical institute and community center.
While I was there, I was fortunate enough to attend a sean-nós singing workshop for children taught by Áine Meenaghan, a world-class Irish singer living in Chicago. Sean-nós simply means "old-style" in Irish, but it refers to a particular type of singing characterised by unaccompanied, unamplified solo voice, highly ornamented melodic lines, and an often mournful or lamenting tone. It's also strongly associated with the Irish language. The format of the workshop revealed an important characteristic of Irish music in the Twin Cities: it is very much an aural tradition. Áine would sing us a song, go over the lyrics (which were mostly in Irish) with us, and then we'd all sing it together. No sheet music, no printed charts; we were taught sean-nós just as it would have been handed down in Ireland traditionally.
After the workshop, I got the chance to speak with some of the kids about their experiences learning Irish music. Both Mana and Henry emphasized the fact that they learned by ear, and though neither one of them professed to enjoy this technique, it must have worked – all the kids picked up Áine's songs with amazing ease. The aural learning process extends to their instrumental practice as well. Mana said that her fiddle lessons are taught without sheet music, and Henry is currently learning how to play "Mary Had A Little Lamb" on his tin whistle by ear. They also emphasized family involvement: Mana's father is an Irish singer, and her uncle makes harps at the Celtic Junction. There are even family Irish language classes offered, where children and parents can learn together. And both Mana and Henry epitomized the culturally integrated model of Irish music in the Twin Cities: Henry first got interested in Irish music through Irish dance at the Celtic Junction, and now takes language classes as well, and Mana also does dance and language classes in addition to fiddle and singing.
Following the culturally holistic approach of the entire Celtic Junction, individual classes integrate different aspects of Irish culture in their teaching methods as well. One of the ways in which this is manifested is in the use of songs to teach the Irish language. The children learn traditional Irish-language folk songs not only for their intrinsic musical value, but also because of the enormous help they provide with pronouncing Irish. Tom Jeffers, the Irish teacher at the Celtic Junction, said that when his students are presented with the language on paper, they often freeze up worrying about pronunciation. When singing songs, however, "they don't think about it, they just go for it" as if they were learning a song in English. The kids got to sing one of their Irish language songs, "Báidín Fheidhlimidh", for Áine at the workshop, and Tom was right about their pronunciation!
Besides using traditional songs in his classes, Tom also uses original compositions to help teach his students Irish. One example is his version of "Lámh, Lámh Eile". The original rhyme is the Irish equivalent of "Head, Shoulders, Knees & Toes", which is said without an accompanying melody. Tom set these words to the chorus from the song "A Pair of Brown Eyes" by The Pogues (a hugely influential Irish punk-band from the 1980's and 90's, based in London), and the result can be seen in the following video. He uses this song with his students (whose ages range between 3 and 14) and says that it's "really stuck with them", and helps with pronunciation as well as vocabulary.
Through my fieldwork at the Celtic Junction, I discovered that Irish music in the Twin Cities is community based, aurally transmitted, and culturally integrated. This culturally holistic approach music makes perfect sense in an environment like the Twin Cities, where Irish music is geographically far removed from the original cultural context in which it would have been played, learned, and taught.
The Celtic Junction (http://thecelticjunction.com/) and the Center for Irish Music (http://www.centerforirishmusic.org/) are located in the Midway neighborhood of St. Paul, MN. You can read more about Áine Meenaghan and her singing here (http://www.singclub.org/aine_meenaghan.shtml), and sample and purchase her album Thug Mé Grá Duit through CD Baby, here (http://www.cdbaby.com/cd/ainemeenaghan). Tom Jeffers is a Fullbright Language Teaching Assistant teacher and has taught Irish at the University of St. Thomas and the Celtic Junction.