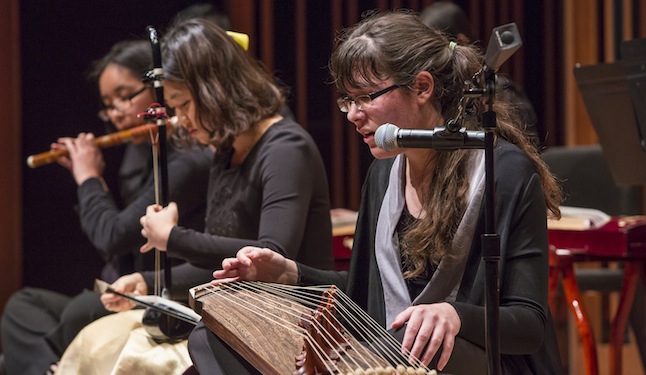 The Asian Music Ensemble performs chamber instrumental music from various Asian traditions. Core instruments include a variety of East, Southeast, and Central Asian lutes, zithers, fiddles, flutes, hammered dulcimer, and percussion. We will also learn to read traditional notation, core solo and ensemble repertoires, as well as the art of collaborative music making.
Contact Director Chuen-Fung Wong, Associate Professor of Music, at wong@macalester.edu for more information and to schedule an audition. Prior experience in Asian music is welcome but not always required.
Special plans for 2020–2021:

Meetings will be outdoor or in M116 (Crawford), for no more than 30 minutes each session, each week on Fridays between 4:45pm and 6:15pm, and remotely.
The remote sessions will focus on repertoire learning and developing skills for reading traditional Asian solfège notation.
Safety measures will be strictly adhered: (1) proper mask wearing at all time; (2) minimum distancing of 10 feet; (3) no outside, non-Macalester members; (4) very small group rehearsals only; (5) no instrument or locker sharing; (6) no wind instruments; (7) frequent sanitizing; among others.