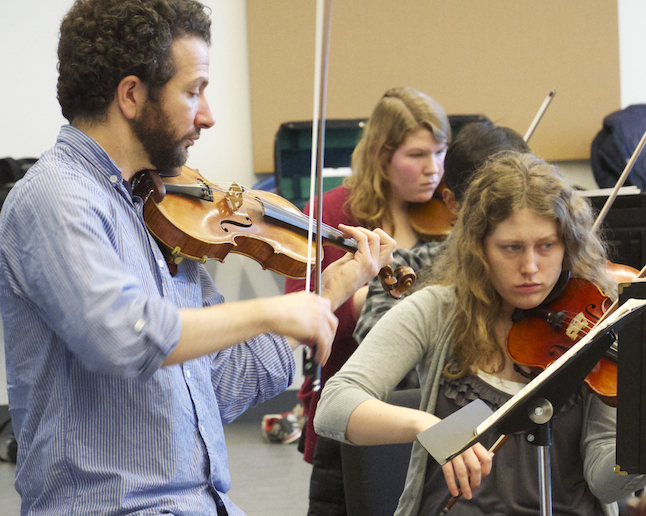 The Chamber Music program at Macalester is coordinated by Mark Mandarano, and offers an opportunity to explore and perform repertoire for small ensembles. All instrumentalists and vocalists are eligible to participate and entrance is by audition. (N.B. for instrumentalists: Participation in a major ensemble – i.e. Orchestra, Wind Ensemble, etc. – is a requirement for playing in chamber ensembles.)  Students who are accepted into Chamber Music are placed in chamber ensembles and over the course of the semester immerse themselves in learning a challenging and varied repertoire. Rehearsal times are arranged based on schedule availability and individual practice is required. Ensembles receive weekly coaching from department faculty or professional studio instructors and there is least one performance required for this class for each semester of study. Examples of chamber ensemble include: string quartet, woodwind quintet, brass sextet, piano trio, flute and clarinet choirs.
Registration
Registration for ensembles is taken care of by the directors of the ensembles during the first week of classes. Be aware there is some lag time between when students turn in registration information to the director and when the class appears on records.
Course Credits
1 credit per semester, but only after two consecutive semesters of enrollment.
Study abroad does not count as an interruption.
Credits for ensembles do not count towards the College's 18-credit limit.
Ensemble credits count towards the Fine Arts requirement, but only if the student has registered for four consecutive semesters of the same ensemble.
Rehearsal Schedule
To be announced; arranged according to the availability of the participants and the coaches.
Performances
There will be one performance in Fall Semester and one in Spring Semester.
Contact
Mark Mandarano, coordinator, at [email protected]