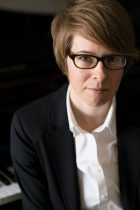 Professor (music theory)

Music Building, 214
651-696-6182
[email protected]
she/her or they/them

Victoria Malawey is Professor of Music and active as a scholar, composer, and singer-songwriter. She teaches courses in music theory, songwriting, gender and music, and popular music. Malawey's research interests include the analysis of songs, voice, popular music, gender studies, and music theory pedagogy. She completed a Ph.D. in music theory at the Jacobs School of Music at Indiana University with a dissertation on Björk's Medúlla, which won the Dean's Dissertation Prize in 2009. Her articles have been published in scholarly collections and journals, such as Popular Music, Music Theory Online, The Journal of the Royal Musical Association, and Indiana Theory Review. Her article, "'Find Out What It Means to Me': Aretha Franklin's Gendered Re-Authoring of Otis Redding's 'Respect'" (Popular Music, May 2014) won the International Alliance of Women in Music Pauline Alderman Award for the best article in feminist music scholarship in 2015. Her book, titled A Blaze of Light in Every Word: Analyzing the Popular Singing Voice, was published by Oxford University Press in the Oxford Series in Music Theory, edited by Steven Rings.
As a composer, Malawey has written music for mixed chamber and vocal ensembles, which have been performed at venues throughout the world.  Malawey's choral piece On Dark Earth was the 2020 winner of the Uncommon Music Festival Composer Competition and also selected as top finalist for the 2019 Voices 21C Call-for-Scores. Her song cycle for soprano, clarinet, and piano, Chansons Innocentes, was the 2017 winner of the International Alliance of Women in Music New Music Competition Patsy Lu Prize, and her Miniatures for solo piano was the second-place winner of the 2016 New Ariel Piano Composition Competition. Recent commissions include pieces for the Sound of Silent Film Festival, the William Ferris Chorale, Open House Chicago, the Black Cedar Trio, the ARK Trio, soprano Emma Rose Lynn, soprano Bethany Battafarano, and clarinetist Bob Milnikel. Malawey has completed artist residencies at Hambidge Center for the Creative Arts and Sciences and Dorland Mountain Arts Colony, and looks forward to a monthlong residency at Willapa Bay AiR in 2020.  Malawey studied composition with Robert Lombardo at Chicago Musical College at Roosevelt University and Sven-David Sandström at the Jacobs School of Music at Indiana University. More at victoriamalawey.com.
As a songwriter, Malawey writes original songs for piano, guitar, and voice and performs in and around the Twin Cities. More at novvaamusic.com.