Studio Instructors Directory
Accordion | African voice, percussion, flute, marimba | Bagpipes | Bass | Bass (jazz) | Bassoon | Cello | Clarinet | Euphonium | Flute | Guitar | Guitar (jazz)| Harp | Horn | Mandolin | Oboe | Organ |Percussion | Piano and piano for proficiency | Piano (jazz) | Pipa | Recorder | Saxophone | Sitar | Trombone | Trumpet | Trumpet (jazz) | Tuba | Ukulele | Viola | Viola da Gamba | Violin | Voice | Voice (jazz/contemporary) 
Accordion

Dan Newton
daddysqueeze@yahoo.com
Dan Newton has been playing offbeat accordion music since 1987, when he won the Nebraska State Accordion Contest at the Czech Festival in Wilber, Nebraska. He has used the squeeze box for playing all kinds of music not normally associated with free-reed instruments, as well as standard accordion material. Dan also enjoys mixing up styles and genres that don't generally seem compatible. "Music out of context", or "Ethno-clectic Bop" is the result of his genre-bending experiments with Celtic, Tex-Mex, Creole, Blues, Jazz, Scandinavian, Polka and pop music.
---
African Voice, Percussion, Flute, Marimba

Sowah Mensah
mensah@macalester.edu
Sowah Mensah is an ethnomusicologist, composer and a "Master Drummer" from Ghana, West Africa. Sowah has taught music in both Ghana and Nigeria and is currently a music professor at both Macalester College, and the University of St. Thomas in St. Paul, MN where he also directs each school's African Music Ensemble. In addtion, he is currently a James Marsh Professor-at-Large at the University of Vermont in Burlington, VT and directs the African Music Ensemble at the University of Minnesota. Sowah is the director of Sankofa, a Ghanaian Folklore and Dance Ensemble in the Twin Cities and a member of Speaking in Tongues, a four-piece group based out of the Twin Cities that uses two percussionists, a bassist and a Chinese pipa player.
Sowah enjoys an active performance career. In August 2003 Sowah toured Beijing, China with the Kenmore Wind Ensemble from Kenmore, WA to perform his composition "Nyamo" for Band and African Ensemble where they performed at the prestigious Tsinghua University. Sowah was then invited back in June 2004 to conduct a series of workshops for high school music teachers and students. In May 2000 he made his Carnegie Hall, New York debut as a soloist in David Fanshaw's African Sanctus.
He has performed extensively in the United States, the Latin Americas, and in Africa, where he performed with the Ghana National Symphony Orchestra. In the United States, he has performed with notables such as Max Roach, Don Chery, Roscoe Mitchel, and Julius Hemphil. He has also performed with the Minnesota Symphony Orchestra, Chanticleer, Minnesota Center Chorale, St. Paul Civic Symphony, Minnesota Sinfonia, Duluth Superior Symphony, Minnetonka Symphony Orchestra, Abendmusik: the Lincoln Chorus of Nebraska, and the Master Chorale of Tampa Bay, Florida, as well as many folk festivals in the US. In addition, Sowah presents clinics, lectures, workshops, and residencies at many colleges, elementary and secondary schools, churches, and music organizations all over the United States.
Sowah is also an accomplished composer. In September 2004, Sowah re-arranged "Sii Sii Sii" for Chorus and African Drums for the Central Middle School in Cape Girardeau, MO. The piece was first commissioned for Band and Chorus and it was premiered by Oak Park Elementary School, Stillwater, MN in June 2004. "Asomdwee" written for SATB was completed in October 2003 and premiered by World Voices in December 2003 at Central Lutheran Church in Minneapolis. In February 2003, Sowah completed "Agoo" for full Orchestra and Speaking In Tongues. This work was commissioned through the Ethnic Concerto Program of the organization International Friendship Through the Performing Arts and premiered by the St. Paul Civic Symphony and Speaking In Tongues at the St. Paul Landmark Center in May 2004. "Bronya A Ba" (Christmas Is Here) for SATB and African Drums was commissioned by The University of St. Thomas Liturgical Choir directed by Rob Strusinski. It was premiered on December 5, 2002 at the UST Chapel in St. Paul, MN. "Kunkum" for band and African Ensemble was commissioned by the Webster Magnet Elementary Honor Band of St. Paul, MN. Conducted by Diane Sollenberger, this composition was premiered on Tuesday May 7th, 2002 at the Central High School Auditorium in St. Paul, MN. In October 2001 Sowah completed "Nyamo" (Celebration for Symphonic Band, Chorus and African Ensemble). The Symphonic Band and Symphonic Choir of Kenmore Jr. High School, WA commissioned this work, which was premiered at the Washington State M.E.N.C. in Yakima, WA in February 2002. It was also performed at the National M.E.N.C. convention in Nashville, TN in April 2002. Sowah's third solo album, Sii Sii Sii, was released in March 2007.
---
Bagpipes

Mike Breidenbach
breidenbach@macalester.edu
Mike Breidenbach is the Director of Piping at Macalester College and is the Pipe Major of their Grade 3 competition band. He has been a full time bagpipe teacher and performer since 1999. He began learning at Macalester College in 1992 under the tutelage of Andrew Hoag. Later he studied with Donald Lindsay, Jim MacGillivray, and the late Lindsay Kirkwood. In 1997 and 1998 he was awarded Champion Supreme by the Midwest Pipe Band Association in Grade II as a soloist. He is now recognized as an accomplished Grade I piper. Michael also plays with the Kansas City St. Andrews Society Pipe Band which competes in Grade 2. Mike has performed on stage with The Chieftains, Blink-182, and others.
---
Bass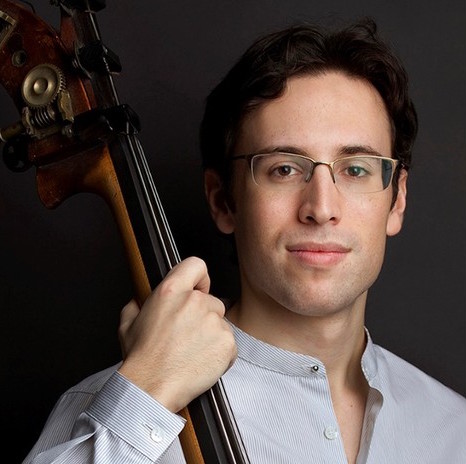 Zachary Cohen
zcohen@macalester.edu
Zachary Cohen is the principal bassist of the Saint Paul Chamber Orchestra. A native of the Bronx, he won the position of principal bass of the Milwaukee Symphony Orchestra in his senior year of Juilliard at the age of 22. Cohen received his Bachelor of Music from Juilliard where he studied with legendary bassist Homer Mensch. During his summers Cohen has performed at the Marlboro Music Festival, Grand Teton Music Festival, and The Dresden Musikfestspiele. As an active chamber musician Cohen has collaborated with a wide range of artists such as Itzhak Perlman, Richard Goode, Mitsuko Uchida, Midori, Mark O'Connor and members of the Guarneri and Mendelssohn quartets. He has also worked closely with some of today's most respected composers such as Henri Dutilleux, Osvaldo Golijov, and Mario Davidovsky. While attending Juilliard, Cohen became a member of the chamber group 'The Knights.' He has recently recorded two albums with them on Sony Classical.
---
Bass (Jazz) | Guitar (Jazz) | Mandolin

Joan Griffith
griffith@macalester.edu
Joan Griffith is a teacher, performer and composer who has toured and recorded extensively. She is the director of MacJazz (big band) and is a studio instructor, teaching electric bass, electric guitar, mandolin, and jazz improvisation. She is also the head of the jazz studies department at the University of St. Thomas.
Joan's 2011 CD "A Girl Named Vincent" with Prudence Johnson, the 2008 jazz CD "Sambanova" with pianist Laura Caviani, her 2009 CD "Alma Brasileira" with recorder player Clea Galhano and her CD "Enter You, Enter Love," with Lucia Newell feature many of her own compositions. "Enter You, Enter Love" was chosen as one of the top ten best recordings for 1996 by jazz radio station KBEM. Her choral composition "Sweet Noel" won the 1998 Christmas Carol Contest sponsored by the American Composers Forum and Vocalessence. Her performances on mandolin include the Minnesota Orchestra's recording of Mahler's Das Lied von der Erde and as soloist with the South Dakota Symphony on their premiere recording "Journey to the Badlands". Her mandolin and bass playing can be heard on the many recording of singer/songwriter Ann Reed. She is also a roster artist in jazz for COMPAS, the Minnesota State Arts Board and Young Audiences.
Bass (Jazz)

Adam Linz
adamlinz@hotmail.com
Adam is a well-known bass player in the Twin Cities jazz scene. He co-leads the internationally known award-winning group Fat Kid Wednesdays with childhood friends Mike Lewis and JT Bates, touring extensively throughout Europe and North America. Adam is the Jazz Studies Program Coordinator at the MacPhail School for Music, and has taught at Augsburg College, Minnesota Institute for Talented Youth and EDAM Music outreach in Paris. He has given clinics in Chile, Argentina, Seattle, New York, Houston, Germany, and Switzerland, and has performed with such jazz greats as Evan Parker, Stanley Turretine, Milt Jackson and electronic artist Dosh. He has a Bachelor of Music from the William Paterson University Jazz Studies program.
---
Bassoon

Carole Mason Smith
smithcm@macalester.edu
Carole Mason Smith, bassoonist, joined The Saint Paul Chamber Orchestra in 1980. A frequent soloist with the SPCO, Smith has performed Vanhal's and Deitter's concertos for two bassoons with SPCO principal bassoonist, Chuck Ullery. During the 2001-02 season, Smith served as principal bassoon of the SPCO. She has also performed as principal bassoon with the Minneapolis Pops Orchestra for many years. Smith is a founding member of the Halama Wind Octet and teaches bassoon privately and at Hamline University and Macalester College.
---
Cello

Thomas Rosenberg
rosenbergt@macalester.edu
Thomas Rosenberg is nationally known as a dynamic performer, chamber music coach, and teacher. Since 1981 he has been Artistic Director of the prestigious Fischoff National Chamber Music Competition (www.Fischoff.org) through which he is a recipient of the 2007 Indiana Governor's Arts Award, the highest honor in the arts from that state. A resident of Saint Paul, Minnesota, he is currently on the faculties of Macalester College, Carleton College and the McNally Smith College of Music teaching cello and coaching chamber music and has served as String Chamber Music Coordinator and primary coach for the University of Minnesota School of Music. He also maintains The Opus 1911 Music Studio (www.tomrosenbergmusic.com), a busy private studio of pre-college cellists and chamber ensembles featuring many of the region's most outstanding young artists, and is Director of the Green Lake Chamber Music Camp in central Wisconsin. Former teaching assistant to renowned cellists and artist-teachers Paul Katz and Laurence Lesser, Tom is recipient of the 2003-4 "Master Studio Teacher Award" from the Minnesota chapter of the American String Teachers Association and has also been named "Arts Educator of the Year" by the Michigan-Indiana Arts and Sciences Council. He has led chamber music "informances" to audiences around the US, and has presented a series of lectures on the Beethoven String Quartets. During the summers he teaches and coaches at music centers such as the Tanglewood Institute, The Quartet Program where he has also been Associate Director, Icicle Creek, Bravo, the Midwest Young Artists Summer Chamber Music Camp and the Green Lake Chamber Music Festival. Recent masterclasses have been at The Cleveland Institute of Music, The Oberlin Conservatory, Baldwin-Wallace Conservatory, Temple University, Ohio State University, The Columbus Chamber Music Connection and Suzuki Program, The Interlochen Arts Academy and Webster University in Saint Louis.
Mr. Rosenberg was awarded the prestigious McKnight Performing Artist Fellowship Award in 2004. He also has received top chamber music prizes at the Munich (Germany), Portsmouth (England) and Chicago Discovery Competitions, and is a three-time Naumburg Chamber Music Award finalist. His freelance activities include numerous solo and chamber music recitals, performances with the Schubert Piano Trio, The Isles Ensemble, Minnesota Public Radio and performances as an extra musician with the Minnesota Orchestra and the Saint Paul Chamber Orchestra. Mr. Rosenberg was a founding member of the highly acclaimed Chester String Quartet with whom he made numerous recordings and for twenty years, appeared on concert stages and live radio coast to coast in the United States, Canada, Central America and Europe. He has been solo cello of the New York Chamber Ensemble performing in all of the major concert halls in NYC, performed with jazz greats Charlie Haden and Al Foster in Carnegie Hall and appeared at many music festivals including Aspen, Newport, Banff, South Mountain, Cape May, the Grand Tetons, and the International Music Festival in San Jose, Costa Rica. As a soloist, he has been noted by the Boston Globe as displaying "beautifully inflected, noble playing with a gorgeous dark tone." He performs on a rare cello by Lorenzo Storioni made in Cremona, Italy in 1794.
Tom is a graduate of Oberlin and the Eastman School of Music where he was teaching assistant to both Paul Katz and Laurence Lesser. Other teachers include Richard Kapuscinski, Alan Harris, Alta Mayer, and for chamber music, members of the Budapest, Juilliard, Tokyo, Guarneri, and Cleveland Quartets.
---
Clarinet

Shelley Hanson
hansons@macalester.edu
Shelley Hanson, a Twin Cities composer, arranger, teacher, and professional musician, has an affinity for writing and performing folk music. Her band, Klezmer and All That Jazz, recorded traditional and original music for the audio book version of the Yiddish play The Dybbuk. Ms. Hanson received a Ph.D. in Performance, Music Theory, and Music Literature from Michigan State University. She is a member of the Minneapolis Pops Orchestra and serves on the faculty of Macalester College.
---
Euphonium | Tuba

Charles Wazanowski
garmills@minn.net
Charles Wazanowski is a graduate of the Hartt School of Music, Hartford, Connecticut (BM ed.) and the Manhattan School of Music, New York City (MM). He has done post graduate work at the Juilliard School of Music, New York City. During his twelve years in New York as a freelance tubist, Mr. Wazanowski performed with many internationally known ensembles, most notable of which were the New York State Orchestra and the New York City Opera. Performing with bands was also a large part of the New York scene. Mr. Wazanowski was fortunate enough to play with the Goldman Band, as well as perform as the Eb tuba soloist in the Gramercy Brass, an English style brass band, which won back to back North American championships.
Jazz plays a large part in the background of Mr. Wazanowski. Performing for many years with Lionel Hampton's All Stars Big Band, he has appeared on television in eight countries and on numerous radio broadcasts and audio recordings. Appearing in a television documentary filmed by the public Broadcast System recorded at the Newport Jazz festival is the high light of these broadcasts. Besides playing at every major jazz festival in the world with Mr. Hampton's band Mr. Wazanowski has shared the stage with Marion McPartland, Dexter Gordon, Lenny Picket, the Heath brothers, Sweets Edison, Marvin Stamm and Peter Ostroushko.
Mr. Wazanowski has performed in Europe, touring and appearing with the Puccini Festival Orchestra (Tura del Largo). Other festivals have included the Rome Festival and the International Opera Festival (Spoleto). Since arriving in the Twin Cities Mr. Wazanowski has remained active as a musician, performing in every kind of ensemble from chamber groups to symphony orchestras. He is a permanent member of the Rochester Symphony Orchestra. Chamber groups he performs with include the Minneapolis Tuba Quartet, Classic Brass Quintet and the River Falls Brass, one of the busiest professional brass quintets in the Twin Cities. Teachers: Ken Singleton, University of Northern Colorado; Toby Hanks, Manhattan School of Music, Yale School of Music; Don Harry, Eastman School of Music; Dave Fedderly, Juilliard School of Music.
---
Flute

Martha Jamsa
jamsa@macalester.edu
Martha Jamsa received her B.F.A. from the University of Minnesota and her M.M. in Flute Performance from the Indiana University School of Music. During the past two decades she has been an active member of several major ensembles, including the South Dakota Symphony Orchestra and the Dakota Wind Quintet. She has also served as a Substitute Flute/Piccolo player for the Minnesota Orchestra. She has taught flute at South Dakota State University, the University of Sioux Falls, Carleton College and Macalester College. She has also served on the Board of Directors for several organizations, including the South Dakota Symphony Orchestra and the Upper Midwest Flute Association.
---
Guitar | Ukelele

Jeffrey Thygeson
thygeson@macalester.edu
Jeff Thygeson has performed extensively as a soloist, chamber musician, and lead guitarist in various bands throughout North America. Equally at home on nylon, steel-string, and electric guitars, he is an accomplished musician in many styles. He has also been a top prize winner in several solo guitar competitions and has been a concerto soloist numerous times. Jeff has a Master of Music degree from the University of Southern California, where he received the Pi Kappa Lambda Award and a BA from the University of St. Thomas. Jeff is a former member of the Minneapolis Guitar Quartet and recorded the album, Dances of Spain and Argentina, with them. Past teaching experience includes community music schools, the University of St. Thomas, co-directing and developing one of the nation's largest high school guitar programs at Hopkins High School, and co-authoring the nation's first comprehensive, multi-genre guitar syllabus for the Minnesota Music Teacher's Association. Jeff currently teaches at Macalester College, St. Catherine University, and Anoka-Ramsey Community College.
---
Harp

Ann Benjamin
abenjami@macalester.edu
Ann Benjamin plays second harp with the Minnesota Orchestra. Previously, she was Associate Professor of Harp at Louisiana State University in Baton Rouge, Louisiana and principal harpist with the Shreveport Symphony and Opera Orchestra.
She has spent several summers teaching and performing at the Interlochen Arts Camp in Interlochen, Michigan and the Eastern Music Festival in Greensboro, North Carolina.  An LSU Summer Research Grant and an LSU Council on Research Grant were awarded to Ms. Benjamin for commissioning and performing new works for the harp at the Third (Vienna), Fifth (Copenhagen) and Sixth (Seattle) World Harp Congresses, and for the production of her CD, Sky Loom: Music for Flute and Harp, with flutist Dr. Katherine Kemler.
Ms. Benjamin chaired the 33rd American Harp Society National Conference which was held at Louisiana State University in Baton Rouge, Louisiana.  She is currently fascinated with rediscovering the ancient history of the harp after a recent trip to Greece.  Ms. Benjamin holds degrees from Indiana University in Bloomington, Indiana, and St. Olaf College in Northfield, MN.  Her teachers include Susann McDonald, Nancy Allen, Alice Chalifoux and Joan Mainzer.
---
Horn

Caroline Lemen
lemen@macalester.edu
Caroline Lemen is an active freelance horn player in the Twin Cities, working frequently with the Minnesota Orchestra as an extra and substitute musician. She has traveled with the orchestra on many of their national and international tours, as well as performed on various recordings. Ms Lemen has also been an extra musician with the SPCO. She is a member of the Musical Offering, the Twin Cities' oldest chamber music ensemble, performing the Brahms Horn Trio, the Mozart Horn Quintet and the Schubert Octet in recent seasons. Caroline can also be heard in the orchestras of touring shows at the Ordway Theater, such as The Sound of Music, Spamalot and White Christmas. She is also an adjunct faculty member of the University of Minnesota School of Music, and maintains a private studio of high school students.
Before coming to the St. Paul/Minneapolis area, Ms. Lemen was a member of the New Orleans Symphony from 1984-1987 as Assistant Principal Horn. She has also performed as an extra musician with the Oregon Symphony, The Grand Teton Music Festival Orchestra, The Santa Fe Opera, Chicago Opera Theater, Syracuse Symphony and the Vermont Symphony.
Caroline received her Bachelor of Music in Performance and Music Education at SUNY Potsdam, Crane School of Music, and a Master of Music degree in Horn Performance at Northwestern University in Evanston, IL. Her major teachers were Gail Williams, CSO; Richard Oldberg, CSO and Roy Schaberg, Crane School of Music.
---
Oboe

Mark Seerup
seerup8@aol.com
Mark Seerup has performed, recorded and toured for 25 years as an extra and sub with the Minnesota Orchestra including four full seasons as Acting Second Oboe.  He has also subbed with the St. Paul Chamber Orchestra and Twin Cities freelance groups. He attended the Aspen Music Festival and School. He is a graduate of the University of Minnesota and studied with Radames Angelucci, Carl Holub, and Ferald Capps, with additional study with Marilyn Zupnik and Ray Still. He has held teaching positions at several Minnesota colleges including St. Olaf College, University of St. Thomas, Hamline University, Concordia University, Bethel College, and Augsburg College. Mr. Seerup is in demand as a reed maker and has a private teaching studio.
---
Organ
Winston Kaehler
rhest@macalester.edu
B.A. University of Minnesota, M.A. and Ph.D. University of Michigan. Studied Organ with Barrett Spach, Heinrich Fleischer, Marilyn Mason and studied harpsichord under M. Mason, Lisa Crawford and others. Kaehler also studied in England, France and Switzerland. Special performing interests include J. S. Bach, C. Franck and French Baroque.
---
Percussion

Peter Hennig
phennig@macalester.edu
Peter Hennig graduated from McNally/Smith College of Music with a degree in percussion performance. followed by two years of private study with Twin Cities based drummer Dave King.
Peter regularly composes for and performs with The Atlantis Quartet, The Fantastic Merlins, The Zacc Harris Trio, Vintage Raggs. He currently teaches a Jazz/Pop combo course at Macalester College in St. Paul.
Since 2010 he has performed at several European festivals and venues, including the Sons d'hiver festival in Paris, the Atlantique Jazz festival and the Pannonica Jazz festival in northern France, the Kind of Belou Jazz festival in Treignac (with Tony Hymas). In 2011 he received the Twin Cities Best Jazz Award with The Atlantis Quartet.
His compositions have been featured on 89.3 The CURRENT, 88.5 KBEM, and 90.3 KFAI. He is a recipient the Minnesota Emerging Composers Award (MECA) and McKnight Fellowship (w/the Atlantis Quartet).
Over the past 15 years Peter has performed with many groups and artists, including Sheila Ray Charles (Daughter of R&B legend Ray Charles), Tony Hymas, Dr. Lonnie Smith, Polly Gibbons, Imani Uzuri, Ben Wendel, Kirk Knuffke, Christian Howes, Joel Harrison, Daniel Kelly, Dennis Gonzales, Jean-Brice Godet, George Maurer, Patty Peterson, Estaire Godinez, Peter Ostroushko, Tina Schlieske, Bruce Henry, Debbie Duncan, Mick Sterling, John Starkey, The Horn Heads, The Dolly's, Fathom Lane, Liminal Phase, The New Primitives, The Droppers, Alex "Crankshaft" Larson, Katie Gearty, Deb Brown, Andra Suchy, The Adam Meckler Orchestra, The Bill Simonson Big Band, and many others.

Steve Kimball
kimball@macalester.edu
Accomplished percussionist Steve Kimball has performed with a variety of artists including Elvis Costello, Aretha Franklin, Amy Grant, Michael W. Smith, Johnny Mathis, Ben Folds, Ray Charles, Idina Menzel, Bernadette Peters, comedian Don Rickles, the rock groups The Moody Blues and YES, and classical superstars Luciano Pavarotti and Yo Yo Ma.
Steve is a frequent performer with the Minnesota Orchestra, the Saint Paul Chamber Orchestra, and the Minnesota Opera Orchestra. Upcoming gigs include playing percussion for the Tony Award winning Disney musical – Newsies – at the Orpheum Theater (February, 2016) and playing drum set for the Saint Paul Chamber Orchestra performances of Gershwin's Rhapsody in Blue, Jazz Band Version (1924), (September, 2015).
Steve also performs with the Minnesota Opera Orchestra and the St Paul Chamber Orchestra. He is a former principal timpanist of the Shanghai Broadcasting Symphony Orchestra (SBSO) now the Shanghai Philharmonic Orchestra (SPO) in Shanghai, China (2001-2002) and the former principal timpanist of the Duluth Superior Symphony Orchestra (DSSO) in Duluth, MN (1995-2001, 2002-2005).
Steve has recorded national TV commercials at Asche & Spencer Recording Studios as well as production soundtracks for the Children's Theater Company (CTC), Wild Sound Recording Studios, and Creation Audio.
Steve received his Masters of Music (MM) degree in Percussion Performance from the University of Minnesota and his Bachelors of Music (BM) degree in Percussion Performance from the University of Wisconsin. His teachers include Fernando Meza, David Hagedorn, Peter Kogan, and Marv Dahlgren.
Steve has also presented clinics/master classes for the Minnesota Music Educators Association (MMEA) and the Minnesota Band Directors Association (MBDA).
Besides his teaching at Macalester, Steve is also the Director of Percussion Studies and Marching Drumline Instructor at Edina High School in Edina, MN.

David Schmalenberger
dschmale@macalester.edu
Dr. David Schmalenberger recently performed with the Minnesota Orchestra, the Chuck Lazarus quartet, vocal group Cantus, the Laura Caviani trio, jazz violinist Christian Howes, the Children's Theatre Company, the Bill Simenson Jazz Orchestra, vocalist Debbie Duncan, the Adi Yeshaya big band, trumpeter Brian Lynch, and Synergy (10-piece dance band). Schmalenberger also recently recorded with Chuck Lazarus (2 recordings: "Merry and Bright" holiday CD and "Love Joy!"), vocalist Connie Evingson ("Sweet Happy Life"), the Pete Whitman/Chris Olson Project (2016 release tbd), jazz violinist Randy Sabien (2016 release tbd), guitarist David Singley (2016 release tbd), and the Bill Simenson Jazz Orchestra (2016 release tbd).
David is active as a clinician offering workshops in jazz, percussion, and world music. He also teaches for the Shell Lake, WI summer Combo/Improvisation workshop, and serves as the Assistant Head of the Percussion Department at McNally Smith College of Music in St. Paul, MN. Schmalenberger has adjudicated for several jazz festivals, both regionally and nationally. David has also presented scholarly papers and clinics for the Percussive Arts Society, the Society for American Music, the Minnesota Music Educators Association, and the International Association of Jazz Education.
Schmalenberger received his DMA in Percussion Performance and World Music from West Virginia University, Master of Music Degree in Orchestral Percussion from the University of Michigan, and Bachelors Degree in Jazz Studies from Capital University. David endorses Paiste cymbals and Premier drums.
---
Piano and Piano for Proficiency

Claudia Chen
chen@macalester.edu
Claudia Chen enjoys an active career as performer, coach and teacher. Making her solo debut with the Denver Symphony Orchestra at age 14, Ms. Chen has gone on to perform as a soloist and chamber musician throughout the United States, Canada, Eastern Europe and Chile. Equally at home in contemporary works as in standard repertoire, Ms. Chen has given numerous premieres of solo and chamber works by several American and Canadian composers. She has been a guest on the Chamber Music Series of The Grand Teton Music Festival, the St. Paul Chamber Orchestra and Minnesota Orchestra's series at MacPhail. She has also performed at Bowdoin Festival in the USA; Contrasts International Contemporary Music Festival in Ukraine; as well as Agassiz Chamber Music Festival and Centara International New Music Festival in Canada. Her performances have been aired nationally in Canada on CBC Radio; Polish Radio and Television; and in the USA on National Public Radio.
Ms. Chen often collaborates with her husband, cellist Arek Tesarczyk. Together the duo has given numerous recitals in the U.S., Canada, Chile and Poland. In April, their performance was awarded a 2008 McKnight Fellowship for Performing Artists. She has served on the faculty of the University of Manitoba in Canada, as Assistant Professor of Piano and Chamber Music. Currently, she teaches at Macalester College in St. Paul, as well as privately in her home. She has received degrees from the Peabody Conservatory, under Julian Martin and University of Minnesota, under Margo Garrett's direction. Additionally she has worked with Leon Fleisher, Yoheved Kaplinsky, Lydia Artymiw and John Perry.

Christine Dahl
dahl@macalester.edu
Christine Dahl is an active Twin Cities teacher and pianist. A member of the piano teaching staff at Macalester College since 1976, she has appeared as soloist with Macalester Orchestra and has performed Beethoven's Choral Fantasy with the Macalester Festival Chorale. She has recorded piano music by Carleton Macy on the American Composers Forum INNOVA label and on a private label, and has appeared in recital in St. Paul and Kaohsiung, Taiwan.
Dahl served as pianist and harpsichordist for the Sylmar Chamber Ensemble and was a founding member of the Symphony Chamber Players piano trio. She has appeared on the Schubert Club's Courtroom Concert series, and her performances have been broadcast on Minnesota Public Radio's "Saint Paul Sunday" and "Live from Landmark" programs.
A Minneapolis native, Dahl holds degrees from Bowling Green State University, Oberlin Conservatory and Oberlin College. She has taught on the faculties of Gustavus Adolphus College, the California Music Center and Temple University in Philadelphia. From 1984 to 2010 she served as editor of the Saint Paul Chamber Orchestra's program magazine. Dahl currently maintains a private piano studio and also teaches at St. Joseph's School of Music.
Mark Mazullo
mazullo@macalester.edu
Mark Mazullo is a Professor in the Music Department at Macalester College, where he has been teaching music history and piano since 1999. He holds a Ph.D. in musicology from the University of Minnesota and a Master of Music degree from the Peabody Conservatory. As a musicologist, his writing on diverse musical subjects has appeared in The Yale Review, The Musical Quarterly, Popular Music, Journal of the American Musicological Society, American Music, Ruminator Review, and other publications. His first book, Shostakovich's Preludes and Fugues: Contexts, Style, Performance, was published by Yale University Press in 2010. A current writing project on the general subject of music and alienation will include essays on topics ranging from pop songs in the films of David Lynch, to musical performance in the novels of Kazuo Ishiguro, to the music of Radiohead and Bjork.
As a pianist, Mazullo performs frequently in solo, chamber, and concerto settings. He was a student of William Masselos, Nancy Roldán, and Lydia Artymiw. Recent performances have included Beethoven's Piano Concerto No. 4 and Prokofiev's Piano Concerto No. 1 with the Civic Orchestra of Minneapolis, and John Cage's complete Sonatas and Interludes for prepared piano in collaboration with Becky Heist (Director of Macalester's Dance Program) and several professional and student dancers. From 2002-2005, Mazullo served on the nationally elected Board of Directors of the College Music Society. He also served for many years on the board of the Frederic Chopin Society of Minnesota, which hosts several international pianists each year in solo concerts held at Macalester College.
Mazullo, the proud recipient of Macalester's 2009 Outstanding Teaching Award, teaches a broad range of courses at Macalester, including required survey courses for the Music major and minor, seminar courses on individual composers (Beethoven, Shostakovich), and other topics courses (most recently, Music and Freedom; Musical Performance and Interpretation; and American Pop, Rockabilly, and Soul, 1954-64). He performs often with students, most recently in works including the Piano Quintet of Dmitri Shostakovich, the Fantasy in F Minor for piano four-hands by Franz Schubert, and the Sonata for Flute and Piano by Sergei Prokofiev.

Laurinda Sager Wright
lsagerwr@macalester.edu
Laurinda Sager Wright coordinates Macalester's piano for proficiency program, as well as teaching piano and piano for proficiency.
A native of the Northern Great Lakes, Laurinda Sager Wright spent her childhood winters indoors playing piano to distract herself from the harsh facts of weather. At the age of sixteen, she made her professional debut as the result of winning a concerto competition sponsored by the local symphony. After graduating with honors in piano performance from Lawrence University, Ms. Wright continued her studies at the New England Conservatory of Music, where she earned a master's degree studying under Patricia Zander. While in Boston she collaborated with a variety of musicians, including members of the Boston Symphony Orchestra and Boston Pops, and served as music director for several area programs and theaters.
Ms. Wright maintains a busy performance schedule in Minneapolis and St. Paul. She frequently collaborates with Minnesota Orchestra members and presents a variety of programs at such venues as the Ordway Performing Arts Center, Walker Arts Center, Schubert Club, University of Minnesota and Orchestra Hall. Her extensive work with the Minnesota Orchestra has taken place both on and off stage, serving as rehearsal pianist for a variety of projects, and playing a variety of keyboards in concert. Ms. Wright is married to the Minnesota Orchestra's principal trombonist, Douglas Wright, and is now more familiar with that instrument's repertoire than she ever thought possible.
---
Piano (Jazz)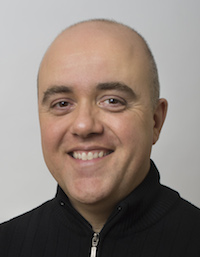 Sean Turner
sturner@macalester.edu
As a jazz pianist and keyboardist, Sean Turner has had the opportunity to work with such musical luminaries as Mavis Staples, Aaron Neville, Nicole Henry, Jerry Welldon, The Steeles, Jamecia Bennet (Sounds of Blackness), country artist Bryan White, and Broadway legend Terrance Mann (Cats, Beauty and the Beast). Regionally he has had long associations as an accompanist for acclaimed vocalists Patty Peterson, Debbie Duncan, Bruce Henry, Ginger Commodore, Yolanda Bruce, Trumpeter Charles Lazarus (Minnesota Orchestra), and Moore By Four. He is a frequent clinician/artist for regional jazz festivals such as the Schubert Club and Dakota Foundation's Jazz Piano Workshop and has served as a rehearsal pianist and musical director at the Ordway Center for the Performing Arts. Turner is also an in-demand composer, orchestrator, and arranger. His compositions and orchestrations have been recorded on the Eastwood Scoring Stage at Warner Brothers Studios and utilized by Delta Airlines, Sony, Oprah, E! Entertainment, MTV, Lifetime Network, Target, The Food Network, American Express, Discovery Channel, "Army Wives", and the "Vampire Diaries".
Turner received his undergraduate degree in Jazz Performance from Arizona State University and holds a Master's Degree in Orchestration from the University of Chichester, England. He is the recipient of a study grant from the National Endowment for the Arts. Besides his work at Macalester, Sean serves as Keyboard Department head and Interim Head of Composition and Songwriting at McNally Smith College of Music as well as Head of Contemporary Music for Incarnation Lutheran Church in Shoreview MN.
---
Pipa
Gao Hong
ghong@macalester.edu
Gao Hong ( Chinese pipa player and composer) began her career as a professional musician at age 12. She graduated with honors from the Central Conservatory of Music in Beijing where she studied with pipa master Lin Shicheng. She has received numerous awards and honors, including First Prize in the Hebei Professional Young Music Performers Competition, a Beijing Art Cup, an Asian Pacific Award, and fellowships from the Minnesota State Arts Board, and Meet the Composer and Sorel Organization in New York. In 2005 Gao Hong became the first traditional musician to be awarded the prestigious Bush Artist Fellowship, and in 2012 she became the only musician in any genre to win four McKnight Artist Fellowships for Performing Musicians. As a composer, she has received commissions from the American Composers Forum, Walker Art Center, the Jerome Foundation, Zeitgeist, Ragamala, Minneapolis Guitar Quartet, Theater Mu, IFTPA, and Twin Cities Public Television. She has performed throughout Europe, Australia, Argentina, Japan, Hong Kong, China, and the United States and has participated in such events as the Lincoln Center Festival, the San Francisco Jazz Festival, and international festivals in Paris, Caen, Milan, and Perth. She has performed countless U.S. and world premieres of pipa concerti with organizations such as the Saint Paul Chamber Orchestra, Heidelberg Philharmonic, Buenos Aires Philharmonic, Louisville Orchestra, Pasadena Symphony, and the Women's Philharmonic (San Francisco), among others. She is also Guest Professor at the Central Conservatory of Music in Beijing and Tianjin Conservatory of Music in China. Gao Hong's personal website can be found at: www.chinesepipa.com.
---
Recorder

Cléa Galhano
cgalhano@macalester.edu
Brazilian recorder player Clea Galhano is an International renowned performer of early, contemporary and Brazilian music. Galhano has performed in the United States, Canada, South America and Europe.
Among other important music festivals, Ms. Galhano has performed at the Boston Early Music Festival, the Tage Alter Music Festival in Regensburg, Germany and at Wigmore Hall in London, Carnegie/ Weill and Merkin Hall in New York and Palazzo Santa Croce in Rome, always receiving acclaimed reviews. Galhano studied in Brazil at Faculdade Santa Marcelina, the Royal Conservatory (The Hague), and the New England Conservatory of Music in Boston, earning a LASPAU, Fulbright scholarship and support from the Dutch government. Currently, Galhano is the Executive Artistic Director of the St. Paul Conservatory of Music, she is on the faculty of Macalester College and Music Director of the Recorder Orchestra of the Midwest.
Ms. Galhano has made several recordings and she is the winner of the McKnight 2013 Artist fellow, MSAB Cultural collaborative grant and 2015 Arts Initiative. She is the 2015 recipient of the National Arts Associate of Sigma Alpha Iota.
---
Saxophone

LeAnn Lindgren
llindgre@macalester.edu
A versatile musician, LeAnn Lindgren is perhaps best known in Latin music circles thanks to long stints with Cuban pianist Nachito Herrera, Latin Sounds Orchestra and Salsa del Soul. She currently performs with Cuban salsa band Salsabrosa. In addition to her performing, Ms. Lindgren is a band director for Hill-Murray School's Parish Band Program, and was formerly an instructor of woodwinds and jazz studies at Hamline University, band director at St. Paul Academy and Summit School, and private instructor of classical, jazz, and pop music at The West Bank School of Music. LeAnn earned her Bachelor of Science in Music Education degree from the University of Minnesota.
---
Sitar

David Whetstone
davidwhetstone@mac.com
David Whetstone is a sitarist-disciple of the renowned Ustad Vilayat Khan, having begun his studies in 1971 with Brian Silver. In 1988 he received an American Institute of Indian Studies Senior Research Fellowship, and has collaborated and toured for over 20 years with poet Robert Bly and Rumi translator Coleman Barks, resulting in numerous recordings and films. In 1992 he co-founded and was Artistic Director of Minneapolis' Ragamala Music and Dance Theater, supplying the entire repertoire from 1992-1997. In 1999 he premiered excerpts of his new opera, White Nights, with the Rochester (MN) Orchestra and Chorus, soloist Dan Dressen, and conductor Jere Lantz. He also teaches at Carleton College, Northfield, MN.
---
Trombone

Rick Gaynor
gaynor@macalester.edu

Rick Gaynor received his degree in Music Performance from UW-River Falls where he studied with James Gauthier and David Herring. He received his Master's degree in Trombone Performance from the Cleveland Institute of Music where his teachers included Cleveland Orchestra trombonists Ed Anderson and Tom Klaber. He also spent a summer participating in the Aspen Music Festival in Aspen, Colorado where he studied with Per Brevig of the Metropolitan Opera and the Juilliard School (New York City.)
Mr. Gaynor is an active performer in the Twin Cities area. He has performed hundreds of concerts with the Minnesota Orchestra and the Saint Paul Chamber Orchestra (two of this country's leading ensembles.) He has performed in top Broadway musicals, including nearly 150 performances of "Phantom of the Opera."
Mr. Gaynor has performed under some of the world's leading conductors including: Edo de Waart, Roger Norington, Mark Wigglesworth, Henry Charles Smith, Eiji Oue, David Zinman, Robert Shaw, Roberto Abbado, Helmut Rilling, Richard Bonynge, Emmanuel Plassin, Marco Quidarini, Daniel Harding, Hans Vonk, Christopher Hogwood, Andreas Delfs, Hugh Wolff, and Bobby McFerrin.
Mr. Gaynor has performed with some of the world's leading musicians and entertainers including; Luciano Pavarotti, the Three Tenors, Charlotte Church, The Temptations, Moody Blues, the Dallas Brass and The Canadian Brass. He has been a Featured Soloist with the UW-River Falls Wind Ensemble, The Phipps Center Orchestra, many area high school bands, the International Trombone Association Conference and a Clinician with the International Tuba/Euphonium Conference.
Mr. Gaynor can be heard on numerous recordings including the Intergalactic Contemporary Ensemble's (I.C.E.) "I Dig", Innova 548. He has performed at some of the world's leading venues including: London's Queen Elizabeth Hall, as a part of the London Jazz Festival; and New York's Carnegie Hall with the Minnesota Orchestra.
---
Trumpet

Lynn Erickson
lowg2@msn.com
Minnesota native Lynn Erickson has played second trumpet for The Saint Paul Chamber Orchestra since 1991. She is a graduate of the University of Minnesota, having earned both Master of Fine Arts and Doctor of Musical Arts degrees, and studied with Charles Schlueter, David Baldwin, Vincent Cichowicz, and Manny Laureano.
Erickson is an active Twin Cities performer whose credits include the Minnesota Orchestra, Mill City Opera and Broadway productions at the Ordway Center for the Performing Arts. She will make her second appearance as a soloist with the Maui Chamber Orchestra in 2015, performing Bach's Brandenburg Concerto No. 2. In addition, Erickson is the principal trumpet and serves as a board member of the Minneapolis Pops Orchestra. She currently holds adjunct faculty status at both Augsburg and Macalester Colleges.
When not playing the trumpet, Erickson volunteers on a weekly basis with her Golden Retriever, Lacey, as a therapy dog team for Methodist Hospital.
---
Trumpet (Jazz)
Dave Jensen
jensen@macalester.edu
Dave Jensen is a member of Hornheads, a Billboard magazine award-winning a capella jazz group. As a group, they have released three solo albums. They have also recorded eight concept albums for Target. As a horn section, they have recorded for artists in the US, Japan, Argentina, Denmark, India, Portugal, Austria, Israel, Russia and the UK. From 1991 through 2001, the NPG Hornz/Hornheads recorded nine albums with Prince and the New Power Generation. In 2012 there was a 10th album. This includes three Gold and two Platinum albums with international sales of more than twenty million. During this time they performed with Prince throughout the world. The Hornheads currently record with Prince multiple times a year when he uses horns in his compositions. Before Prince, Dave spent three years on tour with the Artie Shaw Orchestra. This included the PBS special "Ballroom Dancing" with Bobby Short and Juliet Prouse.
His trumpet and flugelhorn can also be heard on the recordings of Chaka Khan,"Come to my house"; Larry Graham, "GCS 2000"; Jonas Brothers, "Lines, Vines and Trying Times"; Judith Hill, "Back In Time"; "Girl 6" soundtrack album, Warner Brothers; "Pret-A-Porter" soundtrack album, Columbia; Andy Allo, "Superconductor"; Mandy Moore, "Coverage"; Mavis Staples, "The Voice"; Phil Upchurch, "Love is Strange"; Tevin Campbell, "Get Ready"; Pedro Abrunhosa, "Tempo"; Illya Kuryaki, "Leche"; GeGe Telesforo, "Gege and the Mother Tongue"; Gyumi Matsutoya, "Faces"; Setimo Ceu, "Setimo Ceu"; Ricky Peterson, "A Tear Can Tell"; Scott Krippayne, "All of Me"; Rosie Gains, "Closer than Close"; Pete Whitman X-Tet, "Where's When"; Dave Graf, "Just Like That"; Steve Wright, "Take Two"; Carmen Electra, "Carmen Electra"; Blenders, "Loveland"; Christine Rosholt/Kevin Hall, "Pazz"; Ben Sidran, The Steeles, Laura Caviani, Dean Sorenson, Lucia Newell, Adi Yeshaya, Prudence Johnson, Bruce Henry, Debbie Duncan, Mick Sterling, Connie Evingson, George Avaloz, Klezmerica, JazzMN, and others.
Dave plays in pit orchestras for Broadway shows. He has also performed Duke Ellington's "Nutcracker Suite" with the Minnesota Orchestra. Performances with touring artists have included Aretha Franklin, James Moody, Dave Weckl, Arturo Sandoval, Tony Bennett, Lenny Kravitz, Pepper Adams, Abe Laboriel, Billy Eckstine, Dick Oatts, Sammy Davis Jr., Jack McDuff, Rosemary Clooney, the Woody Herman Orchestra, and many others. Dave is on the faculty of Macalester College. He graduated Summa Cum Laude from Berklee College of Music.
---
Viola

Rebecca Albers
ralbers@macalester.edu
Rebecca Albers is among the Minnesota Orchestra's newest members, having joined the ensemble in 2010 as assistant principal viola. In March 2012 she made her debut on the Orchestra's Chamber Music at MacPhail series, performing Schubert's Octet for Winds and Strings.
Albers continues to tour with the Albers Trio, a string ensemble she and two sisters formed. She previously toured with fiddler Mark O'Connor's Appalachia Waltz Trio and was a member of the East Coast Chamber Orchestra and Phoenix Quartet. As a substitute musician, she has performed with such ensembles as the Philadelphia Orchestra, New York Philharmonic, Pittsburgh Symphony, Saint Paul Chamber Orchestra and Orpheus Chamber Orchestra. For her European recital debut in 2008, she performed a program at Paris' Auditorium du Louvre.
Albers, a faculty member at the North American Viola Institute in Orford, Quebec, has also joined the faculty of the Perlman Music Program in New York, and serves on the executive board of the American Viola Society. She was formerly on the faculty of the University of Michigan. She has participated in festivals including the Marlboro Music Festival, Perlman Music Program and, at Prussia Cove in the United Kingdom, the International Musicians Seminar and Open Chamber Music.
As a child in Longmont, Colorado, Albers began piano and violin studies at the age of 2, picking up the viola at 9 for an ensemble her mother, a Suzuki teacher, was putting together. While a student at the Juilliard School, where she worked with Heidi Castleman and Hsin-Yun Huang, she won the school's viola competition, resulting in her performance of Adler's Viola Concerto with the Juilliard Orchestra at Lincoln Center.
---
Viola Da Gamba

Julie Elhard
jelhard@macalester.edu
Julie Elhard, viola da gamba, appears regularly as a soloist and chamber musician and has made several appearances with the St. Paul Chamber Orchestra, including the St. Matthew Passion by Bach under the direction of Nicholas McGegan. She has been a guest artist with Apollo's Fire in Cleveland and is a founding member of Violes Egales and Glorious Revolution Baroque. Ms Elhard was awarded a 2011 Artist's Initiative grant from the Minnesota State Arts Board and has also received a Jerome Foundation grant. Ms Elhard received a Performing Artist Certificate from the Royal Conservatory of Music in The Hague, Netherlands and has taught at workshops in North America and at the Viola da Gamba Society of America's national Conclaves. She currently teaches viola da gamba at St. Olaf College and Macalester College, and is director of the early music programs at the St. Paul Conservatory of Music. She has recently published a new method for the viola da gamba including music for Renaissance Band.
---
Violin

James Garlick
jgarlick@macalester.edu
Violinist James Garlick was born in Port Angeles, Washington, and is equally at home as a chamber, orchestral, or solo musician. As the violinist of the Onyx Chamber Players, James recently recorded the piano trio works of David White, to be released on the Naxos label later this season. He made his Carnegie Hall concerto debut performing Saint-Saens' Introduction & Rondo Capriccioso in the Isaac Stern Auditorium and has performed concerti from Tchaikovsky to Piazzolla with orchestras including the Northwest Sinfonietta, Everett Philharmonic, Seattle Baroque Orchestra, Cascade Symphony, Philharmonia Northwest, Lake Union Civic Orchestra, and Octava Chamber Orchestra.
James served as Concertmaster of Orchestra Prometheus Chicago under the direction of Matthias Pintscher, and has also led the Amarillo Symphony, Juilliard Orchestra, Northwest Sinfonietta, Cascade Symphony, Bellevue Philharmonic, and Oberlin Orchestra. While on tour in Cuba as concertmaster of the Northwest Sinfonietta, he led an ensemble of Cuban and American musicians in the Mendelssohn Octet—the first time musicians of both countries have shared a stage since 1959. James earned degrees in violin performance from Oberlin Conservatory and neuroscience from Oberlin College as well as a graduate degree from The Juilliard School. His teachers include Gregory Fulkerson, Sylvia Rosenberg, Stephen Clapp, and Joseph Lin.
Since moving to Minnesota in 2012, James has enjoyed performing regularly with the Saint Paul Chamber Orchestra and chamber musicians throughout the Twin Cities. James teaches violin at Macalester College and previously taught at St. Olaf College. He performs on a 1991 Samuel Zygmuntowicz violin and lives in Saint Paul with his wife Emily and dog Ellie.

Mary Budd Horozaniecki
horozaniecki@macalester.edu
Throughout her lifetime career, Mary Budd Horozaniecki has been in equal demand as an outstanding violinist, distinguished scholar, classical performing artist and honored pedagogue.
Ms Horozaniecki is well known as a dynamic and dedicated teacher. While developing an immensely successful teaching career, Mary's students have gone on to lead active careers as orchestra directors, concert artists, and teachers. She was honored as the recipient of the prestigious Master Teacher Award by the Minnesota American String Teachers Association (MnASTA), in 1993. Mary has taught at the MacPhail Center for the Arts in Minneapolis, Minnesota and has served as faculty for numerous summer workshops including the Upper Midwest String and Chamber Music Conference. Currently, Mary holds the title Senior Lecturer in Music at Carleton College and teaches at Augsburg and Macalester Colleges in Minnesota.
Mary is frequently invited to present master classes, recitals, and lectures throughout the United States and Canada. She has given master classes at venues that include the String Academy at Indiana University, the Crane School of Music, SUNY, Potsdam, the University of Iowa, the University of Nebraska, The Ohio State University, the University of Manitoba and the University of Central Florida. She has presented four times at the national conference for the American String Teachers Association. Her most recent presentation was entitled "Studying the Violin at the College Level: Prospectives on Progress and Process" Known for her scholarly research, her work on violin duos, with colleague Dr. Sarah Hersh of the Crane School of Music, SUNY, Potsdam, was lauded in the article, "Vertical Climb" by James Reel; Strings Magazine, February 2006.
Recognized as one of the areas favorite performing artists, Mary currently performs as the violinist for the Chiarina Piano Quartet. Her colleagues in the quartet are: David Viscoli, piano, Mark Rudoff, cello, and Nancy Nehring, viola. Also a champion of contemporary music, she has performed and recorded numerous world premieres including works by Phillip Rhodes and pianist/composer Donald Betts on Inscape and Centaur labels. She serves as concertmaster for the Masterworks Orchestra associated with the Masterworks Chorale of Minnesota conducted by Dr. Peter Hendrickson.
Ms Horozaniecki is a two-time fellowship winner at the Blossom Festival School, and has studied at the Meadowmount School of Music. She is an Honors graduate of the school of music at Indiana University where she was privileged to study with the late Josef Gingold. Mary also mentored with Margaret Pardee of the Juilliard School, Emily Austin of the Detroit Symphony and Menahem Pressler of the Beaux Arts Trio. Her violin is a Ferdinandus Gagliano, made in Naples, 1753.
Website: www.marybuddhorozaniecki.com
---
Voice

Patricia Kent
pkent@macalester.edu
Patricia Kent holds degrees from the College of St. Benedict and Queens College, as well as a DMA from the University of Minnesota, where she received the coveted Schussler Prize in voice. She studied in Manhattan with Sheila Schonbrun and Martin Lies, and in Minnesota with Larry Weller and Elizabeth Mannion.
Patricia is an esteemed performer in concert, recitals and opera. She has over forty oratorio and concert works in her repertoire. She has performed as soloist with the St. Paul Chamber Orchestra (SPCO) under Christopher Hogwood in performances of Bach's Christmas Oratorio. Ms. Kent has also sung with the SPCO under Hugh Wolff, Joel Revzen and John Harbison. She has performed with the Minnesota Orchestra (MO) with Joseph Silverstein for the orchestra's Viennese Sommerfest, and she also performed the role of the Mother in Amahl and the Night Visitors with the MO in 2003. In 2000, Ms. Kent made her European debut singing the soprano solos in Mendelssohn's Elijah under Benjamin Pope in London. In New York, Ms. Kent performed with the Greenwich Village Singers as the soprano soloist in the Mozart Requiem. In Minnesota, Patricia has performed as soloist with many regional organizations, including the Oratorio Society of Minnesota, the Bach Society, the Macalester Festival Chorale and the Augsburg Masterworks Chorale and the Rochester and Duluth Symphonies. Patricia is also an eloquent performer in opera and recital. As an operatic soprano, she has performed roles as diverse as Ariadne in Ariadne auf Naxos, Rosamunde in Conrad Susa's Dangerous Liaisons, and Lady Billows in Albert Herring. She has recorded several CDs, including "La Vie Intérieure: Songs of Roussel, Poulenc, Duparc and Debussy" with pianist Roderick Phipps-Kettlewell, and "All in the Family: Songs of Fanny and Felix Mendelssohn" with pianist Robert Koopmann, as well as singing on CD recordings with CSB/SJU faculty members Carolyn Finley and Ed Turley and the Minnesota AIDS Quilt Songbook. Besides her teaching at Macalester, Patricia celebrates over thirty years of teaching at the College of St. Benedict and St. John's University, and she performs regularly with the their faculty chamber music ensemble Pastiche.

Laura Nichols
nichols@macalester.edu
Mezzo-soprano Laura Nichols began her musical career in the Twin Cities singing with the Minnesota Opera, where she was a principal member of the world premiere casts of Dominic Argento's Casanova's Homecoming, William Mayer's A Death in the Family and Conrad Susa's Black River. Ms. Nichols has been a featured oratorio and orchestral soloist with conductors Robert DeCormier, John Harbison, Layton James, Mark Mandarano, David Randolph, Joel Revson, Helmut Rilling, Kathy Romey, Robert Shaw, Osmo Vanska, and Pinchas Zuckerman. Representative orchestras with which she has been a soloist include the American Symphony Orchestra, the Duluth Symphony Orchestra, the Fargo-Moorhead Symphony Orchestra, the St. Paul Chamber Orchestra and the Minnesota Orchestra.
Ms. Nichols began her formal musical training at Rutgers University, earning a B. A. in music education and at the Eastman School of Music, earning an M. M. in voice performance. Her mentors include the famed mezzo-sopranos Jan DeGaetani and Elizabeth Mannion. In 2010 she completed her Ph.D. in music at the University of Minnesota. Her research focuses on the vocal health practices of professional singers.
Before moving to St. Paul, Dr. Nichols sang opera and oratorio roles in Boston and New York. Currently, she serves as a visiting Assistant Professor of Music at Macalester College in St. Paul, MN where she teaches voice, runs the opera workshop and coaches the principals in the bi-annual musical. She is a frequent competition judge for the Schubert Club, the Thursday Musical, the Minnesota Music Teachers Association and the Minnesota State Fair and County Fair competitions.
Recent performances include the New York premiere of Carleton Macy's song cycle Douce Dame with North South Consonance and the world premiere of Macy's Road Songs, DeFalla's Siete Canciones populares Espanolas (arranged for wind ensemble by Shelley Hanson) with the Macalester Wind Ensemble and Mozart's Mass in C with Winona Oratorio Chorus.

Joseph Reed
reed@macalester.edu
Joseph Reed, baritone, a graduate of the University of St. Thomas, holds M.M. and D.M.A. degrees from the University of Minnesota. He also holds the Certificate of Vocal Pedagogy from the University of Minnesota. Dr. Reed has performed with many area arts organizations, including Opera 101 Theater Company, North Star Opera, Anoka Opera, Minnesota Opera, and Northland Opera Theater.
An active private studio voice teacher since 1987, Dr. Reed joined the Macalester College music faculty in 2006. He also teaches at The University of St Thomas, and serves as choir director at the Church of St. Francis of Assisi. Previously, he taught at Bethel University and Minneapolis Community College.
---
Voice (Jazz/Contemporary)

Rachel Holder
rholder@macalester.edu
Rachel Holder has been singing professionally in the Twin Cities since she was 19 years old. Her unique voice has a sensitivity and expressiveness far beyond her years. In 2007, Rachel graduated from McNally Smith College of Music with a Bachelor's degree in vocal performance. Currently, she performs at several venues in the Twin Cities, including The Dakota Jazz Club, Hell's Kitchen, Honey, The Townhouse and The Artists' Quarter.
Rachel is an extremely versatile singer and performs many genres of music, including jazz, latin, R&B, and pop. She performs with the Wolverines, the George Maurer Group and Vital Organ, as well as fronting her own groups.
Rachel's debut album, "Save Your Love For Me," recorded with jazz pianist Dan Musselman, was released in February of 2009. Rachel has been a guest artist and clinician at several Minnesota and Wisconsin high schools. She's been teaching voice privately since 2007.