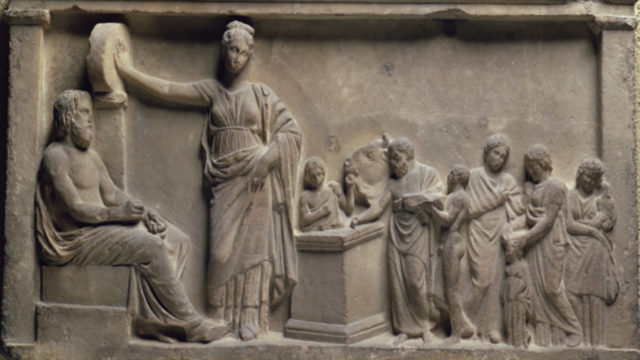 "A hope of this new course is to help us rediscover the wealth of insight and knowledge these ancient physicians and practitioners had, and still have, for us today." –Classics professor Andy Overman.
Anyone who has been treated by a chiropractor or an acupuncturist, practiced yoga, or been coached by a midwife has a personal connection to the traditional healing methods of the ancient world. That was one of the first lessons in the course Ancient Healing and Medicine, taught by classics professor Andy Overman, Harry M. Drake Distinguished Professor in the Humanities and Fine Arts.
The course has no textbook. Instead, students read primary texts including Hippocrates's Airs, Waters, and Places, from the 5th century B.C.E. The text advises healers to pay attention to the environment, the effects of nature, water, the seasons, the strength of the sun, and to carefully observe changes in the patient.
Moving on to traditional Chinese medicine, the class read selections from a 2,500-year-old Chinese medical encyclopedia known, in English, as The Yellow Emperor's Canon of Internal Medicine. 
"One of the great realizations for me was that people living 2000 years ago were very smart and made critical observations in ways we may not be able to now," says Carolyn Guddal '19, a political science major from St. Louis Park, Minn.
Some elements of medical wisdom of the ancients sound familiar—acupuncture, for example, and the body and mind connection as exemplified in the practice of yoga. Long-time yoga teacher and philosophy professor Joy Laine provided the class with a firsthand experience of the ancient practice.
There were two fieldwork assignments dealing with contemporary practitioners of an ancient medical or healing art. Guddal chose to interview Professor Jill Lile of Theatre and Dance. For 20 years, Lile was a chiropractor, acupuncturist, and director of the Hippocrates Center for Holistic Healing. Other students interviewed a life coach, a midwife, and other practitioners.
Progressing through a survey of Hellenistic healing cults, Roman physicians, Middle Eastern medicine and Native American healers, it became apparent how often early practitioners combined the traditional, popular practices of earlier generations with contemporary advances in science and medicine.
Sometimes practices co-existed in communities. For example, the temples of Isis were prominent in civic life in the Hellenistic world at the same time that individuals in their homes trusted in amulets, the reading of bird entrails, and the protection and wisdom of the ancestors.
For more than two decades, Overman has directed the excavation of a Roman temple in Israel, giving undergraduates extraordinary firsthand experience in archaeology. From years working in the region, he knows well the artifacts that attest to the healing practices of the Mediterranean.
"A hope of this new course is to help us rediscover the wealth of insight and knowledge these ancient physicians and practitioners had, and still have, for us today," says Overman. "Ancient Greek or Roman schools, traditional Chinese medicines, yoga, or Native American practices have knowledge about health, wellness, balance, and healing that we can recover and integrate into modern practices and personal disciplines."
Classics and computer science major Rae Hohle '17 (Bayview, Idaho) is headed to medical school, so a course on medicine in ancient times seemed tailor-made for her. "I have learned a lot throughout this course that continues to impress me, says Hohle. "In Airs, Waters, and Places the author notes how drinking stagnant water causes people to become sick and have protruding bellies. At that time though, they had no concept of bacteria or cells."
"We have spent a lot of time talking about how the ancient medical realm is connected to modern medicine," says Hohle, "the ancient medical practices, iconography and oaths that are still used today."