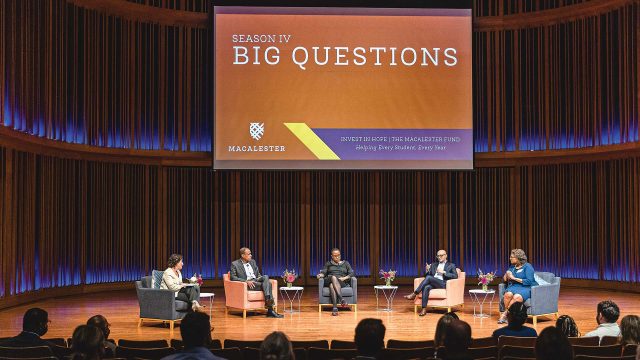 In October, at the first Big Questions conversation we were able to host in person since my arrival, we announced the launch of Imagine, Macalester—a strategic planning process that invites the entire Mac community to dream together about the future we want for the college. At that event, Provost Lisa Anderson- Levy and I talked with three distinguished Macalester alumni about the relevance and vitality of the liberal arts, and the steps we must take to ensure that a Macalester education is accessible for tomorrow's students.
Our panelists, trustees Mihir Desai '90 and Michael Sneed '81 and trustee emerita Shelley Carthen Watson '82, provided different perspectives about the role a Macalester education played in their own success, and offered their thoughts about how the college should think about preparing students to enter the workforce of the future. It was striking to hear an entrepreneur, a nonprofit CEO, and a corporate executive all describe similar tools and skills acquired at Mac that enabled their success in work and in life. That conversation was the perfect springboard for embarking on a process to design Mac's path forward.
We are approaching this strategic planning process from a position of strength. Mac has a long history of balanced budgets, high graduation rates, extraordinary faculty and staff, and a strong network of nearly thirty thousand active, engaged alumni. We received more applications last year than ever before, making our admissions process highly selective. In addition, the college's foundational values are especially suited to attracting and preparing students who will seek lives of purpose in their communities and around the world.
Despite those strengths, this is a time of uncertainty and transition for many colleges and universities, and we face a number of challenges. There is increasing pressure on four-year institutions, and especially liberal arts colleges, to articulate persuasively the value of the experience we provide. Rising costs of tuition and fees outpace inflation, making college difficult for most families to afford. Macalester's budget relies heavily on tuition revenue, and yet our commitment to access has resulted in a discount rate that makes fundraising an increasingly important imperative. This is made more difficult by lower levels of philanthropic support through alumni giving than are seen at wealthier peer institutions. And we know that as soon as 2026, fewer traditional-age students will be applying to four-year colleges, and fewer international students applying to US institutions.
To face these challenges, we must plan with eyes wide open and a keen focus on our core values. Effective planning will require that all who participate are well informed and willing to consider the possibilities with an open mind. This is not a process with predetermined results. As we delve into this work, our canvas is blank, and we will rely on the good thinking of Mac's students, faculty, staff, alumni, parents, and friends to help us create a future for the college that will resonate with tomorrow's students and prepare them for careers we may not yet even be able to imagine.
We will arrive at a plan we can support and execute if we reflect thoughtfully, together: on campus, in the alumni community, and among our Twin Cities neighbors and community partners. Now is the time to dream big. We want to hear your ideas—small and large—about how to make Macalester stronger, more vibrant, more distinctive. We want to hear what you've loved about Macalester, where you've been challenged, and where you've struggled. Through these conversations, we will develop a vision that will keep and amplify what's special about Mac while preparing to serve future generations of students.
So, please, get involved. The Imagine, Macalester website is a hub through which you can learn, follow our progress, and provide suggestions. We also are holding several town hall-style listening sessions throughout the spring to solicit feedback. You can find information about those events as well as more ways to get involved at macalester.edu/strategic-plan.
I look forward to hearing from you about your vision for our shared future.
Dr. Suzanne M. Rivera is president of Macalester College.