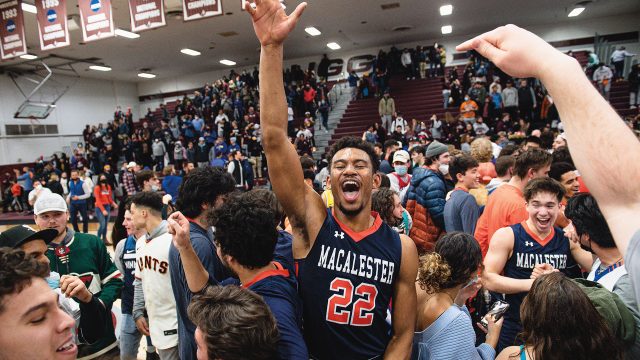 The night before the Minnesota Intercollegiate Athletic Conference men's basketball tournament began, Gabriel Ramos '22 (Dorado, Puerto Rico) didn't sleep well.
It's not that he was new to the MIAC—in fact, Ramos led the Scots with one hundred career appearances, a sharp contrast to the rest of a young team that included thirteen first-years or sophomores among the roster's seventeen players.
It was Ramos's first playoff game, though, and the first playoff game for the men's basketball program since 2005. Ramos could feel a different energy churning in the Leonard Center during warmups, when fans started filing in earlier than usual. By the time he launched the ball across the court to leading scorer Caleb Williams '24 (Wild Rose, Wis.) for a dunk late in the first half, more than a thousand people cheered in the stands. "It was the loudest I've ever seen the LC—the floor was shaking," Ramos says. "And when we won, everyone rushed the court. I was ecstatic."
But the team's story didn't end there. After the 79-66 win over St. Scholastica in the first round, the Scots upset Carleton in Northfield, 70–56. Then they rallied from a thirteen-point second-half deficit to beat Augsburg 76–74 in the semifinal to advance to the tournament championship against top seed Saint John's, the first time in tournament history that a sixth-seed had made it to the final. Mac students traveled by bus and helped pack the stands at all three road games.
In front of 1,800 fans in Collegeville, the Scots came up just short, dropping the conference championship game 75–71. "It hurts to be that close," says fourth-year head coach Abe Woldeslassie '08, who was named D3hoops.com's Region 9 Coach of the Year and leads the team with assistants Conner Nord and Bridge Tusler. "But when you step back and look at the season overall, it's clear that we're right there. There's a real buzz around this program, and it's earned."
Now the young team will begin to look toward its bright future, knowing that no one will be surprised by the Scots next season. And Ramos, who earned All-MIAC honors along with Williams, will savor a remarkable end to his collegiate basketball career. "This is what you work for, what you dream about—I feel so blessed it happened," he says. "The support from the Mac community gave us memories we'll never forget."