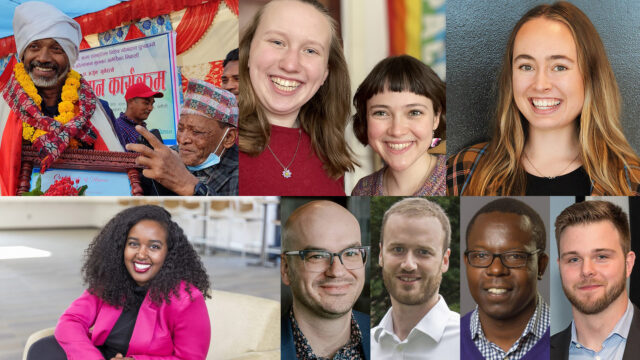 Maccolades is a monthly round-up of the most recent accolades and accomplishments earned by members of the Macalester community. Below are highlights from December 2022 and January 2023.
A presidential promotion
President Joe Biden named Macalester graduate Tsione Wolde-Michael '08 the executive director of the President's Committee on the Arts and the Humanities. Wolde-Michael, director of the Center for Restorative History at the Smithsonian National Museum of American History in Washington D.C., is the youngest and first Black person to lead the committee. 
"I've spent my career as a public historian launching large-scale projects from the ground up and working to transform understandings of our nation's past," Wolde-Michael said in a statement. "President Biden's new executive order supports telling a fuller, more expansive American story through the arts and humanities; it recognizes that these areas are essential to the vitality of our democracy while centering equity, accessibility and the inclusion of historically underserved communities in an unprecedented way."
In her new role, Wolde-Michael will lead a 25-person committee that will advise the president on policy goals, partnership opportunities and programs to increase support for libraries, museums, humanities and the arts. 
Wrapped in honor
Anthropology Professor Arjun Guneratne has long worked among an ethnic group known as the Tharu, who are Indigenous people of lowland Nepal. To congratulate him on 33 years of research on the Tharu, and for his publications about Tharu society and culture, the Chitwan branch of the Tharu Welfare Society, the Tharu Culture Museum, and the Tharu Women's Assembly jointly organized a ceremony with speeches, flowers, tea, and cookies. Dr. Guneratne was presented with a white turban, a public recognition of high status. 
"It was a tremendous honor, and I'm grateful to all of them for this significant recognition of my work, which is more important to me than any academic distinction that has come my way in the 33 years I've been in the business of research and teaching," Professor Guneratne said. 
From classroom to publication
Mac students Bess Connolly '25 and Kyra Layman '25 published their paper, "Pinkwashing Power: Performative Action in LGBTQ Rights Legislation in Germany, Mexico, and Nicaragua," in the Winter 2023 issue of the Tri-Co Law Review. The article explores the theme of social movement deradicalization and critiques elected officials who are given credit for incremental LGBTQ+ gains, even when those same officials act as obstacles to achieving LGBTQ+ rights legislation.  Connolly and Layman completed the research for their article in Paul Dosh's Foundations of Comparative Politics course.
A writing champion for all
The Macalester Academic Excellence (MAX) Center received the 2023 Martinson Award for Innovation from the Small Liberal Arts Colleges-Writing Program Administrators. The award committee recognized writing counselor Jake Mohan and the writing tutors for initiatives championing the needs of multilingual writers and equitable writing practices. In particular, the committee noted MAX's success in engaging faculty in changemaking efforts. 
"I am thrilled that Jake has been recognized for the excellent work he does to support the teaching of writing across campus," said Dr. Britt Abel, the director of writing at the Serie Center for Scholarship and Teaching. "Jake is a leading voice for equitable writing pedagogy at Mac, and in his work with peer writing tutors at the MAX Center, he intentionally creates a space that centers student empowerment and equity. The tutors he guides have responded with passion and thoughtfulness."
A comic contribution
Macalester graduate Ashley Allen '21 contributed to DC's Legion of Bloom #1, a forthcoming comic book anthology from DC Comics. "I'm featured alongside a huge roster of rockstar writers and artists," Allen said. "I've always been a fan of comics and I was incredibly lucky to have the chance to write a story for Poison Ivy, one of my favorite characters." Allen noted that a visual storytelling class with Prof. Matt Burgess rekindled her love of writing: "In the class, we wrote a comic book and I really enjoyed the process, prompting me to look into how to become a comics writer."
A first-of-its-kind book
Dr. Chris Wells, professor and chair of environmental studies, co-edited a new book titled Nature's Crossroads: The Twin Cities and Greater Minnesota. The book features an interdisciplinary team of distinguished scholars who aim to fill gaps in Minnesota's environmental history. 
"The environment is in everything, even in cities, even in places where all you see is concrete and human ingenuity," Prof. Wells said. "As a discipline, environmental history highlights the ways that we're bound together, both in ways that we can see and also in ways that are largely invisible unless you know where to look. We're all living inside the same ecosystems, but all too often we're not aware of the ways that we depend on them or the ways we remake them as we go about our everyday lives."
Leading in good faith
Rev. Paul Brandeis Raushenbush '86 was named president and CEO of Interfaith Alliance. This national interfaith organization serves members from 75 faith traditions and belief systems and is dedicated to protecting the integrity of both religion and democracy in America. An ordained Baptist minister, Rev. Raushenbush is a longtime leader in the interfaith sphere. "America is at a crossroads," he said in a press release. "As the Religious Right works to tear down the boundary between religion and government, American democracy and the rights of individuals to control their own destiny are under attack."
Jacob Worenklein, board chair for Interfaith Alliance, noted, "American democracy and our commitment to an inclusive future face unparalleled challenges not seen in generations, and there is no doubt in my mind that Paul will lead our movement forward with fierce devotion, integrity, and vision."
A persuasive case for excellence
Macalester's debate team competed at Georgetown University's Intercollegiate Policy Debate tournament with great success. In the varsity division, Ella Williams '26 and Sam Price '25 defeated two Gophers from the University of Minnesota in round eight of the tournament to advance to elimination rounds as the 24th-seeded team. Ultimately, Williams and Price bowed out to a duo from Georgetown University in the double-octafinalist round. 
An artistic triumph
Lela Pierce '08, a Macalester graduate and visiting assistant professor of sculpture, was awarded the prestigious Jerome Hill Artist Fellowship. This fellowship supports early-career Minnesota and New York City-based artists across eight artistic fields who generate new work that takes creative risks in expanding, questioning, experimenting with or reimagining conventional artistic forms. Fellows receive $50,000 over two years to fuel their time and expenses for the creation of new work, artistic development and professional artistic career development.
"The persistent practice of imagining transformation is vital for seekers of freedom," wrote Pierce in her fellowship statement. "Oscillating between 2D, 3D, and 4D (sonic/performance/film), I currently create spaces, images and situations that expand "inbetweenness," borders and places of transition."
A prestigious lecture in chemistry
The Camille and Henry Dreyfus Foundation presented Macalester's Chemistry Department with a Jean Dreyfus Lectureship for Undergraduate Institutions award. This $18,500 grant supports bringing a leading researcher to campus to give at least two lectures in the chemical sciences. Dr. Richmond Sarpong '95, a chemistry professor at University of California Berkeley, will give his Dreyfus Lecture on Feb. 7. A portion of the award also supports the summer research of two undergraduate students working with mentors in contemporary chemistry.
Tenure extended
Four professors who teach courses ranging from International Storytelling to International Trade and Multinational Corporations were awarded tenure. They are: Matt Burgess, English; Gabriel Lade, Economics; Getiria Onsongo, Mathematics, Statistics, and Computer Science; and Felix Friedt, Economics. Prof. Burgess is a writer who specializes in novels, short stories, and screenplays. Prof. Lade is an expert in environmental economics who studies policies that affect the transportation fuels market and policies related to water quality. Prof. Onsongo is an expert in the field of bioinformatics with a primary focus on clinical genomics and agricultural informatics. Prof. Friedt specializes in international and transportation economics. 
How to be considered for future Maccolades
If you or someone you know recently earned an award, fellowship, or honor and would like it to be considered for inclusion in next month's Maccolades, please let Communications & Marketing know by filling out this Maccolades form. For recent book publications, please use this book publication form.