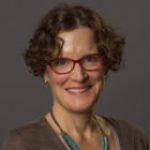 Director of Sustainability
651-696-8138
Meet the Student Workers
Aaron Backs (he/him)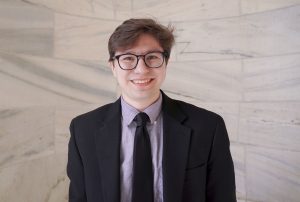 Aaron is a senior Environmental Studies and Political Science major from York, Pennsylvania, and the current Zero Waste Data Manager for Facilities. The team is currently working on rethinking, reinventing, and reinvigorating the way that Macalester collects and reports its waste data. And with his trusty bike always by his side, he's helping the bikes team with a registration program as well as a revamped bike share program. His other main sustainability interests include renewable energy and community greenspaces/gardens.
---
Carter Bell (he/him)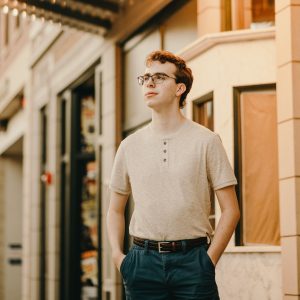 Carter is a first year who intends to major in Political Science. He is from Sioux Falls, South Dakota, just a 4-5 hour drive from St. Paul. His interests in the realm of sustainability are Environmental Policy and Environmental Justice. His role in the Office itself currently is that of collecting data on our endowment and ways to make it more sustainable and organizing meetings to present this information to the student body. In his free time, he enjoys playing video games and singing.
---
Maria Benito Correa (she/her)

Maria is a first year student from St. Paul planning to major in Environmental Studies. She is also interested in the Food, Agriculture, and Society concentration. At the Sustainability office she works at the free swap.
---
Maria Blaesing (she/her)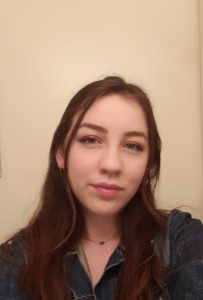 Maria is a Sophomore Geography major and Music minor from Munster, Indiana. She is interested in urban sustainability and planning. At Macalester, she works in the Sustainability Office on campus waste reduction and improving student wellness and behaviors regarding sustainability. Maria enjoys learning about the interests of the other students in the office and is excited to continue learning more about improving sustainability at Macalester. Outside of work, Maria is a member of the track team and participates in various music ensembles on campus.
---
Erik Borgehammar (he/him)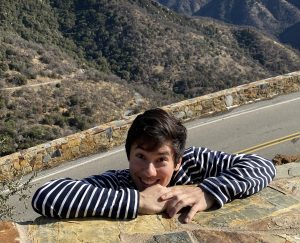 Erik is a junior Computer Science and Chemistry major from Naperville, Illinois. He is interested in practical applications and decisions relating to sustainability that can be applied to everyday life as well as conservation. In his free time, Erik likes to climb, play soccer, and consume culinary delights.
---
Jane Dawson (she/her)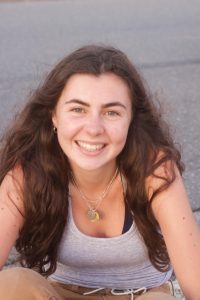 Jane is a first year planning to major in International Studies and Applied Math. She is from Pownal, Maine and has spent time working in Maine to develop leadership positions for young people in the climate justice sector. At the Sustainability Office her interests include working on the zero waste and bike programs. Outside the office, Jane enjoys running, skiing and spending time outdoors.
---
Susanna Deal (she/her)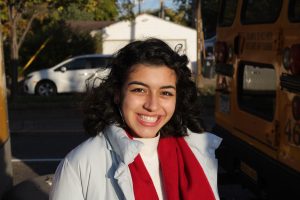 "Susanna is a first year at Macalester College from São Paulo, Brazil and North Carolina. She is an Atlas Fellow, and is working on creating a zero-waste goal on the college campus. During her free time, Susanna gets excited with trying new things, camping and hiking, watching movies, and eating good food. At Macalester, Susanna also does work promoting the Free Swap, learning more about the gardens, researching the college's and peers' Investments and Divestments, as well as working with the amazing Bike Share Program."
---
Sally Herman (she/her)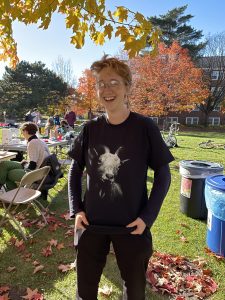 Sally is a senior biology major with an environmental studies minor from Madison, WI. Here at the Sustainability Office she works on event planning and landscaping, and generally is interested in climate justice that doesn't leave anyone behind. Her favorite parts of the job are working in the MULCH garden and getting people as hyped as she is about the Free Swap!
---
Jeanarry Rosa Rodríguez Hernández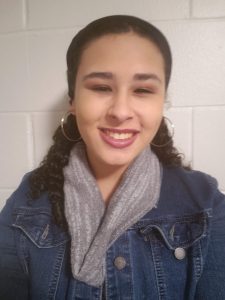 Jeanarry is a sophomore Biology major and Environmental Studies minor on the pre-veterinary track. She is the zero waste coordinator at the Sustainability Office, where she helps to plan Dirty Training and Move-out. She is also currently working with the Post-Landfill Action Network to help create a new zero waste plan for the college.
---
Christina Kiehl (she/her)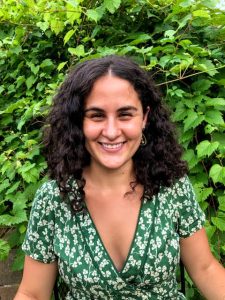 Christina is a senior Environmental Studies and Mathematics major. She is from Vermont, and enjoys cooking, nordic skiing and ceramics. At the sustainability office, she works on Scope 3 emissions tracking and is learning to help fix bikes.
---
Shawnai Ku (she/her)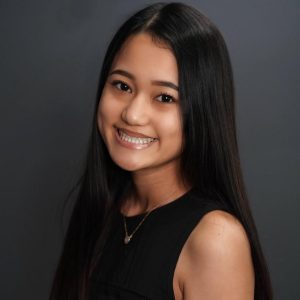 Shawnai is a first year and plans to study political science with a law concentration. She is currently a part of the free swap and would eventually like to be a part of the zero-waste program.
---
Dylan Lian (he/him)

Dylan is a first year from Portland OR. He is planning on majoring in mathematics and is looking forward to working in the free swap and on the bike team for the Sustainability Office.
---
Nilufar Mashian (she/her)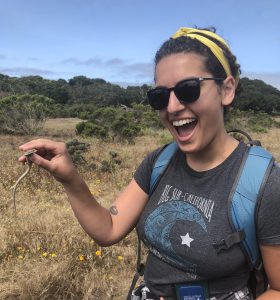 Nilufar is a senior Environmental Studies major with a minor in Economics. She is the student worker for MacShare, Macalester's student-run wholesale food cooperative. She is working to make sure MacShare can continue to provide affordable local produce at Mac for years to come. When not filling out spreadsheets for MacShare, she can be found stressing about her impending graduation and/or enjoying the company of her friends.
---
Zella Lobos (she/her)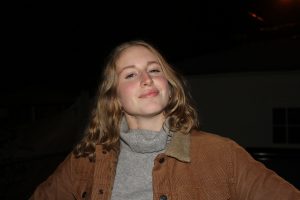 Zella is a senior Environmental Studies major with Political Science and Spanish minors, and a concentration in Legal Studies. In the Sustainability Office, she leads the Communications Team, helps organize and promote the Free Swap, and works on Environmental Justice initiatives. She hopes to help establish the Sustainability Office as a resource for Mac students emphasizing Environmental Justice in partnership with other departments and orgs on campus. Outside the office Zella loves splashing in Minnesota's lakes in the summer and learning to ice skate on them in the winter.
---
Sam Mamicha (he/him)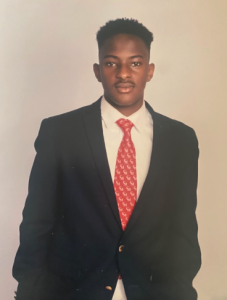 Sam comes from the Boston area and is a potential Biology major. He is excited to work with the sustainability office and learn more about sustainability, and also see how he can work towards making Mac more sustainable. Sam hopes to work with the divestment team and maybe with the Free Swap.
---
Clare Mazack (she/her)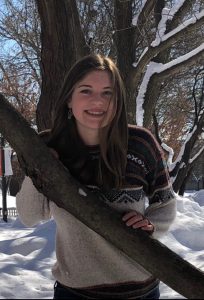 Clare is a senior at Macalester with majors in Educational Studies and American Studies, and a minor in Environmental Studies. She is the Dining Sustainability Coordinator at Mac, working closely with the Sustainability Office and Bon Appetit to develop sustainable initiatives related to dining services on campus. Some current projects she is working on include the food recovery program and the reusable container program. She also loves to make frequent stops at the free swap, one of her favorite parts about Macalester. Overall, she is passionate about Macalester's potential to transition to a more sustainable campus, while maintaining a focus on environmental justice.
---
Christine McCormick (she/her)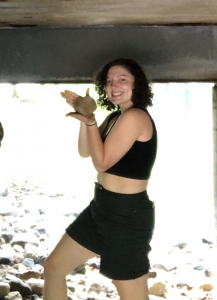 Christine is a senior Environmental Studies major. Within the Sustainability office, Christine works on Environmental Justice initiatives, events planning, and communications. Some of her past projects include helping plan Macalester's first Fix It All Free For All (an event where students and community members could bring their broken items, bikes, coffee makers, torn clothing, etc, and get them repaired for free and the planting of the GOOSE (Garden of the Office of Sustainable Efforts) a pollinator companion garden located in the back yard of sustainability. Outside of the Sustainability office, she can be seen peddling vegetables at MacShare sales, and perusing petfinder.com for cats her landlord will not let her own.
---
Madeline Medina (she/her)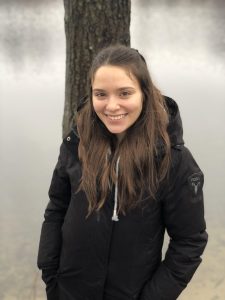 Madeline is a junior from Boston, Massachusetts majoring in Environmental Studies. At the sustainability office, she is currently the free swap manager and is interested in the intersections of environmental justice and psychology. In her free time, Madeline enjoys reading, playing intramural sports, and co-hosting her WMCN radio show.
---
Norah Ntagungira (she/her)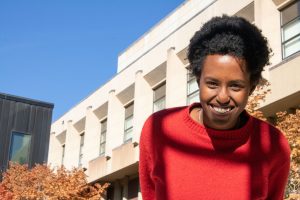 Norah is a senior majoring in Studio Art and Psychology. This fall she worked as the office's bike team leader. The bike team focused on supporting the short and long term bike loaning programs, and on collaborating with MacBike (a student-run organization on campus) to fix bikes at no extra cost and to organize campus wide events. Her experience at the office has helped increase her awareness and involvement in environmental justice and sustainability efforts. Norah also spends a lot of time thinking about behavioral attitudes that better and hinder her own and others' personal journey in "walking the talk".
---
Will Pierce (they/he)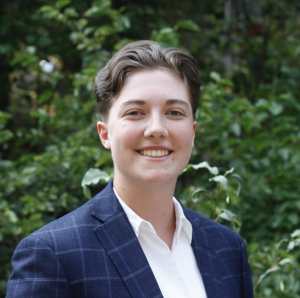 Will is a freshman majoring in Political Science with a minor in Women's, Gender, and Sexuality Studies. They are from Berkeley, California. At the Sustainability office, he is working at the Free Swap and on the course audit team, he hopes to get involved with the gardening and landscaping teams in the future. Outside of work, they like to cook, ski, hike, and generally be outdoors.
---
Franco Salinas (he/him)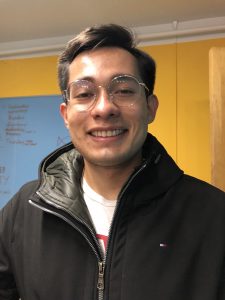 Franco is an Economics and Statistics major at Macalester College. He was born in Arequipa, a city in the South of Peru. As part of the sustainability office, he is part of the Communications team and the Free-Swap. He is passionate about the applications of technology to diagnose and troubleshoot the challenges that sustainable development entail.
---
Silas Southworth (he/him)
Silas is a junior Geography major and a Food Agriculture and Society concentrator. He is currently studying away at the University of Cape Town, South Africa. Back at Mac, Silas is a member of the Men's Soccer Team, as well as an avid club hockey player. In the office, Silas works on all things bikes, including repairs, the Bike Share program, and a new piloted compost pickup program. Silas enjoys reading, baking and all sorts of site seeing.
---
Sawyer Webbeking (he/him)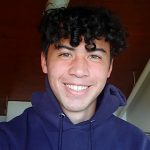 Sawyer is a sophomore at Macalester College. He intends to major in Neuroscience on the premed track. Sawyer is excited to be working with the Sustainability Office this semester in order to learn more about environmental justice, as well as how to mitigate the effects of climate change. In his free time, Sawyer enjoys the outdoors, plays soccer, and climbs things.