MAKE ART NOT WASTE
A Visual Arts Campaign for Zero Waste 2020
Seeking individuals or teams interested in creating artwork to be displayed during the Spring 2020 semester. Each artist will receive a budget of $75. See more details and fill out the Visual Arts Campaign Application.
Our Goal
One of the College's sustainability goals is achieving Zero Waste by 2020.
Macalester has adopted the definition prescribed by the Zero Waste International Alliance to reach this goal.  With their updated definition, Macalester will be considered Zero Waste when we regularly divert 90% of our total waste from a landfill or incinerator.
Our Progress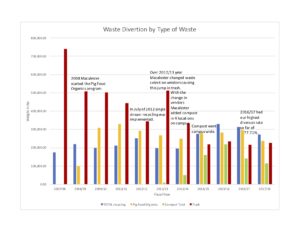 Zero Waste Pledge
Several departments on campus have signed the Zero Waste Office Pledge, committing them to correctly recycle and compost waste, switch to more sustainable purchasing habits, and to educate community members on the proper way to sort waste. The departments that have signed the pledge so far include:

The Library, Provost's Office, Internship Program, Facilities Services, Sustainability Office, American Studies, Anthropology, Art and Art History, Biology, Educational Studies, Environmental Studies, Geology, Mathematics, Statistics and Computer Science, Physics and Astronomy, Psychology, Asian Languages and Cultures, Geography, English, Civic Engagement Center, Bon Appétit, and Political Science

Want your department to pledge? Sign and return the Zero Waste Department Pledge and return to Suzanne Hansen at the Sustainability Office
Macalester Programs