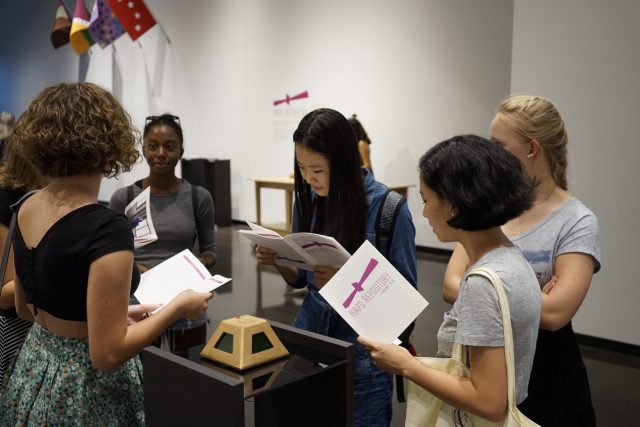 About the Law Warschaw Gallery 
Both for the classroom and the broader Minnesota community, Macalester's Law Warschaw Gallery is a portal to local, national, and international artists, their work and artistic dialogue, as well as a space for students, faculty, and the Twin Cities community to learn from the arts as a means to examine, transform, and communicate individual and collective experiences. 
In 2016, Macalester College hired Jehra Patrick as Curator and Gallery Director for the Law Warschaw Gallery. Under Patrick's vision and leadership, the Gallery's goals include developing a world-class contemporary exhibition program that facilitates student learning, artistic presentation and interpretation, and public engagement. Patrick's primary goal, however, is to centralize the Gallery's mission to reflect the college's focus on multiculturalism, internationalism, and service to society, drawing stronger connections to multiple departments on campus, the broader Twin Cities community, and national and international art currents.
Programming 
In recent years, the Gallery made these connections by hosting visiting artists in residence and by producing collaborative programming with Twin Cities organizations. As an example, the Iyapo Repository, an exhibition presented in September 2017, showcased collections of digital and physical artifacts by New York artists Salome Asega and Ayodamola Tanimowo Okunseinde, created to affirm and project the futures of people of African descent. This exhibition was the largest public presentation of their repository, and the artists engaged with the Twin Cities communities by conducting hands-on design workshops that informed the creation of objects for the ongoing Iyapo Repository collection including a workshop with Juxtaposition Arts.
In 2017, we partnered with the Twin Cities Chapter of the Japanese American Citizens League (TCJACL), to present the work of Seattle-based artist Roger Shimomura in 2017. Through this partnership, we collaboratively curated the exhibition and invited members of the TCJACL to share personal histories through a public discussion on racial exclusion, entitled Legacy of Incarceration. The partnership also created broad awareness for the exhibition through the TCJACL membership, which meant that over 500 Japanese Americans living in Minnesota were able to see this important work and have discussions in relation to contemporary issues on racial inclusion, such as the 2017 travel ban. 
In 2018, the gallery hosted a solo exhibition by Des Moines artist Jordan Weber, who transformed the white-cube gallery into a community programming platform for dance, workshops, book readings, a farmer's market, a barber shop, and meditations sessions through partnerships with Obsidian Arts, The Avalon School, Macalester student groups, and guest artists. These programs complimented his exhibition themes which offered a critique of cultural sustainability — which bodies are in a position to sustain themselves, which are resourced to survive, systematically, and which are disadvantaged, structurally. 
In winter 2018–19, we hosted a group exhibition, Material Futurity, an exhibition with a humanist approach to imagine an abstracted, queer, and forward-looking space for inquiry and investigation through joy and resistance. We hosted artists Grace Rosario Perkins, Jade Yumang, and Chris Bogia for residencies and on- and off-campus events. 
Most recently, the Law Warschaw Gallery hosted an exhibition by Sitka-based artist Nicholas Galanin (Yéil Ya-Tseen). Throughout his practice Galanin addresses the "impacts of pervasive capitalism, the continuation of colonization of human and non-human bodies, and misrepresentation and misappropriation of Indigenous culture," in an effort to "evidence these damages." In his 2019 exhibition at the Law Warschaw Gallery, Everything We've Ever Been, Everything We Are Right Now, Galanin's wide-ranging studio practice actively disrupted "outside definitions, limitations and representations of Indigenous culture, while illuminating and celebrating the value of Indigenous knowledge, aesthetics and continuum." His exhibition featured an artist residency, an ongoing performance confronting whiteness and cultural appropriation, and public programs which gathered Twin Cities artists to discuss activism and artistic practice and share strategies for ending museum violence.
The Law Warschaw Gallery's annual program is composed of 2-3 group and solo exhibitions from local, national, and international artists, which are curated by invitation. The Law Warschaw Gallery is not currently accepting submissions or proposals for exhibitions. This is due to our capacity to provide a timely response, our limited annual exhibition schedule and our desire to build intentional relationships with artists and communities.