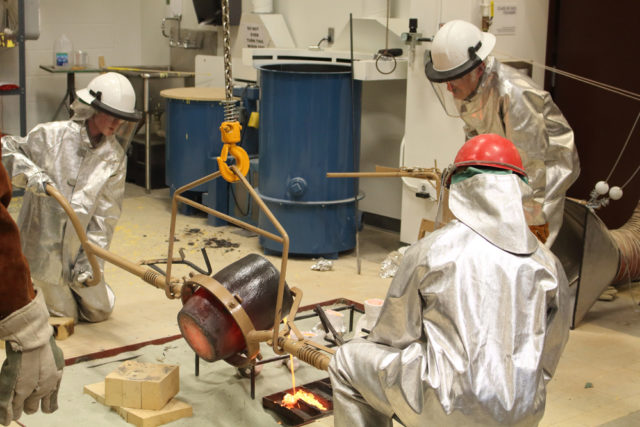 Special Opportunities
Maja Bendtsen, Ilana Budenosky and Lachlan Hinwood have been selected for the Art Department's postgraduate apprenticeship program for 2017-2018.
Hundreds of bowls were made and donated by students in Summer Hills Bonczyk's ceramic classes for the Gary Erickson Empty Bowls Fundraiser 2017, benefiting Second Harvest Heartland food bank.
Students and alumni printed for Prof. Godollei's Northern Spark arts festival project, a multilingual all night live print giveaway at the Little Mekong Night Market site, June 2
Crystal Yam '17 received the first Donovan Art History Academic Travel Award to do art historical research on the Dada collagist Hannah Höch in Berlin, December 2016.
Painting II students created murals in the hallways and stairwells of the newly renovated Studio Art Building, 2016.
Simon Koda '16, Egzon Sadiku '16 and Ariana Zaia '16 received the Joan Adams Mondale Scholarships for ceramics. Vice President Walter Mondale presented the first scholarships in person in November 2014.
Art History student Parker Field '15, presented a paper at the ACTC Symposium at the Minneapolis Institute of Arts in April 2015.
Print II students donated original works to benefit the Simpson Housing Services in a show and sale at Burnett Gallery in the Chambers Hotel, Minneapolis in 2017.
Art students worked with visiting artist Tattfoo Tan to create Free Seed Libraries to be distributed at public venues as part of the International Roundtable 2012 and continue to this day.
Students hand printed postcards highlighting St. Paul neighborhoods disrupted by the Light Rail project, supported by a grant from the Irrigate initiative.
Print students created a portfolio for exhibit at the Tokyo Fine Arts University, Fall 2008. A copy is on view at the Macalester Humanities Resource Center.
Pei-Hsuan Wang '10, traveled to Jingdezhen, China, with ceramics professor Gary Erickson to see porcelain production in the city where it was invented. They stayed at Sanbao Ceramics Art Institute and visited universities, museums, and artists' villages, Summer 2009.
Sample Topics Courses
Race, Class & Gender in American Art
Color
Digging into Greek Art
Art and the American Culture Wars
Art and Technology
Dissent
Public Art
Architectural Drawing