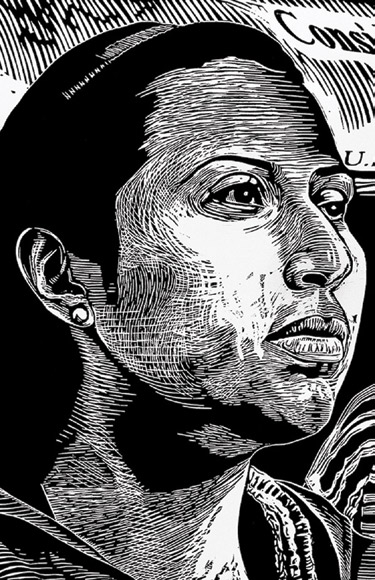 Ni De Aquí Ni De Allá (From Neither Here Nor There): New and Recent Work by Raoul Deal
NOVEMBER 8–DECEMBER 12
Opening Reception: Saturday, November 8, 7–9 p.m.
Artist's Talk: Monday, November 10, noon
Interdisciplinary artist and educator Raoul Deal has been living and working in Milwaukee, Wisconsin, since 1998, after living in Mexico for 10 years. His work addresses multiculturalism, displacement, and social justice issues, particularly as they relate to the experience of immigration. The large-scale woodcut prints and paintings in this exhibition are inspired by oral histories Deal collected from Latino immigrants in Milwaukee. These stories, transformed through his
work into visual narratives of migration, struggle, strength, and determination, are as likely to appear in a gallery or museum setting as in an advocacy role on posters, banners, and street art.
In addition to his studio practice, Deal often works collaboratively in community settings. This exhibition also includes images of immigrant identity produced by children at Milwaukee's Bruce-Guadalupe Community School, where Deal often collaborates. These artworks were produced in 2008 in a workshop with students ages 9 to14 who were responding to the Haggerty Museum's provocative exhibition "Caras Vemos, Corazones No Sabemos: Faces Seen, Hearts Unknown, The Human Landscape of Mexican Migration," works from the collection of Dr. Gilberto Cárdenas, director of the Institute for Latino Studies at the University of Notre Dame. They worked with photos and stories of their own families' immigration experiences.
Raoul Deal is a faculty member in the Art Department at the University of Wisconsin-Milwaukee's Peck School of the Arts, and is the Artist in Residence for that university's Cultures and Communities Program. Part of his charge is to generate community art projects and interventions in Milwaukee neighborhoods. Deal has exhibited both individually and collectively in museums and galleries in the United States and Mexico and as a mentor artist with RedLine Milwaukee.