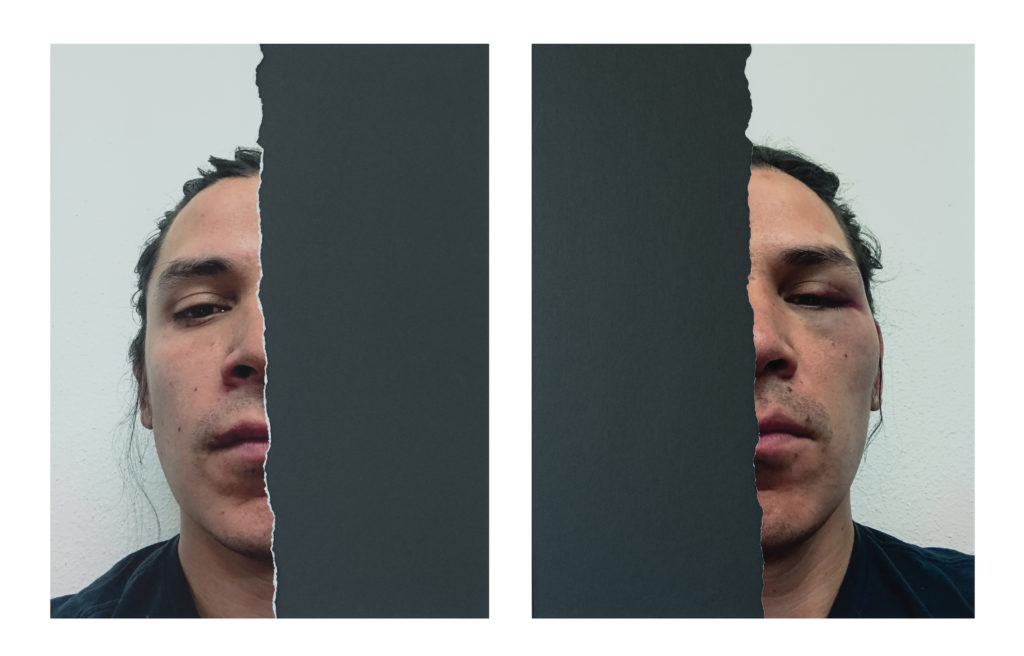 Nicholas Galanin
Everything We've Ever Been, Everything We are Right Now
Opening Reception
Friday, September 20th
6–9 pm
Necessary Action: Activism and Artistic Practice
Panel Discussion
Tuesday, September 24th
7–9 pm
Hewitt Hall Room M113
Janet Wallace Fine Art Center
Macalester College
In Nicholas Galanin's practice, activism for land and human rights is front and center. At times this intersects with his artistic career, as it did in the recent protest of the Whitney Biennial, where he and 7 other artists leveraged their work's withdrawal to effectively cause the resignation of board member Warren B. Kanders. Joined by Twin Cities artists Jonathan Herrera Soto, Jim Denomie and Angela Two Stars, Dyani White Hawk Polk will moderate a conversation sure to ignite discussion on the role that activism plays in artists practices.
About the Exhibition
Artist Nicholas Galanin's (Yéil Ya-Tseen) broad and ranging studio practice is one of simultaneous resistance and creation. In his work, Galanin offers "a perspective rooted in connection to land and an intentionally broad engagement with contemporary culture." Galanin strategically "embeds incisive observations" and critical thought into his work, "investigating and expanding intersections of culture and concept in form, image and sound."
Throughout his practice Galanin addresses the "impacts of pervasive capitalism, the continuation of colonization of human and non-human bodies, and misrepresentation and misappropriation of Indigenous culture," in an effort to "evidence these damages." In his exhibition, Everything We've Ever Been, Everything We Are Right Now, Galanin "disrupts outside definitions, limitations and representations of Indigenous culture, while illuminating and celebrating the value of Indigenous knowledge, aesthetics and continuum."
Through diverse media — including jewelry, carving, video, sculpture, photography, music, installation, performance, works on paper and hide — Galanin creates for his "Indigenous and non-Indigenous communities while rejecting attempts to place living cultural work in the past." He states, "My totemic carving is as contemporary as my video work; each speaks to contemporary concerns in different contexts."
His forthcoming exhibition at the Law Warschaw Gallery provides a thoughtful and critically Indigenous lens to view contemporary American culture and its complexity.
About the Artist
Nicholas Galanin (Tlingit-Unangax̂) has shown his work internationally, including recent exhibitions at the Native American Pavilion at the Venice Biennale, the Honolulu Biennial, the Museum of Contemporary Native Arts (Santa Fe, NM), Crystal Bridges Museum of Contemporary Art (Bentonville, AR), the Northern Norway Art Museum (Tromsø, Norway), and recently received a mid-career retrospective at The Heard Museum (Phoenix, AZ). Galanin was selected for inclusion in the 2019 Whitney Biennial and, along with seven exhibiting artists, withdrew his participation to draw attention to the Whitney Museum of American Art's vice chair Warren B. Kanders, a purveyor of military weapons and tear gas, and to demonstrate solidarity with activist efforts impacted by these weapons. Their protest ultimately led to Kanders' resignation and the reinstatement of the artists' work in the exhibition.  
Galanin has apprenticed with master carvers and jewelers, earned his BFA at London Guildhall University in Jewelry Design, and his MFA in Indigenous Visual Arts at Massey University in New Zealand. He currently lives and works with his family in Sitka, Alaska.