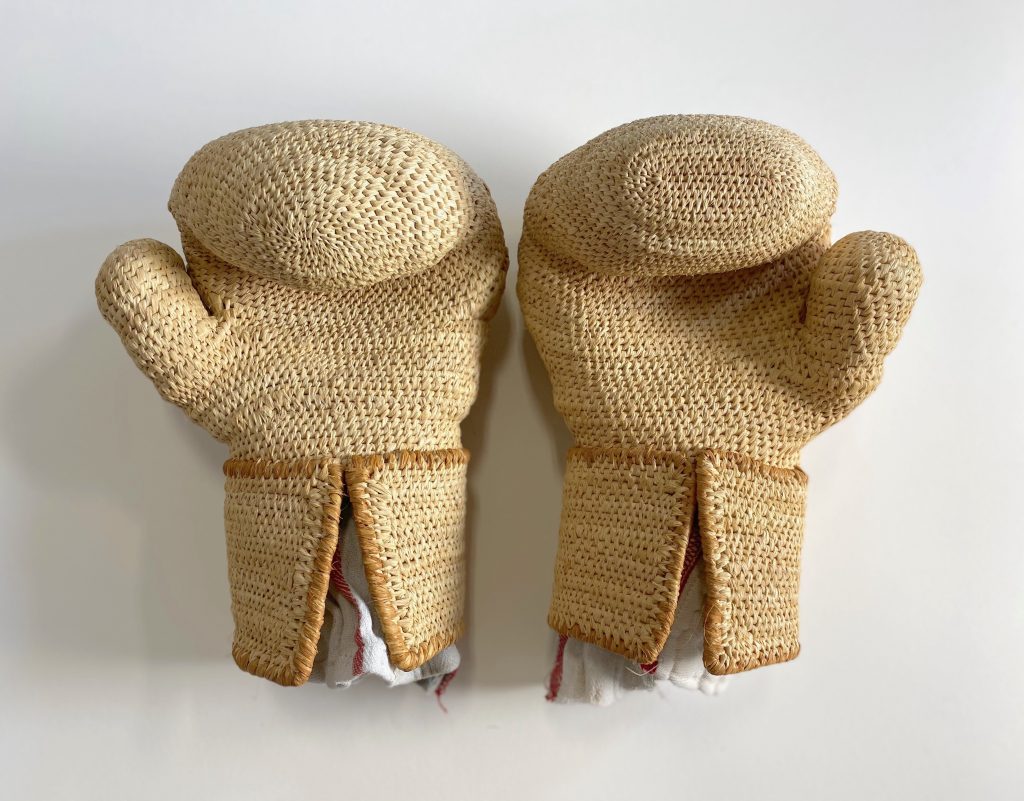 January 28—March 23, 2022
Reception
Friday, March 4
6–9 pm
Other Unknown Relations 
Conversation with the Artists
Friday, March 4
7 pm
Hewitt Hall
Janet Wallace Fine Art Center
Macalester College
Join Carriers for Posterity artists Alexa Horochowski, Rotem Tamir, Jovan C. Speller, and Maggie Thompson, and curator Jehra Patrick, in conversation with moderator and contributing essayist Erin Gleeson for an exchange around time, materiality, and ways of knowing in their work and lives.
About the Exhibition
In Carriers for Posterity, artists are auto-ethnographers who bring forward histories of family and self through images and objects that hold these truths. Working as historians, artists use the authority of lived experience to trace family lineage, intersect time, connect to place, and create new traditions for themselves, their families, and future generations.
Tributaries of personal stories, complex identities, dreams, and memories, come together in this exhibition to form a greater connected narrative and eventually a shared history. It asks, how will we become to know us? It speaks for lost loved ones; it speaks to our progeny, who will carry what they can. It is written by women who carry the joys, traumas, and traditions that compose a familial continuum of knowledge.
Carriers for Posterity features new and recent projects by Jessica Carolina González (Houston, TX), Alexa Horochowski (Minneapolis, MN), Merritt Johnson (Sitka, AK), Jovan C. Speller (Park Rapids, MN), Rotem Tamir (Minneapolis, MN) and Maggie Thompson (St. Paul, MN).
About the Artists
Jessica Carolina González is a multidisciplinary contemporary artist from Houston, TX. She has a BFA in Photography and Digital Media, BA in World Cultures and Literatures: Global Modernity Studies, and Spanish Minor from the University of Houston. In her work, González utilizes traditional archives and the archives of her bloodline, to explore conflicts of representation in a post-colonial landscape. Her work has been featured at Art League Houston as part of Latino Art Now Here Ahora! and De Amor, Nadie se Muere, for Pangea World Theatre in Minneapolis, MN. González was a featured panelist in Caged, Enraged, and Engaged: Challenging American Immigration Policy at Texas Tech University in Lubbock, TX, and has produced translating work for Ediciones Vigía in Matanzas, Cuba.
Alexa Horochowski is a dual citizen of Argentina and the United States. Her art practice includes sculpture, photography, and video. Artist residencies at Forest Island Project, Mammoth Lakes, CA (2018), MAM, Chiloé (2017), and CASAPOLI, Coliúmo (2013) significantly impacted her material and geopolitical research into the interrelationship between the environment and humankind. Horochowski holds a Master of Fine Arts from the University of Michigan, a Bachelor of Art in Creative Writing, and a Bachelor of Journalism from the University of Missouri. Her artwork has been exhibited in Minnesota at the Walker Art Center, the Minneapolis Institute of Art, Highpoint Center for Printmaking, the Rochester Art Center, the Nemeth Art Center, and The Soap Factory. She has also exhibited nationally and internationally. Selected fellowships include a Warhol Visual Arts Fund (2022), Efroymson Artist Fellowship (2018), McKnight Visual Artist Fellowships (2019/2014/2003), Artist Initiative Grants (2014/2012), and a Bush Artist Fellowship (2004). Horochowski teaches studio arts at St. Cloud State University.
Merritt Johnson's work is a navigation of periphery, intersectionality, separation, and connection and her multidisciplinary works are containers for thought and feeling. For over two decades Johnson has focused her work toward destroying the oppression of bodies, land, sex, and culture. Her practice is a synthesis of necessity, refusing binaries, refusing fractions of division and control; she embraces peripheral overlap and the impossibility of disentanglement. Johnson is a pansexual cisgender woman of mixed descent; she is not claimed by, nor a citizen of any nation from which she descends. The materials and processes Johnson employs are the embodiment of her insistence that a multiplicity of tools (and of bodies to wield them) are needed to destroy oppressive systems and survive them. Johnson is the mother and stepmother of six children and holds a BFA from Carnegie Mellon University and an MFA from the Massachusetts College of Art and Design, she lives and works with her family on Lingít Aani, her partner's home territory (Sitka, Alaska.) 
Jovan C. Speller is a multidisciplinary artist based in Northern Minnesota. Her work uses photography, installation, sound, text, and mixed media visual works to interpret historic narratives through contemporary discourse. Her research-based practice is centered around elevating, complicating, and inventing stories that explore ancestry, identity, and spatial memory. Speller holds a B.F.A. in Fine Art Photography from Columbia College Chicago. Her photographic works and installations have been published and exhibited in various group and solo exhibitions. Her work has been collected in private collections, and at the Minneapolis Institute of Art. She is a recipient of multiple grants and fellowships including the McKnight Visual Artist Fellowship, Jerome Emerging Artist Fellowship, and Minnesota State Arts Board grants. Speller was awarded the 2021 Carolyn Glasoe Bailey Foundation Minnesota Art Prize. She is represented by ENGAGE Projects in Chicago, IL.
Rotem Tamir's work focuses on the objects we make and how they help in telling the complex story of relocation and shuffled identity. She is fascinated by the relationships between art, local and distant traditions, and migration. Migrations involve objects and traditions that, along with the people, morph and adapt as a result of the experience of the journey, the materials at hand, and the new needs that arise. She dislocates and synthesizes objects playfully and hybridizes them with personal stories, experiences, and the politics of the moment. Tamir is an Israeli artist who lives in Minneapolis. She teaches as an Assistant Professor of Sculpture at the Department of Art at the University of Minnesota. Her work has been exhibited at international venues including Locust Projects, Miami, FL; the Harn Museum, Gainesville, FL; Kav 16 Community Gallery for Contemporary Art, Tel Aviv; BCA Center, Burlington, VT; and Artists' House, Tel Aviv, among others. Tamir has been awarded residencies at Sculpture Space, Utica, NY; Seven Below Arts Initiative, Burlington, VT; Art OMI International Arts Center and was a featured artist in residence at ARC Chattanooga, TN. She is a recipient of the Toby Devan Lewis Fellowship Award and the Artist Exhibition Grant from artiscontemoprary.org, New York, NY.
Maggie Thompson (Fond du Lac Ojibwe) was born and raised in Minneapolis, MN. She received her Bachelor of Fine Arts in Textiles at the Rhode Island School of Design in 2013. She derives her inspiration from the history of her Ojibwe heritage, exploring family history as well as themes and subject matter of the broader Native American experience. Thompson's work calls attention to its materiality pushing the viewer's traditional understanding of textiles. She explores materials in her work by incorporating multimedia elements such as photographs, beer caps, and 3D-printed objects. Thompson has exhibited at All My Relations Gallery, The Textile Center, the Minneapolis Institute of Art, and the Plains Art Museum. She has received multiple grants including a Minnesota State Arts Board Cultural Community Partnership Grant and the Native Arts and Cultures Foundation Regional Fellowship. In addition to her fine arts practice, Thompson runs a knitwear business known as Makwa Studio and is also an emerging curator of contemporary Native art, and has curated exhibitions for Two Rivers Gallery, the McKnight Foundation, and the Minnesota Museum of American Art.