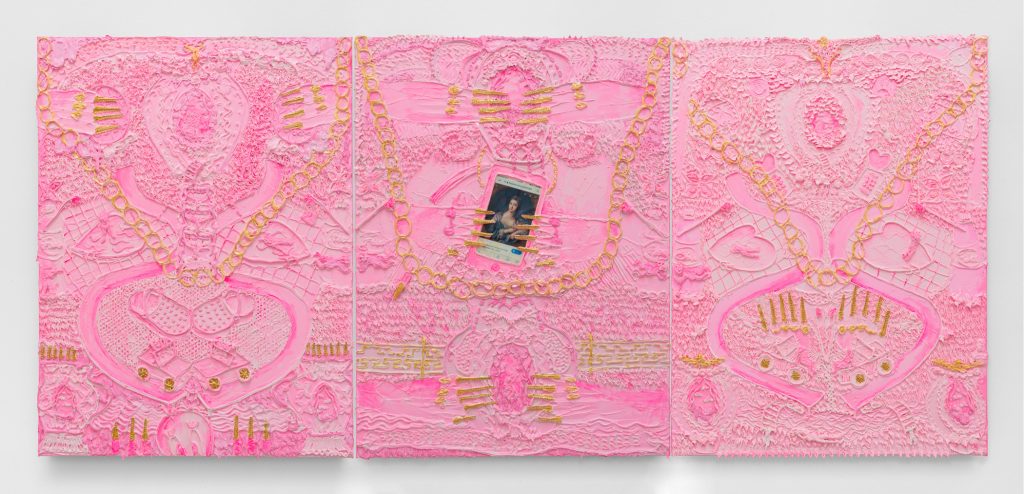 September 24–December 5, 2021
Law Warschaw Gallery 
Opening Reception
Gallery and Janet Wallace North Entrance
Friday, September 24, 2021
6–8 pm 
Masks required indoors; refreshments served on the patio.
Stigmatized as hyper-feminine and associated with decoration, Barbies, and high-maintenance, the color pink carries a burden of misrepresentation.  In Yvette Mayorga's practice, pink is not fragile. Pink is a political material; pink is a weapon. 
Drawing on her own family history—including the aesthetics of cake decorating and the opulence of church interiors—and art-historical references from Rococo paintings, vases, and urns, Mayorga creates lush paintings that seduce her viewer then confront them with the grave consequences of consumerist dreaming. 
By layering symbology from the consumerist ideals of the American Dream with Latinx iconography she offers not a singular Latinx experience, but one that is nuanced, complex, and politicized. Throughout her paintings and ceramic works, we see symbols from her own experience growing up as a first-generation Latinx in the United States in the 1990s alongside signifiers of present-day surveillance. Swans, roses, nails, and flip-phones intermingle with the tuna cans, shoes, smiley faces, and toy soldiers. Piped in gobs of pink paint and frosting, these images offer allegories of belonging and intentionally subvert gender stereotypes unique to the artist's experience as a woman of color.
Monochromatic Dreams is a collection of recent paintings and an installation work, including Monuments of the Forgotten, a crowd-sourced project that Yvette expanded on during her remote residency through the Law Warschaw Gallery in Fall of 2020.
About Yvette Mayorga 
Yvette Mayorga is a multidisciplinary artist based in Chicago, Illinois. Her work interrogates the broad effects of militarization within and beyond the US/Mexico border and intervenes in the colonial legacies of art history. She fuses confectionary labor with found images to explore the meaning of belonging. Her work has been exhibited nationally and internationally at the Vincent Price Art Museum, DePaul Art Museum, El Museo del Barrio, the Center for Craft, the Museo Universitario del Chopo, LACMA's Pacific Standard Time: LA/LA, NXTHVN, Art Design Chicago, the Chicago Artists Coalition, the National Museum of Mexican Art, GEARY Contemporary, EXPO, and Untitled Art Fair. She has participated in the Fountainhead Residency and BOLT Residency and is a recipient of the MAKER Grant. In 2020 Mayorga's project, "Meet me at the Green Clock," was commissioned by Johalla Projects as part of the exhibition "Andy Warhol–From A to B and Back Again" at the Art Institute of Chicago. Her work is included in the exhibition ESTAMOS BIEN: LA TRIENAL 20/21, El Museo del Barrio's inaugural large-scale survey of contemporary Latinx art. 
Mayorga's practice has been featured in publications such as Artforum, Artnet, Art in America, Art News, Hyperallergic, NewCity, Teen Vogue, The Guardian, and The New York Times. Her works are part of the permanent collections of the DePaul Art Museum and the John D. and Catherine T. MacArthur Foundation.