Welcome to the Geography Department
Macalester's nationally and internationally recognized Geography Department, founded in 1947 by Hildegard Binder Johnson, is unusually broad in scope for an undergraduate liberal arts college. The department leads students through an exploration of urban and regional planning, environmental geography, cartography, geographic information science and socioeconomic development in various regions of the world. Students may major or minor in geography. Students may also take a specialized minor focused on Geographic Information Systems or major in geography with an additional concentration in Urban Studies.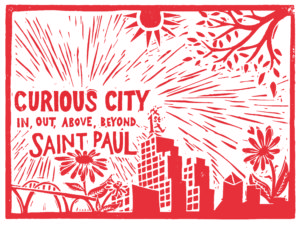 BOOK LAUNCH!
Curious City: In, Out, Above, Beyond Saint Paul
A Cultural Atlas of Saint Paul, Minnesota created by the Macalester College Geography Department's Cultural Atlas Production course in Spring 2019.
---
Our Department In the News
African Sky | Podcast with Prof. William Moseley | October 1, 2019
Geography Professor William Moseley discusses a wide range of topics, including the effect of the 2007-2008 global food crisis on Mali, and the new green revolution for Africa.
Local Farm Attracts International Educators | DrydenWire | June 25, 2019
As a part of Macalester College's 27th Colloquium of the IGU (International Geographical Union) Commission on the Sustainability of Rural Systems, 50 college geography professors including Geography's Holly Barcus, representing six continents, traveled to Chickadee Hills Homestead, a farm located just east of Spooner, Wis.
The map is not the territory: A brief tour of Minnesota's paper towns | MinnPost | August 12, 2019
Geography Prof. Emeritus David Lanegran was quoted.