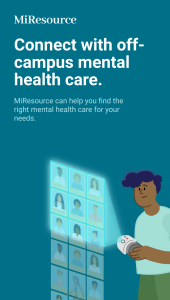 Hamre Center for Health and Wellness has partnered with MiResource to help students easily and confidentially find the right off campus mental health provider. You can filter providers by your specific care needs, insurance/payment options, provider identity, and location.
Go to MiResource to get started with your customizable search. Not currently in Minnesota? That's okay, MiResource has networks in other places as well.
The clinical providers participating in this referral database supply their own information about their services. Hamre Wellness Center cannot guarantee the accuracy, completeness, or timeliness of the information provided. Hamre Wellness Center is unable to endorse any particular clinical provider that is listed. It is important to verify fees and that the selected provider is in-network with your insurance prior to your appointment.