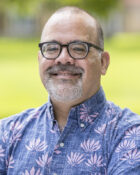 Doctorate in Counseling and Student Personnel Psychology, 2006. University of Minnesota
Don has worked in a number of college counseling centers since 1993. He has specialized in cross cultural counseling, human diversity and student development issues. Special interest areas include human relationships and communication, existential issues, and expressive arts therapies. Don's counseling approach is informed by theories that place emphasis on self-awareness, personal empowerment, and coping skills.
Don is multiethnic (Puerto Rican, Hawaiian, White), gay identified, cis-gender man with roots in Washington State and Hawaii. He has lived in the Twin Cities since 1993.