Jingming (Theodore or Theo) Wang 王景明, M.A., LPCC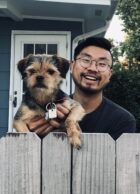 Theo believes that the person is not the problem, but the problem is the problem. During his school year in the University of Minnesota, Theo worked at Kente Circle in south Minneapolis, serving BIPOC students and members of the community. After graduation, Theo has been working in different community-based mental health clinics and worked with clients from all walks of life. Theo has a lot of experience working with depression, anxiety, racial identity development, academic concerns, sexuality-related issues and other challenges of life itself. Drawing from his personal experience, Theo has a strong desire to support all International students on campus and would like to offer therapy services in Chinese to reduce the barriers of language in healthcare.
Theodore identity as Chinese, cis-gender male, who loves Minnesota (yes, winter included!). He is fluent in English and Chinese. When not working, Theo loves to cook all kinds of Chinese food in the kitchen and attend his vegetable garden during summer time. 
Updated June 2023 Katie Tingleff