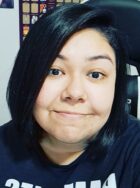 Nancy Casco is a dedicated member of the Hamre Center team since April 2022. With a background in healthcare and eyecare, she excels as a patient coordinator, showing genuine care and empathy towards those she serves.
Outside of work, Nancy's passion for fiction and fantasy novels takes her on captivating literary journeys. Her love for reading knows no bounds, and she dreams of one day publishing her own enthralling story.
With her warm-hearted nature and professional expertise, Nancy leaves a positive impact on the Hamre Center team and patients alike. Her commitment to compassionate care makes her an invaluable asset and an inspiration to her colleagues. As she continues to grow, Nancy's aspirations as an author promise an exciting and fulfilling future ahead.
Updated July 2023 Nancy Casco