Macalester is not shy when talking about sexual health and respect. We know a student's sexual health impacts their overall health and well-being. Our educational approach focuses on enhancing health and safety within relationships of all kinds, increasing access to resources, and facilitating open discussions on our Macalester community value of consent.
For more information about Sexual Respect efforts and resources at Macalester, visit the Sexual Respect webpage.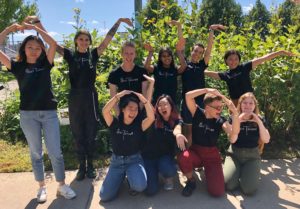 Sexy Trainers
Every Fall Semester, the Sexy Trainers aim to create a culture of respect by covering the basics of sexual health and consent in the first-year halls: being inclusive of all gender identities and expressions and sexual orientations. We know a large percentage of Mac students are not having sex; but knowledge is important for now, the future, and for helping a friend in need.
Become a Sexy Trainer — applications are due Saturday, April 2nd. View the job description and apply on the Sexy Trainer Google Portal! Applications are due Sunday, April 3rd. Email healthpromotion@macalester.edu with any and all questions.
Consider this portal your one-stop shop for all things/information Sexy.
Consent@Mac
Consent @ Mac is a program created by students for students, which articulates expectations about sexual respect in the Macalester community. We encourage all students to understand and commit to their rights and responsibilities in their relationships. Look for opportunities to engage with Consent @ Mac around campus and get a free t-shirt!
Request an Anonymous Safer Sex Kit
Products and information are available to help support your healthy sex life. Request an anonymous safer sex kit and choose from a menu of items, including external condoms, internal condoms, lube, and dental dams. You can also request information about emergency contraception, STIs, and breast and testicular self-exams. Whether you live on or off campus, you can request your individualized kit by filling out the Anonymous Safer Sex Kit online form. For students who live on campus, the kit can be delivered to your Student PO Box (SPO). For students who live off campus, you can pick your kit up in the Health Promotion office, within the Student Leadership and Engagement Center, Campus Center second floor.
Safer Sex and Relationship Week 2022
Join us for a week of interesting programs, conversations, and the Hunt for the Golden Condom. See the full schedule on the Sexy Trainers Instagram (@Macalester_SexyTrainers).
Hunt for the Golden Condom Spring 2022
The Hunt for the Golden Condom is on! This event will run for five days, from Monday, March 21, through Friday, March 25. We will post the Day One clue in the Mac Daily every day this week. That clue will lead you to a location with a QR Code. Once you find the QR Code, scan it with your phone and follow the instructions. This will give you the next day's clue. The day's QR code will be available by 9 a.m. on that day (excluding day 5, the golden condom will be put in place by 7:30 a.m. on Friday!). The first person who finds the golden condom will receive a large bean-bag chair! Second and third place winners will receive Macalester gear.
CLUE ONE: At the place you may visit when you don't feel well, upon the threshold is where your next clue shall dwell.
Questions? Contact healthpromotion@macalester.edu.