The IGC sponsors multiple ongoing initiatives that bring the campus and wider community together to explore what it means to be a global citizen. We welcome your involvement and hope that you will join us in creating sustained and meaningful dialog.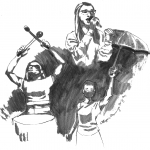 The International Roundtable is a community-wide forum exploring critical international issues that takes place each October on campus. The Roundtable brings together students, scholars, practitioners, and community members from campus and around the world to engage in discussion and debate. Past themes have included global health and equity; globalization, food, and agriculture; children of the world; human rights, and the global environment. Watch 2021 International Roundtable sessions here.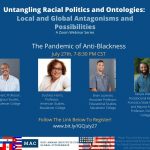 The Annan Institute for Global Citizenship, the American Studies Department, and the Latin American Studies Program announce a summer webinar series, Untangling Racial Politics and Ontologies: Local and Global Antagonisms and Possibilities. As the Covid-19 pandemic has forced a radical re-making of how we work and live, what are possibilities for addressing the pandemic of violence (physical, political, economic, ideological) against Black and Brown people? The series looks at relationships between anti-Blackness, racism, and colonialism as it considers theory, embodied experience, and action in struggles for justice. Watch the first video in the three-part series, The Pandemic of Anti-Blackness.

In this panel discussion Community Aid vs. Policing Bodies hosted by Harry Waters Jr., panelists discuss how during these tense times of the trials for the murder of George Floyd, recent unfortunate violence at George Floyd Square, ongoing attacks on communities, and environmental suffering, we have grown more aware of the great toll on the bodies of us all. Watch the video here.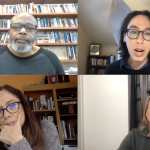 Understanding Authoritarianism in the U.S. and Abroad features Professors Erik Davis, Religious Studies; Olga González, Annan IGC, Anthropology, Latin American Studies; Bill Hart, Religious Studies, American Studies; and Lisa Mueller, Political Science; moderated by Dean Donna Maeda, Annan IGC, American Studies as they provide lenses for us to understand what we are seeing around the world and in Macalester's local contexts. Watch the video here.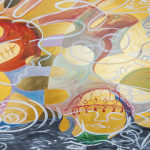 Professional Development Seminars are multi-day immersive experiences that foster collaborative learning about scholarly topics, pedagogy, and place. International seminars to locations such as Brazil, Turkey, and the Netherlands give faculty opportunities for cross-cultural exchange and focused intellectual exploration. Domestic seminars allow faculty to explore how issues facing U.S. cities can connect with academic programs. Sites have included New Orleans, Detroit, and the Twin Cities.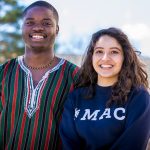 The Global Citizenship Student Award (GCSA) is presented every April by Macalester College and the Kofi Annan Institute for Global Citizenship to the graduating seniors who best demonstrates a commitment to the ideals and practice of high academic performance, internationalism, multiculturalism, and civic engagement. This may be demonstrated through student work in a broad range of majors and disciplines, and the selection committee hopes the applicant pool will reflect diverse representation from the Humanities, Sciences, Fine Arts, and Social Sciences. Candidates must be nominated by a Macalester faculty or staff member.  However, students who feel they are strong candidates may approach a faculty or staff to discuss their interest and request a nomination for the award.