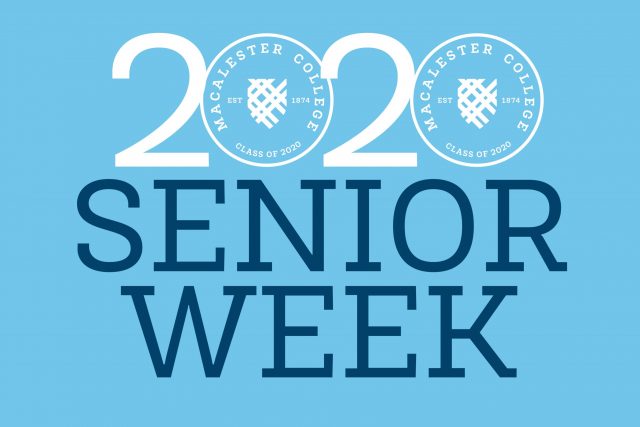 Extraordinary times call for extraordinary students. That's you, the Class of 2020. While we are deeply disappointed that we won't be able to celebrate your accomplishments together in person, we want you to know that you have dazzled us during your time here, and we are very proud of all you have done.
With finals done, you are ready to make your journey toward graduation. Our Senior Week tradition celebrates the accomplishments of the graduating class with a series of events designed to encourage and engage you and your classmates one last time.
Monday May 11-Thursday May 14, 2020
#Mac2020
Senior Week 2020
Monday, May 11
Senior Salute
12:00 p.m., CDT; Kudo Board
Hear from the Macalester Community about the truly incredible impact you've made in your time at Macalester. Staff and faculty will share written messages, filmed videos, and posted photos that remind them of the light, love, and joy your class brought to Macalester. We will open the board on this date so you have plenty of time to view it.   Throughout Senior Week, contributions from students, campus departments, and alumni will flow in about your journey.  This space will also be available to families and loved ones watching the Commencement broadcast on Saturday as well.
We hope to gather all the light, love, and support from your time at Macalester and to welcome you into the alumni community.
This event is co-sponsored by Alumni Engagement  and the Commencement Committee
Marking the Moment: Senior Reflections
2:00 p.m. CDT; Zoom 
Gather with members of the class of 2020 to Mark the Moment as we enter senior week.  We will hear reflections from seniors as we remember how we have shaped our Macalester journey: like the 2016 election, the campus walk-in, and powerful expressions of community.  During this 45 minute zoom call, you'll have a chance to connect with classmates, share memories and build community.  Hosted by seniors for seniors.
Senior Bingo
8:00 p.m. CDT; Zoom
Stop by for your last official game of bingo at Macalester. Tune in live and we'll explain how it will all go down. Prizes will include restaurant or grocery gift cards in various amounts. The grand prizes will be worth up to $100 each round!
Please note: You can only win once.
---
Tuesday, May 12
Senior Kagin: A Digital Dance Part
Hosted by Flip Phone Events
8:30-10:30 p.m. CDT; Zoom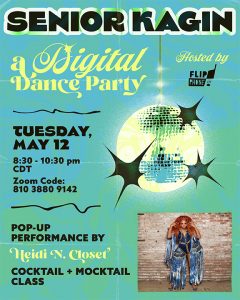 This is your last Kagin with your fellow seniors. Build the playlist of songs that mean something to your class and dance the night away Flip Phone will take recommendations from the playlist. In this room you'll be able to show off your moves, your space, and one silly night on Zoom.
This will include a Cocktail Class, Contests with Prizes, and a Drag Celebrity Appearance from a member of the Cast of  RuPauls's Drag Race. 
Please remember that this is  a Macalester-sponsored event so use of derogatory language or inappropriate content will not be tolerated and you will be removed from the event.
Add to the 2020 Senior Kagin Playlist


---
Wednesday, May 13
In Your City Mixer, An Alumni Meet and Greet
10:00 a.m. CDT; Zoom
7:30 p.m. CDT; Zoom
PRE-REGISTRATION FORM Not required but will help sort you initially.
Meet young alums who have experience in a city you're interested in. Get the inside scoop on the tips and tricks of your new home and how to find community when you get there. We welcome brunch and happy hours vibes as you engage in your new communities. Bring a cocktail and come hangout with young alums and learn about your new city! #macIYC
The list of represented cities may change due to alumni availability.
Twin Cities
Madison, WI
Boston, MA
New York City
Denver
Bay Area, CA
Seattle
Portland
Washington D.C.
London
Singapore
Tokyo
Marking the Moment: Senior Reflections
2:00 p.m. CDT; Zoom 
Gather with members of the class of 2020 to Mark the Moments leading up to commencement.   We will hear reflections from seniors as we look to the future.  During this 45 minute zoom call, you'll have a chance to connect with classmates, share memories and build community.  We will welcome others as we reflect on this present moment and how love and hope must be part of the journey forward. Hosted by seniors for seniors. 
---
Thursday, May 14
Family Game Night
10:00 p.m. CDT;  Zoom
Host Your Own Game Anytime Thursday
Senior Week will host a game of Fishbowl.
Gather your friends and family, and maybe invite a staff member, professor or alumni to a virtual game night. Set up a Zoom or virtual call and load up a game, escape room, or scavenger hunt for everyone to play. Check out this list of Things to do Together, Apart.
Share a photo of your night on Instagram or Facebook and tag the Office of Student Leadership and Engagement. On Instagram use the hashtags #heymac and #mac2020.
Each participant who is tagged and is a member of the Class of 2020 will get a $10.00 digital gift card to an establishment of their choice. If you don't have a social media account and want to participate email your content to lschrade@macalester.edu and we'll put it up on our Instagram, please include the name and email of those included in your email submissions. 
---
Gratitude and Goodbye
Included in the Commencement box you received from Macalester are five cards with the Class of 2020 insignia, envelopes, and stamps. These cards are meant to help you say goodbye to campus, friends, faculty, and staff. We are all experiencing a mix of emotions as we navigate the loss of the time, moments, and plans we knew before COVID-19. We encourage you to reflect on your time at Macalester and reach out to thank those who truly shaped your journey.  Send them a card and include a paper craft, a drawing, a meme, and let your friends and mentors know how much they meant to you and your time at Macalester.
Share Memories of Your Senior Year
Despite its 
outsized
 impact, 
COVID
-19 won't define your Senior Year and your time at Mac.
Share memories
—photos, stories, video, documents, etc.—that show and celebrate your senior year (or any part of your time at Mac). These will be archived, so what moments and people do you want to remember to mark your senior year? Please contact 
archives@

macalester

.

edu
 with questions.
For information about other events taking place this week. Please check out the Commencement Schedule.
Questions about Senior Week? Contact Logan Schrader at lschrade@macalester.edu.
Senior Class Photos