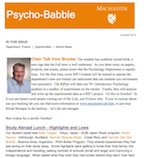 Psycho-Babble Newsletter
One easy way to keep informed about departmental events is through our monthly newsletter, Psycho-Babble. Our Department coordinator, Lee Olson, edits this document, and she's always on the lookout for information to share. Each issue features a calendar of upcoming events, news about Department members, notification about jobs, internships, and volunteer opportunities, and announcement of our "Mesmerizing Major of the Month"—a profile of a major, selected at random. Psycho-Babble is distributed to all majors, but any student who is interested can ask to be on the mailing list. Download recent editions:
Email List
In between publication of the monthly newsletter Psycho-Babble, Lee stays in contact with majors about various departmental deadlines, job opportunities, and upcoming events. All majors and minors are in Lee's files, but any student can be added to her list. Just let her know you're interested. lolson4@macalester.edu
Macalester Psi Chi
The Psychology Department is proud to have a local chapter of the national honor society, Psi Chi [link: www.psichi.org]. Junior and senior majors with overall GPA's of 3.65 or higher are automatically invited to join this society, and the Department holds ceremonial inductions in both the Fall and Spring terms. Psi Chi
Psych Club
Any student interested in psychology can be part of our Psych Club. This organization takes on different responsibilities each year, depending on its membership, but typically it coordinates social events (e.g., movie nights, pumpkin carving) and volunteers in the community. In some years, Psych Club has raised money for charitable causes through selling Department t-shirts.