November Talk: "Transitional Justice: Transition to What and Justice for Whom?"
In November, anthropologist Courtney Work will visit campus to talk about transitional justice in Cambodia, via the Extraordinary Chambers of the Courts of Cambodia (ECCC), also called the "Khmer Rouge Tribunals." Much has been promised and expected on the basis of these trials, one case of which ended November 2018 in convictions for Genocide, War Crimes, and Crimes Against Humanity, for two senior leaders of the Khmer Rouge.  Dr. Courtney Work is an anthropologist who has spent years working at the nexus of environmental studies, including community-based patrols against illegal logging and forest destruction. Her presentation is on the notion of "transitional justice" as it has been deployed in Cambodia, and the relevance or irrelevance of the implementations of transitional justice to everyday Cambodians, and to the crashing environmental damage that is being done: the damming of the Mekong River upstream has resulted this year, for instance, in "empty" rivers during the agricultural season in Cambodia, pits to mine sand for construction – largely in Singapore and Malaysia, thus far – are causing major disruption across the country, and deforestation continues apace.
---
"Lecture in 5 Tweets" from Candace Mixon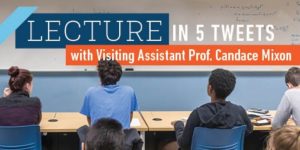 On October 21, Visiting Assistant Professor Candace Mixon participated in the @Macalester Twitter account's new series #LectureInFiveTweets. View the thread about Islamic art here.
---
Religious Studies Department Chai Time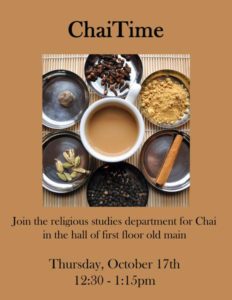 On Thursday, October 17, the Religious Studies Department faculty and students came together for conversation, camaraderie, cookies, and chai from 12:30-1:15 p.m. in the hall of first floor Old Main.
---
History professor receives award for her new book from the American Academy of Religion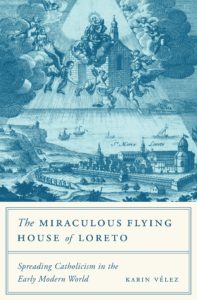 History Professor Karin Vélez's book, The Miraculous Flying House of Loreto: Spreading Catholicism in the Early Modern World, has received the American Academy of Religion's (AAR) 2019 award for the Best First Book in the History of Religions.
The AAR wrote: "A work of engaging and deeply imaginative scholarship, Karin Vélez's monograph analyzes not simply the most improbable devotion in early modern Europe—the cult of the "flying" house of Loreto—but offers a compelling new account of the popular globalization of post-Tridentine Catholicism. Rich with imagery and insight and studded with fascinating ethnographic nuggets, it is a book that rewards multiple readings."
This annual competition recognizes new scholarly publications that make significant contributions to the study of religion. The awards honor books of distinctive originality, intelligence, creativity, and importance—books that affect decisively how religion is examined, understood, and interpreted.
---
Candace Mixon joins the department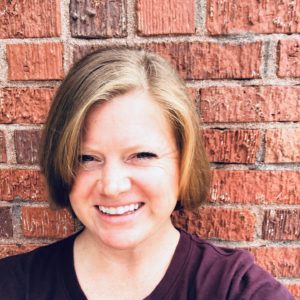 This year, we are excited to welcome Visiting Assistant Professor in Islamic Studies Candace Mixon to the Religious Studies department. She teaches introductory and intermediate level courses in Islamic studies at Macalester that include the study of race, material culture, and gender and sexuality studies. She received a B.A. from Vanderbilt University (2008), a Master of Arts in Islamic Studies from McGill University (2011), and she will receive her Ph.D. from the University of North Carolina at Chapel Hill in Fall 2019. She has traveled to Iran and Turkey for her current research on contemporary Iranian devotional practices, and her work has been supported by the American Institute of Iranian Studies, the Roshan Cultural Heritage Foundation, and the American Academy of Religion, among others.  Her research interests include contemporary Iran, art and material culture in Islamic studies, and gender in Islam.
---
Christian Lee Novetzke '93 writes book

A new book, The Quotidian Revolution – Vernacularization, Religion, and the Premodern Public Sphere in India by Christian Lee Novetzke '93, was published by Columbia University press in 2016. Novetzke is professor of religious studies, South Asia studies, and global studies at the University of Washington.
---
Jacob Bessen

Jacob Bessen's '17 article, Worship and Success in Global Capitalism: West African Pentecostal Immigrants in The Netherlands, was published in JUIS, Journal of Undergraduate International Studies, Spring 2016 Issue.