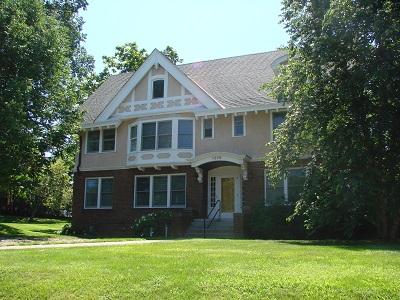 The Summit House is located at 1576 Summit Avenue, directly across the street from Dupre Hall on the southeast corner of Summit and Snelling Avenues. Designated as the Study Abroad House with room for fifteen students, the fall residents plan to study away spring semester and the spring residents have returned to campus from their fall study abroad programs. Programs and conversations fall semester center around preparation for study abroad while spring semester residents share their experiences and support each other as they readjust to campus life at Macalester.
Residents of the Summit House live in the basement, second floor and third floor. The first floor has a large kitchen and dining area, living room with fireplace, and an enclosed porch presenting numerous opportunities for quiet study or conversation. The basement has four single rooms and a double room; second floor has two double rooms and and RA room; the third floor has two double rooms and one single room. Bathrooms are located on each floor of the Summit House with half & full bathrooms located in the basement, 2nd and 3rd floors. The Residence Hall meal plan is not required for students living in Summit House, but we suggest students at least have a commuter meal plan since the kitchen is not set up to accommodate daily meals for all residents.
Students that are interested in living on campus with us (during the Fall 2023 semester) should fill out the application during the Spring 2023 semester using this application.
Student that are interested in living on campus with us (during the Spring 2024 semester) will fill out a separate application during the Fall 2023 semester.
Since the Summit House is campus housing, all Residential Life and College policies apply. Students are expected to takeout their own trash each week and to shovel the sidewalk from the front step to the public sidewalk during the winter months.