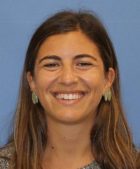 Study Away Student Programs Specialist

Study Away
651-696-6576
[email protected]
she/her/hers

I am excited to be a part of the Study Away team as your Student Programs Specialist. In addition to advising on a variety of Macalester Approved Study Away Programs, including Exchange Programs, I lead efforts on student programming such as pre-departure orientations and events for study away returnees. 
I was born and raised in Minneapolis, but lived in many other places before returning home. In eighth grade, I had my first real international experience, living in Munich, Germany with my family and attending a local German school. It sparked my interest in languages and travel, so I went on to obtain a B.A. in German and Italian at the University of Wisconsin-Madison, and was able to study abroad for a full academic year in Bologna, Italy. After graduating from college, I knew I wanted to get back abroad, so I taught English as a Fulbright English Teaching Assistant in Essen, Germany for a year. 
Previous to working at Macalester, I lived in Chicago, Illinois, where I worked with high school exchange students at Greenheart International, received an M.A. in Cultural and Educational Policy Studies from Loyola University Chicago, and served as an international student adviser at the University of Chicago. I am passionate about improving diversity, equity, and inclusion efforts in international education, and believe strongly that participating intentionally in meaningful study away experiences can help students become more engaged global citizens. 
Outside of work, I love seeing live music, practicing yoga, walking and swimming the lakes, and spending time with my family: my husband, Max; daughter, Ezra; and cat, Zucca.