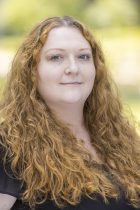 Study Away Data and Finance Specialist

Markim 207
651-696-6331
[email protected]
she/her/hers

I was excited to return to my Minnesota roots when I accepted the position of Study Away Data & Finance Specialist at Macalester. In my role, not only do I advise students on a number of study away programs and scholarships, but I also facilitate the behind-the-scenes financial administration of the department. I enjoy working with students, staff, and faculty who have a passion for expanding their personal or professional education internationally. I believe that experiential learning opportunities are crucial components of a holistic education. 
I am originally from Brooklyn Center, Minnesota, and enjoyed living in this incredibly diverse area. My studies took me to Central College in Pella, Iowa, where I received my Bachelor's degree in French, International Studies and Psychology (minor). While there I lived in the French House for 4 semesters with the language assistants, as well as studied abroad for a semester in Paris, focusing on language and culture. 
After college, I returned to France to teach English to high school students in the Champagne region for 8 months. I then came back to the U.S., moving to Columbus, Ohio for a year and then moving to Milwaukee, Wisconsin for 8 years. In that time I completed my Master of Science degree in Student Personnel Administration from Concordia University-Wisconsin and worked in the Center for International Education at the University of Wisconsin-Milwaukee as their Study Abroad Enrollment Specialist, Financial Specialist and Coordinator of Short-Term Faculty-Led Programs.
In my spare time, I enjoy exercising, reading, baking, and traveling with my best friend on surprise vacations. I have interests in numismatics (domestic and foreign currency collecting), as well as classic video games, card games, and 90's nostalgia.