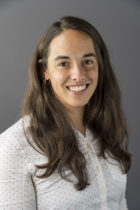 I started in the Center for Study Away in 2018 as the Assistant Director. I lead CSA efforts in evaluation and assessment, advise on a subset of Macalester Approved Study Away programs (including Macalester faculty-led programs), and work with our online study away software and process. Starting in February 2023, I also took on the role of Interim Director, which includes overseeing more of the risk assessment and emergency situations, CSA policies, and student support.
I was born in Chicago, and grew up in Evanston, Illinois. I completed my undergraduate education at Smith College in Northampton, Massachusetts with a B.A. in Sociology, and my Masters degree at the Harvard Graduate School of Education in International Education Policy. I studied abroad in Ecuador for a semester during college, and loved it so much that I ended up living and working in Ecuador for three years after graduation. During that time, I worked at a non-profit doing development work in Quito, a small fair trade organization based in Otavalo, and a community-based ecotourism site near Tena. Most recently before Macalester, I worked for almost five years at the University of Wisconsin-Eau Claire, managing international and domestic short-term faculty-led programming. I have also led short-term education abroad programs for high school and college students in Costa Rica, Ecuador, and Chile.
Through these various intercultural experiences (as well as my own multicultural background), I realize the importance and impact of study away opportunities and am passionate about working across campus to ensure that all students have access to these programs and we continue to offer high-quality study away programs that align with the Macalester mission, values, and goals.  I truly believe that these programs increase intercultural competence and global engagement, and inspire students to become leaders on campus and in their communities who act with compassion and understanding across difference.
Apart from my professional interests, I like to play soccer and ultimate frisbee, as well as go for runs (especially if it's around a lake or along a river). I also enjoy hiking, camping, and canoeing when I get the time. On the weekends you'll find me getting outside with my partner and 2 kids whenever possible!