Choosing a college can be thrilling , overwhelming, and everything in between. Generations of students have been in the same place you are now – wondering what school will be the perfect fit. Here are just a few stories from students who had a similar choice to make.
---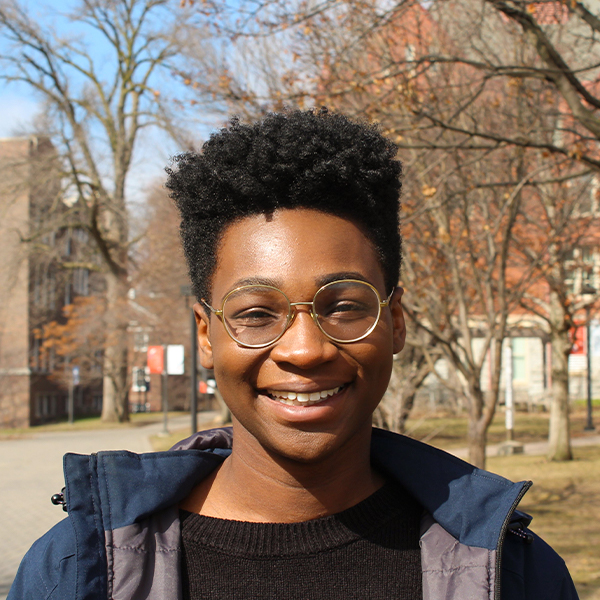 Traci Badu, '21
(she/her/hers)
Houston, Texas by way of Kumasi, Ghana
Major – Neuroscience
Minors– Psychology and English
One more thing to know – QuestBridge Scholar
When I was looking at schools I looked at the East Coast, Midwest…schools that were pretty spread out. I didn't have a specific school that I wanted to go to, but I wanted to go somewhere that was going to challenge me, but also not stifle my creativity. And I knew I wanted biology or psychology, and I'm now a neurosciences major here.
It's a funny thing, but I think one of the things that drew me to Macalester was a logo that was an orange peel and it had a little globe inside. It just felt interesting and still quirky. And on that piece of mail, I got a quote by Kofi Annan, which was actually a good friend of my grandfather, who is from Ghana.
So I called my grandpa and he told me a little bit about Kofi Annan, about his schooling here. And my grandpa is a very quiet guy, doesn't say a lot of words or give a lot of direct orders like do this, do that. But this was the first time he said, if you're going to pick a school, pick a school like Macalester. And if out of all of them, my grandfather in Ghana is saying to pick a school in Minnesota, well, I chose Macalester. And it's been amazing.
When I came here my host was a sophomore. She told me all the best spots on campus and eased me into the transition. I am part of QuestBridge and I am a first generation student, so a lot of things were very new to me and kind of stressful at times. She was also first generation and she shared her network with me, which I think was great for getting different perspectives and feeling connected.
---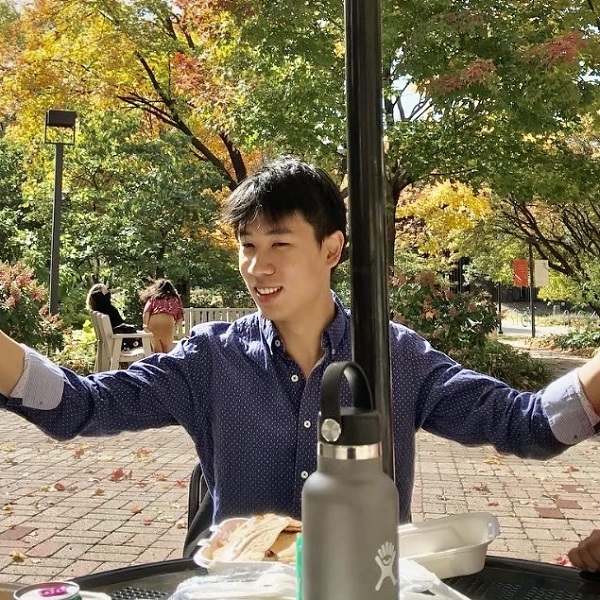 James Yang, '23
(he, him, his)
Taoyuan, Taiwan
Major – Computer Science

One more thing to know – I can fence
Before coming to Macalester College, I studied in UWC Dilijan, an international high school in Armenia. To me, UWC was a magical 2-year experience during which I understood differences, gained independence and grew to know myself more and more clearly. So, when choosing colleges, I was looking for colleges that believe in education, development and humanitarianism, meanwhile offering strong science majors – liberal arts colleges therefore became my focus.
Coincidentally, around that point, Sarah Schmidt, the director of international admissions, visited our high school. I had never heard of Mac until we had an interview. Yet after that, I started to get to know Mac, actively. I learned that it values internationalism and has a diverse campus; it is located in the Twin Cities, which makes Mac so different from other liberal arts colleges; and it is favoured by a great number of UWCers. Somehow, Mac was more and more impressive to me.
But the most impressive thing about Mac before I came to the campus was its application essay questions. I can't recall the exact questions but clearly remember I wrote about religion, culture & cuisine and values – the qualities a college should care the most about because we will carry those qualities with us from college, to society. We never lack smart people, but we always need people with kindness, understanding and potential. Some people may say Mac, or other liberal arts colleges, create a bubble. But Mac creates a community where we can learn together while still preparing us for the real world.
After being here at Mac for almost a year and half, I've never regretted my decision. I am glad to have chosen a college that prioritizes students and their experiences. During the beginning of the pandemic, Mac was one the few colleges that didn't kick the students out; most professors care about students and try their best to give us the best learning experience; and the dynamics of international and domestic students, and people from different backgrounds are organic. I can really feel the efforts Mac has invested in me as a student and a person.
Minnesota can be quite cold; but Mac makes it a little warmer.
---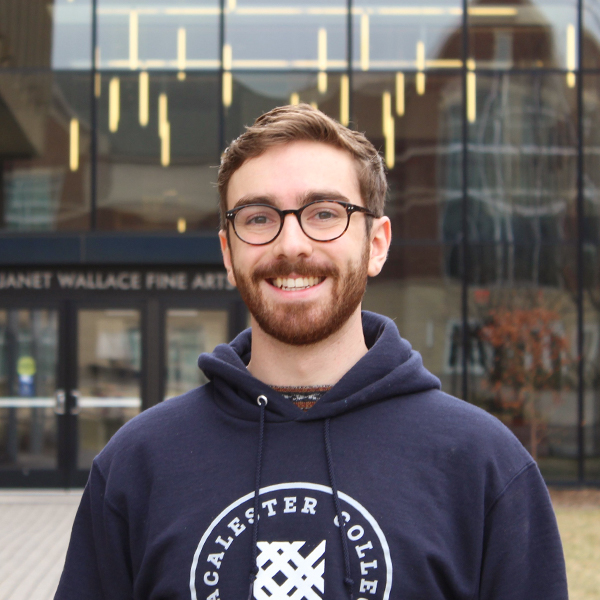 Jesse Crosby, '20
(he, him, his)
Alfred, N.Y.
Majors – Political Science and International Studies
Minor – Music
One more thing to know – Outing Club Member
When I was starting to look at colleges, I knew I wanted a small liberal arts college, but I was only looking at places on the East Coast, places in New England. My father had taught at a different college in Minnesota before I was even born, and suggested that I apply to Macalester. I will fully admit my initial reaction was cold, flat Minnesota…you cannot send me there.
I'm here, so clearly something changed. When I got the acceptance letter, it was really, really exciting, although I still did not think I would come here. But I decided to visit campus and came one day before decisions were due.
Everybody was in test mode and studying for finals. But even so, there was just an energy on campus that I hadn't gotten at any of the other schools I had visited. I sat in on a bunch of classes. There was just an engagement that I hadn't seen at other places. There was something that called out to me, sort of that passion of seeing people in the classroom making comments. They were leaving the classroom and still talking about the subject for an hour afterwards.
Everybody was so warm and welcoming and I felt like I could really see myself as part of the community. I sat in on the choir, which was unbelievably good. I still remember they were doing the Chichester Psalms. And I met the director and he was super friendly.
There was also a lot that I got from talking with current students and talking with different groups on campus, exchanging emails with professors and things like that. And so everything just sort of seemed to click together. And I actually made my decision to come to Macalester on the drive back home.
It's a weird time right now. That energy, that passion, that vibrant student body isn't as present here. We're all sheltering in place across the world. But even so, it's been a place that I've really loved all four years that I've been here.
---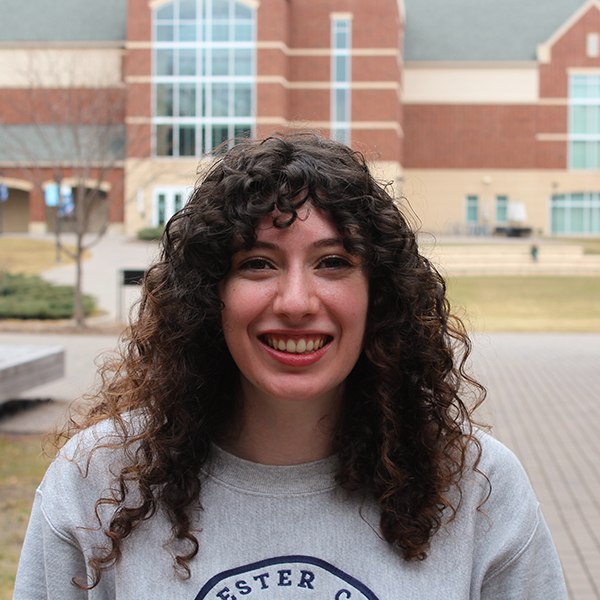 Julia Hirsch, '20
(she, her, hers)
Rockville, Md.
Major – Anthropology and French
Concentration – African Studies
One more thing to know – Study away location, Cameroon
I had considered applying early decision, but I just kind of knew that I wanted more time to think about whether this was the right place for me, especially knowing things can change with time.
When I visited I met a lot of people. I went to a lot of different student organization meetings and really tried to converse with as many people as possible to get an idea of who are the different kinds of students that Mac attracts.
One of the things I remember the most from my visit was going to the Cultural House and learning salsa dancing with Adelante!, which is the Latinx cultural student org on campus. And that was really fun for me. And I just it really gave me a sense of the kind of community and just the amount of different kinds of things to do here. And I think another one of the things that really impacted my decision was just having the time and independence that kind of comes with college life.
And I was really grateful to really be able to situate myself on the campus, see what my life would be like. And I remember very clearly a conversation with two of my fellow members of the class of 2020, where we just stood and talked for over an hour. And these are still people I'm friends with today.
---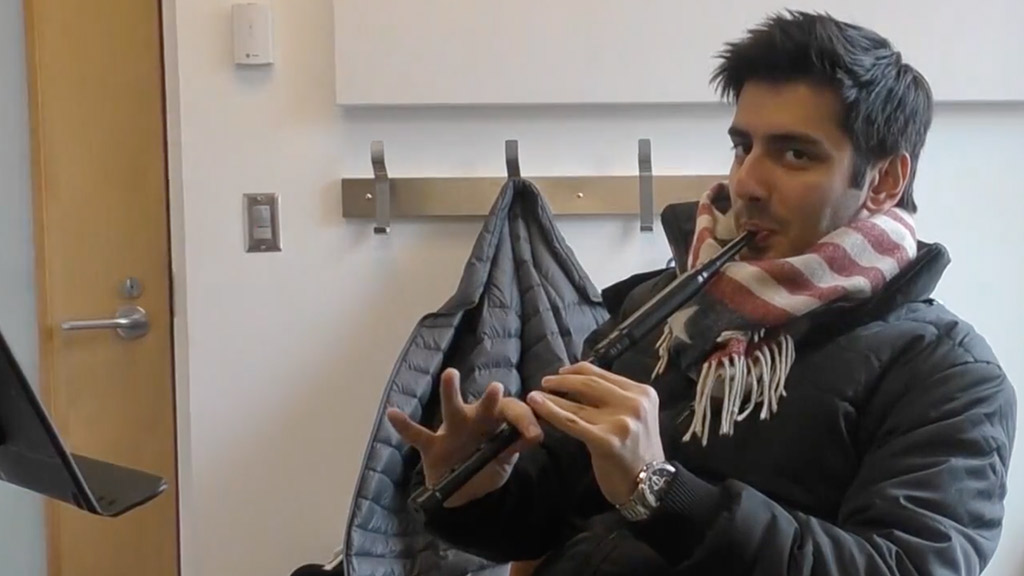 Day In The Life
Spend a day with more students from Macalester. Meet their friends, professors, and roommates. Step into their classes and join them at Café Mac. There's never a dull moment.