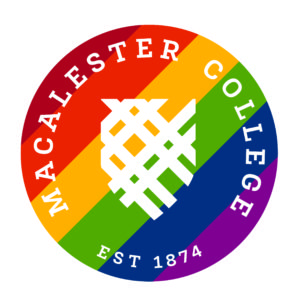 About
Scots Pride unites Macalester's LGBTQIA+ alumni across the globe for fun, social events, and networking. The group also seeks to support students, staff, and faculty through advancing a positive LGBTQIA campus climate. Scots Pride strengthens the college's history and mission by enriching Macalester's diverse community and fostering bonds between alumni and the campus.
Find out more about LGBTQIA@Mac
---
ALUMNI ZINE
Inscription is a 'zine  with words of encouragement, love and reflection from LGBTQ alumni to LGBTQ graduating seniors.
Share your words of wisdom with this year's seniors.
Scots Pride Activities and Reunions
It is with heavy hearts that we share the 2020 Scots Pride Reunion has been postponed for a future date due to the 2020 COVID-19 pandemic.  While Macalester Reunion is going virtual,  we have chosen to postpone this year's Scots Pride gathering which brings together members of our community across all class years.
In the meantime, we are organizing virtual happy hours and opportunities for our community to share support and encouragement to each other and we look forward to learning more how we can support our current students.  Please join our Facebook Group for more information.
If you identify as a member of the Scots Pride community and do not currently receive communications, please email alumnioffice@macalester.edu to receive Scots Pride related messages.
Take care,
Your Scots Pride Reunion Committee
---
Connect on Facebook
Engage with Scots Pride on Facebook.
Join group
---
Staff Contacts
Catie Gardner
Assistant Vice President for Engagement
cgardne1@macalester.edu
Rosalinda Miguel
Assistant Director of Affinity & Identity Engagement
rmiguel@macalester.edu
Kate M. Larson
Internship Director, Career Exploration
klarson7@macalester.edu
---