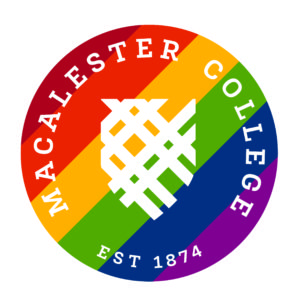 About
Scots Pride unites Macalester's LGBTQIA alumni across the globe for fun, social events, and networking. The group also seeks to support students, staff, and faculty through advancing a positive LGBTQIA campus climate. Scots Pride strengthens the college's history and mission by enriching Macalester's diverse community and fostering bonds between alumni and the campus.
Find out more about LGBTQIA@Mac
---
ALUMNI ZINE
Inscription is a 'zine  with words of encouragement, love and reflection from LGBTQ alumni to LGBTQ graduating seniors.
Share your words of wisdom with this year's seniors. Submissions open until Friday, April 19.
Letter of Encouragement
While Macalester has made great strides over the years to increase support and resources for students with marginalized sexual orientations and gender identities, you know best the challenges and barriers students face during their four years here. Which is why we are asking Scots Pride alumni to send in a letter of encouragement for LGBTQIA students. We will be compiling your letters into a binder that will be available for students in the Gender and Sexuality Resource Center (GSRC) to be a constant reminder of their larger community and a source of wisdom and support. For students who are navigating an intense academic environment as well as their own complicated identities, your support can make a big difference.
To participate, email or snail mail your letter to Neely Heubach '06. Your letters don't need to be long—just heartfelt, positive, and encouraging. Here are some things to keep in mind:
Think about the kind of letter you wish you had received while you were at Mac—what would you have wanted to hear?
You can address the letter generically ("Dear Student,") or specifically ("Dear Queer Student of Color," "Dear Trans* Student," "Dear First Gen Queer Student,") etc.
If you are open to being contacted by students, include your contact information (optional)
Please contact Neely if you have any questions regarding your letter and thanks for your support!
Scots Pride Activities and Reunions
We look forward to the annual Scots Pride gathering during the Macalester Reunion weekend, June 7-9, 2019. The gathering is held on Friday afternoon and is free for alumni who identify as LGBTQIA+ to attend. Registration via the reunion website is appreciated.
We are gearing up for the next Scots pride reunion in 2020. Please contact Catie Gardner in the Alumni Engagement office if you are interested in being involved.
Have a great event idea? Interested in helping to plan LGBTQIA events for the Mac Community? Contact Catie Garnder to learn more about how you can help support the LGBTQIA community at Mac.
---
Connect on Facebook
Engage with Scots Pride on Facebook.
Join group
---
Staff Contacts
Catie Garnder
Director, Alumni Engagement
cgardne1@macalester.edu
Tegra Myanna
Assistant Director of Lealtad-Suzuki, Multicultural Life (Dept. of)
tmyanna@macalester.edu
Kate M. Larson
Senior Career Specialist, Career Development Center (CDC)
klarson7@macalester.edu
---