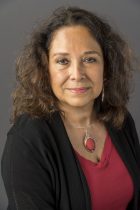 Associate Professor, Anthropology; Latin American Studies Program
Cultural anthropology, memory and secrecy, truth and reconciliation, violence and subjectivity, Latin America
Carnegie 04c
651-696-6589
[email protected]
she/her/hers

Fall 2023 Courses
First-year Course: Politics of Memory in Latin America
Theory in Anthropology
Spring 2024 Courses
Museum Course (Title TBD)
Decolonizing Global Perspectives
Senior Seminar
Professor Olga González is a cultural anthropologist whose research interests include the relationship between memory and secrecy, visuality and representation, vernacular/popular art, the politics of truth and reconciliation, violence and subjectivity, and Latin America. Professor González has a master's degree in Anthropology and Education from Teachers College-Columbia University (1996) and a PhD in Anthropology from Columbia University (2006). For her Master's thesis she conducted field research in a southern coastal department of Peru with people displaced by political violence. Subsequently she did extensive ethnographic fieldwork in the Quechua-speaking community of Sarhua (Ayacucho, Peru). From that research she wrote her doctoral dissertation which examines the relationship between memory and secrecy through an analysis of oral histories and indigenous paintings depicting the events of political violence during the armed conflict between the Shining Path and the Peruvian government. That dissertation is the basis of her book "Unveiling Secrets of War in the Peruvian Highlands," published by the University of Chicago Press in March 2011.

Prior to becoming an anthropologist, Professor González worked as a clinical psychologist in Peru and as a psychotherapist in New York City. In Peru, she served as the executive director of the non-governmental organization CEDAPP (Center for Psychosocial Development and Assessment) and worked with grass-root communities of Andean origin and in poor inner city neighborhoods. It was this work that sparked her initial interest in anthropology and ethnographic methods.
Her interest in cultural politics surrounding indigenous and vernacular art and the positioning of these forms of art in the wider, national and transnational arenas, led her to become the adviser and collaborator for two traveling art exhibits in the United States, "Weavings of War" (1995-1998, 2003-2004) and "Tradition and Crisis in Peruvian Popular Arts" (1996-1998).
Her new research in Peru focuses on memorials created after the 2003 Truth and Reconciliation Commission. She is interested in exploring how local and global forces shape these memorials, weaving together specific and universal understandings of memorialization and the human rights concept of "never again."  In this study she will also examine the role that distinct audiences – national and transnational, conservative and progressive, victims and perpetrators- and politics play in determining the aesthetics, content and physical space of memorials.