Associate Professor
Medical and cultural anthropology, infectious disease, death and dying, India, United States
Carnegie 207d
651-696-6626
rbarrett@macalester.edu
Fall 2018
Medical Anthropology
FYC: The Anthropology of Medicine: Introduction to the Discipline
Spring 2019
Anthropology of Death and Dying
World Healing Traditions
Reading World Ethnographies
Ron Barrett is a cultural and medical anthropologist whose research has focused on the social aspects of infectious diseases, religious healing, and the ways that human beings come to terms with their mortality. He has conducted fieldwork in Northern and Western India as well as in the United States.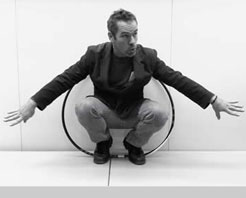 Professor Barrett received his Masters and Ph.D. in Anthropology at Emory University (1998 & 2002). He conducted his doctoral research in the northern Indian pilgrimage city of Banaras (a.k.a. Varanasi) where he studied the healing practices of an unorthodox Indian sect known as the Aghori and their patients with leprosy and other socially stigmatized diseases. This research is the subject of a book, Aghor Medicine: Pollution, Death, and Healing in Northern India, published by the University of California Press in 2008. This book was awarded the Wellcome Medal for medical anthropology by the Royal Anthropological Institute. He has also conducted U.S.-based research on the social dynamics of family caregivers in home hospice.
Professor Barrett also conducted NSF-sponsored research on health-seeking for influenza-like illnesses in a western Indian slum community. He has co-edited a reader with Peter J. Brown, Understanding and Applying Medical Anthropology (2nd Edition), published by McGraw-Hill in 2009. In addition to several book and encyclopedia chapters, he has articles published in Medical Anthropology Quarterly, Medical Anthropology, The Annual Review of Anthropology, and The Journal of Infectious Diseases.
Most recently, Professor Barrett has published a book, together with George Armelagos, on the human determinants of infectious diseases from the Paleolithic to the present day. The book is entitled, An Unnatural History of Emerging Infections (Oxford University Press, 2013).
He received his bachelors degrees in anthropology from the University of Colorado (1990) and in nursing from Johns Hopkins University (1992). He has worked as a clinical nurse in hospice, brain injury rehabilitation, and neuro-intensive care. Prior to joining the faculty at Macalester, Dr. Barrett taught in the Department of Anthropological Sciences at Stanford University for five years, and in the Emory School of Nursing and Department of Anthropology for two years. He has taught courses in medical anthropology, emerging infections, ethnographic methods, and social theory. He has also taught overseas seminars on religion and healing in northern India, and a comparative health systems course in Oxford, England. He continues to teach service-learning courses in which students volunteer at a local area hospice while attending his death and dying course.
Dr. Barrett (a.k.a. "Dr. Ron") teaches courses in medical anthropology, cultural and general anthropology, social theory, ethnographic methods, emerging infections, stigma and disabilities, and the anthropology of death and dying.
Defense Against the Dark Arts
Ron Barrett co-taught this unconventional anthropology/religion class that drew an enthusiastic crowd of students. More