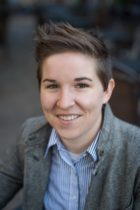 Visiting Assistant Professor
Neuroanatomy and Neural Control of Movement
Martha Streng is a visiting faculty member from the University of Minnesota where she is doing a postdoctoral fellowship in neuroscience. She is a cerebellar physiologist and her research has focused on how the activity of cerebellar neurons is able to control complex skilled movements. She also studies how the cerebellum can be targeted for neuromodulation as a therapeutic intervention in seizure disorders such as temporal lobe epilepsy. Martha enjoys gardening, hanging out with her cats, and watching her wife perform with Ballet Co. Laboratory.
BA: Mount Holyoke College
PhD: University of Minnesota