Pcard – How to Set up Fraud Alerts
Sign into Wells Fargo, and then click on Commercial Card Expense Reporting.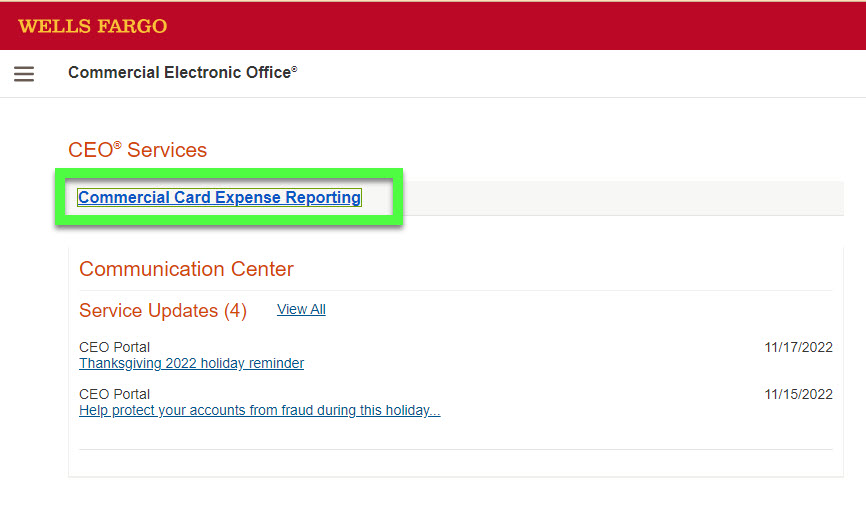 If you have multiple roles (i.e. are a cardholder and approver or reconciler/any combination of roles) make sure you are in your Cardholder role.
Click on User Information on the left-hand side
Click on Personal Profile
In your Personal Profile, click on the Manage Alerts link towards the top.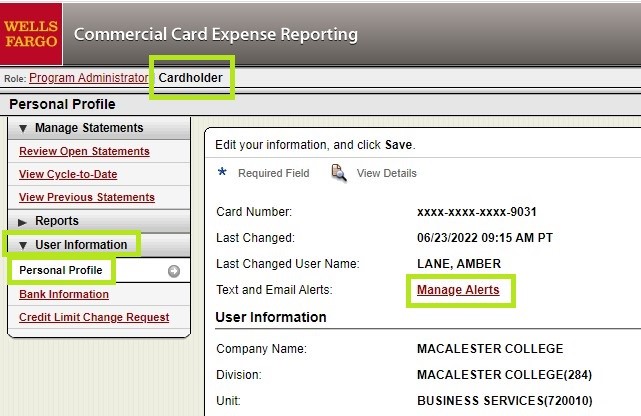 Once the Manage Contact Information page opens, you should already be listed as a contact under Contact Information.
Verifying or adding Contact information to receive fraud alerts
If you are already listed, click on the edit button (little pencil), and add your cell phone number, and be sure the "Set to receive fraud alerts" is checked, and then click SAVE.
If you are not listed as a contact, click on the Add Contact button instead and add in your contact information, and be sure to use your cell phone number as the phone number, and be sure the "Set to receive fraud alerts" is checked,  then SAVE.
Opting to receive fraud alerts via text
Once you save your info, you will receive a text message. Respond to the text message (the text come from WF Wholesale SMS)  by texting YES, to opt into the alerts.
After you've opted in, go back to Wells Fargo to the Manage Alerts section below your Contact Info.  The fraud alert option is the last one listed. On the right side, click on the drop-down menu and select "Text and Email". Below that, make sure your email address and cell phone number are check-marked, and then click Save All.