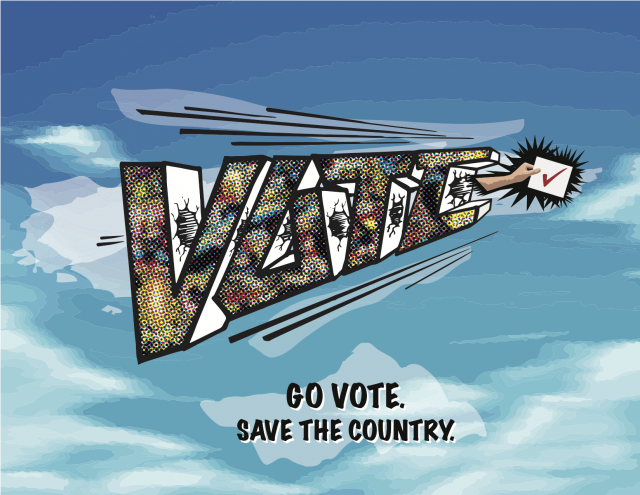 Democracy in Action is the academic component of Mobilize Mac. It offers students an opportunity to earn academic credit for engaging in political action in the Fall 2020 semester through the Democracy in Action Seminar Course (INTD-392 or INTD-394). Students can earn 2 or 4 academic credits for working on a political campaign or completing another form of direct, civically engaged political action.
Course Details
The course has two components: a seminar and an internship. Students will register for one section of the "Democracy in Action" seminar, which will meet biweekly until Election Day (November 3, 2020) and more frequently in the last weeks of the semester. The seminar, coordinated by Eric Carter and Paul Schadewald, will facilitate sharing across experiences and reflections about the meaning of political engagement for democracy and our shared public life.
Students will spend the majority of their time working on a political campaign or initiative or create a political engagement project. The Civic Engagement Center and Career Exploration will help all registered students find appropriate community-based sites. For the 2-credit option (INTD-392) students are expected to complete 75 hours of work, and for the 4-credit option (INTD-394), students are expected to complete 140 hours of work (spread between the internship itself and the seminar). S/SD/NC grading only.
What is the overall goal?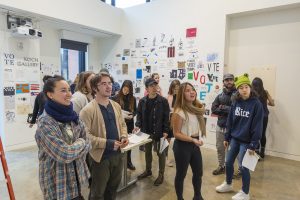 Democracy in Action seeks to draw students across all areas and disciplines; for example, the chemistry major who wants to work on climate change issues, or the sociology major who would like to work on immigrant rights. By offering structured group-based reflective practices to enhance individual experiences, this model of engagement aims to nurture civic-minded and democratically engaged students.
How can students get involved?
First, please know that you do not need to have your community site or project selected now.
Register for the "Democracy in Action" seminar (INTD-392 or INTD-394), then the Civic Engagement Center and Career Exploration will help connect you with an appropriate site or project. The seminar meets every other week before the election and weekly after the election, and will allow students to share and reflect on their experiences. With the seminar and the internship or independent study, students are expected to complete 75 hours for 2 credits and 140 hours for 4 credits.
How can faculty get involved?
Fill out this brief Google form to be listed as supporters of the project, or if you would like more information. Note: requires a Macalester email to complete.
Be part of the planning! We need faculty to collaborate in designing this experiential learning experience.
Talk to your students! Let them know about this opportunity – above all, this program is meant to make it easier to participate in the political process.
Stay connected off campus! Help us build our network of contacts with local nonprofits and organizations that are active in the 2020 elections. Let them know how Macalester students might be able to help them out.
Share with your department! Discuss how you might get involved individually and collectively. Don't worry – the CEC and Career Exploration will be taking care of most of the logistics of the internship experiences.
Get connected on campus! Let us know about courses and other programming that might be relevant for Mobilize Mac in the Fall.
Examples of Campaigns, Political and Nonpartisan Partnerships
These are the kind of sites that students could engage as part of their internship or engaged project. Note: students do not have to have their sites chosen to register for the class.