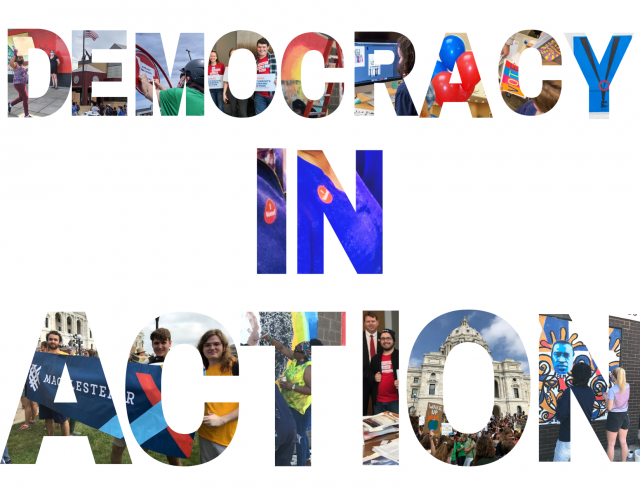 While the Covid-19 pandemic has upended our normal lives, it's more important than ever to get politically involved. So many issues — from abortion rights to environmental protection, from immigration policy to police violence — hang in the balance right now and hinge on the 2020 election results.
Democracy in Action offers students an opportunity to earn academic credit for engaging in political action in the Fall 2020 semester through the Democracy in Action Seminar Course (INTD-392 or INTD-394). Students can earn 2 or 4 academic credits for working on a political campaign or completing another form of direct, civically engaged political action.
Course Details
The course has two components: a seminar and an internship. Students will register for one section of the "Democracy in Action" seminar, which will meet biweekly until Election Day (November 3, 2020) and more frequently in the last weeks of the semester. The seminar, coordinated by Eric Carter and Paul Schadewald, will facilitate sharing across experiences and reflections about the meaning of political engagement for democracy and our shared public life.
Students will spend the majority of their time working on a political campaign or initiative or create a political engagement project. The Civic Engagement Center and Career Exploration will help all registered students find appropriate community-based sites. For the 2-credit option (INTD-392) students are expected to complete 75 hours of work, and for the 4-credit option (INTD-394), students are expected to complete 140 hours of work (spread between the internship itself and the seminar). S/SD/NC grading only.
What is the overall goal?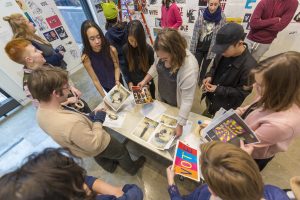 The peculiarities of life during the pandemic create new possibilities for you to influence American politics. If you won't be on campus in the Fall, because you've decided to stay home, consider working on a campaign in your hometown. And with so much campaigning being done virtually this year, you might find opportunities with campaigns in other states — including well-known "swing states" and districts with highly contested elections — where your action can have even more influence. We're encouraging everyone to be creative and to think big!
Details to be aware of for Fall 2020 registration:
First, please know that you do not need to have your community site or project selected now.
The course is listed under

"

Interdisciplinary Studies

" on the Fall class schedule: INTD-392 for the 2-credit version and INTD-394 for the 4-credit version. The only difference between the two versions is how much time you spend on political engagement. For the seminar meetings, we will bring all of the "Democracy in Action" students together in the same space.

This course will be using a "hybrid" mode of instruction — some mix of live and remote pedagogy. We will be accommodating of all students whether on campus or not.

Meeting times are still TBD, after we see how many students are enrolled.

The course runs across the whole semester, not within modules.

The Political Science department is allowing this course to count for credit towards their practicum requirement.

All class years — including First Year students — are welcome to register for the course.
Examples of Campaigns, Political and Nonpartisan Partnerships
These are the kind of sites that students could engage as part of their internship or engaged project. Note: students do not have to have their sites chosen to register for the class.