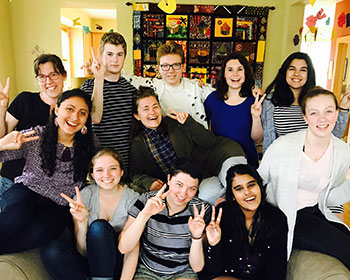 ---
Lives of Commitment 2017-18 Student Leaders
The student leaders were asked to answer the following questions:
1) What is your favorite thing about LOC?
2) What is your favorite thing to do in the Twin Cities?
3) If you could make any ice cream flavor that doesn't exist, what would it be?
---
Margaret Breen – Minneapolis, Minnesota


1.  My favorite part of LoC is kind of two fold; learning how to be in a meaningful and intentional community with others and the relationships that are formed from that. Through reflection and discussion, I learned how to be emotionally available to the people around me and it's really important to me to have a place where I feel comfortable opening up to those around me. LoC is that place for me at Macalester. And by doing so, I've developed deep, meaningful relationships with all the other memebers of LoC which is so important for me to have.
2.  I love going and exploring different coffee shops in the twin cities! It's always so fun to go off campus to study with a friend, especially on the weekends, and there are so many incredible places to do that! It's also a really great way to explore different parts of the cities and get out of the Macalester bubble, even if just for a few hours 🙂
3.  I actually work at an ice cream shop this summer so this question is really fun for me! I am a strong believer in eating ice cream year round, regardless of the temperature outside so I think it could be fun to have like a peppermint + hot chocolate flavor to eat in the winter.

---
Valeria Bustamante – Quito, Ecuador

1.  This is a tough one (the program is great in so many ways) but I think my favorite thing about LOC is that it promotes self-love and acceptance while at the same time motivating reflection and improvement. The LOC community makes me feel valuable and important despite my flaws and mistakes, but it also motivates me to do my best in all I do and to strive to be a better person every day.
2. There is GREAT food in the Twin Cities. My love for food and my willingness to try just about anything are no mystery to anyone who knows me, and so I really enjoy the wide variety of food from all around the world that the Twin Cities offer. Ethiopian, Somali, Afghani, Vietnamese, Italian, Colombian – you name it, you can probably find it just a bus ride away from Macalester.
3. There's a kind of ice cream back home called "helado de paila", which is basically ice cream made entirely out of fruit, but it is not a sorbet. My favorite one is blackberry ice cream, and I miss it so much! So I definitely wish Ben and Jerry's or Haagen Dazs or one of those – which already have just about every ice cream flavor I could dream of – would come up with something like that too 🙂

---
Theodore Caskey – Barrington, Rhode Island
1.  My favorite thing about LOC is the kindness and humility shown by the people involved. The community is always welcoming, inclusive, and determined to make a positive impact on others however possible. It also encourages reflection and the betterment of self as a prerequisite to being of help to others. I have learned so much from everyone I've met in LOC, and I know that I'm a different person than who I would have been had I not been a part of this community!
2.. My favorite thing to do in the Twin Cities is eat! Pizza is one of my favorite things ever, and I have already found several fantastic places to grab a slice. There are endless options in both Minneapolis and Saint Paul to get a great meal; in the neighborhood around Macalester alone there are more great restaurants than I've had time to try, and probably still many more I don't even know about. Also, the coffee shops are top notch. Both Caribou and Dunn Bros are right near campus, which works out great for me if I ever want to buy a cup of coffee more than once in a day but would rather not get judged.
3. There's an ice cream shop near my hometown that sells lobster ice cream. I know, it sounds weird, but don't knock it until you try it! Unfortunately, it seems none of the ice cream brands available at the grocery store have caught on to this stroke of genius. I hope they do soon! And hopefully they find a way to keep shellfish from expiring, because that might cause some unhappy customers.  

---
Michael Dzianott – Northbrook, Illinois 
1. My favorite thing about LoC is having a group of 35 people that I see around campus and say hi to. It's nice to be able to say hi to people in passing or have a quick conversation and know that they're listening and really care about what I have to say.
2. Go to the Mall of St. Paul. It's this antique shop in St. Paul—-and to be honest I've only been there once—but it's basically a cave filled with cool, random oddities from previous decades. I went there to find a tape player for my friend but they've got just about everything. I could spend hours there.
3. Probably just straight up peanut butter. I'm sure that exists already, but I love peanut butter. I think the world would be a better place with more peanut butter-based products.

---
Izzy Hart – Evanston, Illinois
1. My favorite thing about LOC is the genuine sense of love. I have made such incredible relationships through this community and the way that these friendships and mentorships function is so different than anything I've ever experienced. LOC has provided me with a space to be completely honest and open with myself and in doing so, I have been able to build stronger bonds with people inside and out of LOC. I feel so proud and privileged to be a part of a community where members are so dedicated to loving themselves and others.
2. My favorite thing to do in the Twin Cities is to bike to and along the Mississippi River. I grew up on Lake Michigan and love the water, so being so close to such a beautiful body of water has granted me so much comfort and peace. I love to bike along the river trail alone or with friends and every time I go I am able to just take a breath and feel grounded. The Twin Cities have so many incredible places to explore, but for me, nothing beats biking along the water.
3. I am a huge ice cream fan so this was a fun question to think about. One of my favorite summery treats is watermelon and mint so I would probably say some type of mint and watermelon sorbet. That or peanut butter chocolate malt ice cream, but who knows, that might already exist.

---
Kathleen Hunter – Des Moines, Iowa

1. One aspect of LOC that I really value is the opportunity to develop relationships with and learn from truly good-hearted people—both within and without of the Macalester community.  Whether it's with my eight-year-old study buddy, friends in the LOC program, or one of the guest speakers we get to hear at our large group meetings, I always feel like I am learning and growing because of the people around me.  I am so lucky to have developed these connections and be continuing to do so!
2. There is so much to see in the Twin Cities, but honestly my favorite thing to do is take walks and explore—especially in downtown Saint Paul!  I'm somewhat of an old soul so I love all of the grand, old buildings, pretty street lamps, and history of the area.  Besides enjoying the scenery, there's always great food to eat and ice skating in the winter!
3. I'm going to get creative and propose an ice cream flavor that changes as you eat it— sort of like an Everlasting Gobstopper but with ice cream! The flavor could take the taster through a meal like breakfast, with a fruit cup, french toast, and coffee.  But if that's too ambitious I think a simple combo of coconut and peanut butter would be good too!

---
Maya Shenoy – Kirkland, Washington

1. It's really difficult to choose just one favorite aspect of LOC, but I think overall I really value the openness of the community. That speaks both to how accepting LOC is of the people in it, people are able to be vulnerable and fully be themselves. Also, it speaks to LOC opening the doors for us to be a part of the Twin Cities community, and learn more about the place where we live. The community that this openness helped to build, both inside and outside Mac, was one of the most wonderful things about my first year.
2. The Twin Cities is full of places to explore! Whether that's popping into local bookshops, trying one of the many different cuisines the Twin Cities has to offer, or taking a snowy walk with a friend, I love that there's always a new little adventure to go on. It's hard to be bored in a place where there's so much to discover!
3. If I could make any ice cream flavor that doesn't exist, it would either be dragonfruit or starfruit flavored! They're some of my favorite fruits, and seem to have gone entirely unnoticed by ice cream creators as a collective.

---
Maya Varma – Los Altos, California 

1. LOC has been an incredible experience for me in so many ways—it has given me a strong and loving community, a space to be open and vulnerable, and it has helped me question and shape how I want to live my life as a Macalester student. But for me, the most significant part of LOC has been the opportunities for service in the Twin Cities. In this program I've not only been able to work with truly remarkable immigrants and refugees, but I've met community leaders who have dedicated their life to service and who have shown me ways to live compassionately in my everyday life.
2. My favorite thing about the twin cities is absolutely the art and music! There's always a concert to sneak off to in between the craze of classes and tests, a new art exhibit to see at the MIA, or even a play at the Guthrie Theatre—there's never a boring weekend and I've loved being able to explore (even if I've barely scratched the surface) everything the Twin Cities has to offer.
3. I'm obsessed with all things breakfast food, so if we could somehow incorporate breakfast and ice cream together I'd be down (Pancake Ice Cream? Anyone?). I've had maple bacon ice cream before and even though it sounds gross I swear its good! 

---
Lauren Weber – Beaverton, Oregon

1.  My favorite thing about LOC is volunteering with our community partners. My first year at Mac, I was overwhelmed with everything new on campus – and getting stuck in the "Mac bubble" became very real. Spending one afternoon a week off campus with a completely different group of people was my way of breaking out of that bubble. It was a constant reminder that I needed to be conscious of the communities around me, and that being a student at Macalester also meant being a resident of the Twin Cities.
2.  Live music! One of my favorite things back home in Portland is to go to concerts – and the Twin Cities are no different. There's a bunch of venues around St. Paul and Minneapolis, like First Avenue, but Triple Rock Social Club is one of my favorites. It's always fun to make a night of it by grabbing a very luxurious dinner at swanky Cafe Mac, waiting for your very own personal stretch limo (also known as the A-Line bus), and maybe even treating yourself to some fancy frozen dessert after the show.
3.  I am in dire need of some black coffee ice cream. The sweet coffee kind is alright, but I want it to be acceptable for me to walk to class in the morning eating black coffee ice cream. Plus, it would make for the best finals study treat.

---
Shireen Zaineb – Mequon, Wisconsin 

1.  LOC played such a large role in my first year so it's hard for me to pick my favorite thing about it, but if I had to choose I would say that it's been being able to learn so much about so many wonderful people. During our meetings I loved hearing everyone's thoughts and reflections and I found myself strongly resonating with my peers in so many ways, sometimes quite unexpectedly.
2.  The twin cities have so many great aspects and I have grown to love them throughout my first year at Mac, but something I really appreciate is the ease with which I can access nature while still being in or near the cities themselves. The river is a short walk away from campus, and places like Minnehaha Falls and Lake Calhoun are just a bus ride away, and they are all so beautiful!
3.  I really love guavas and papayas so I think an ice cream flavored like either one of those fruits would be so chill, no pun intended!

---
Meet the LOC Student Coordinator, Eleanor Hohulin

Hello! I am a junior from outside of Chicago (Glen Ellyn IL). I am an Art History major and have Media and Environmental Studies minors. At Mac, besides LOC, I am a tour guide and have a radio show. Additionally, I love tea and biking. I am so excited to be the student leader for next year to continue in my third year apart of LOC.
I have always loved meeting new people. That is what propelled me to apply for LOC before my first-year at Mac, looking at this very page. I continue to meet new people and engage in deep relationships through this group. I've met close friends, mentored and been mentored, and built deep connections through reflection with new friendly faces in the Macalester community and beyond.
Through LOC, I have volunteered at WISE–Women's Initiative for Self Empowerment, an afterschool group focused on supporting female identifying teens working on English and applying to college's, and at Open Door Learning Center where I taught pre-beginning English. These two volunteer experiences have been immensely different, but both fostered trusting mentoring and teaching relationships with communities throughout the Twin Cities. Exploring the Twin Cities is one of my favorite parts of going to Macalester, and LOC has further expanded my conception of the Twin Cities, helping me become familiar early on with all the Cities have to offer and enabling me to get off campus every week.
I'm looking forward to another year of service, reflection, and community with new faces to Mac. I can't wait to meet you all and begin to explore the Twin Cities and our passions and commitments together!