Lives of Commitment 2019-20 Student Leaders
The student leaders were asked to answer the following questions:
1) What is your favorite thing about LOC?
2) What is your favorite thing to do in the Twin Cities?
3) If you could make any ice cream flavor that doesn't exist, what would it be?
Nethmi Bathige
Columbo, Western Sri Lanka

1) My favorite part about LOC the warmth and happiness that the community brings to me while sharing our stories each time we meet up every week. I also loved meeting my study buddy at my volunteer site and waiting to hear the stories he has to say.
2) Visiting the Como Conservatory and the Minneapolis Institute of Art!
3) The Shire Pudding Ice Cream (From Lord of the Rings)

---
Dalton Greene
Wheeling, WV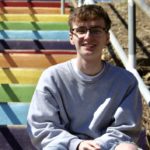 1) My favorite aspect of LOC has been getting to know all the incredible people affiliated with it! From fellow members on campus to local activists in the communities we work with, there are so many opportunities to really connect with and learn from some truly inspiring individuals. It creates such a special community of support and encouragement that's been so central to my time at Mac.
2) I absolutely love going to all the bookstores in the Twin Cities. There are so many small, locally owned ones to explore, and it's usually the case that the more modest ones have the real gems. I guess that just proves you can't judge a book by its cover. (haha get it)
3) This isn't exactly groundbreaking, but I've never seen it in person, so I'm going to claim it: trail mix ice cream. Nuts, raisins, M&Ms, the whole shebang thrown into some vanilla ice cream….phenomenal.

---
Leen Diab
Belmont, MA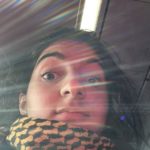 1) I loved getting to know people at the LOC retreat before the normal student orientation. It definitely gave me the confidence to walk up to people and make many many friends I wouldn't have otherwise. It was also really fun and just a wonderful welcome to Macalester!
2.) I'd say my favorite thing to do in the Twin Cities is go to the river. Especially at night with close friends, enjoying some tea outside regardless of the weather. The river is beautiful in varying ways depending on the season, and it's nice to watch as the ice forms and melts and the water level changes.
3) I would maybe make it the flavor of lime peels? I really like the bitter aftertaste and I feel like the texture would be really nice.
---
Sarah Gotbetter
Weston, MA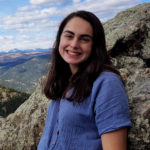 1) My favorite thing about LOC is getting to connect deeply with people outside of my everyday routine. Both connecting with those at the sites we are working with every week, as well as monthly, with all of the LOC at Large Group.
2) My favorite thing to do in the Twin Cities is explore with my friends and find new coffee shops and restaurants to enjoy!

3) If I could make any ice cream flavor that doesn't exist, I would make a dairy free ice cream that's a mix of mint chocolate chip, Oreo and cookie dough 🙂
---
Katie Herrick
Cushing, WI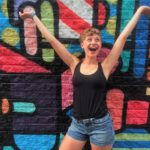 1) Definitely the community! I have met the most incredible people through LOC, and cherish the connections I have with the other first-years, sophomore leaders, and the people I volunteer with at my site.
2) I absolutely love getting lost (which I excel at) and discovering something new. Sometimes I will pick a new part of the city and wander around with no particular destination, and I inevitably stumble upon an incredible hole-in-the-wall restaurant, quaint little bookstore, or beautiful pocket of nature. You can meet some really fascinating people that way too!
3) I know this sounds crazy, but maybe apple and peanut butter? It's one of my favorite snacks, and I think ice cream with real apple chunks and swirls of peanut butter would be FABULOUS. Ooh, and maybe add a sprinkle of cinnamon!
---
Audrey Kellar
Duluth, MN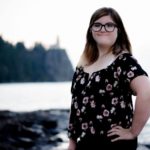 1) There are so many things I love about LOC! One of my favorite things was the pre-orientation retreat. While I was nervous about leaving my family, I walked into such an open and loving community. Everyone truly cares about each other, and it was so nice to be able to go into the year with a handful of people I already knew. I was able to build and grow those relationships as the year went on.
2) I love exploring the city to find new coffee shops! It's a nice way to get off of campus while also finding new places to work on homework. Plus, I love me a good cup of coffee.
3) I'd create an ice cream that tastes exactly like the honey walnut cream cheese. That way, I wouldn't have to feel bad about eating the straight cream cheese!
---
Katie McCarthy

Mequon, WI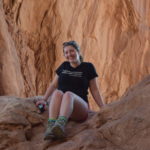 1) Meeting amazing people has been my favorite part of LOC by far. I am beyond grateful for all of the fellow LOCers, including the sophomore and staff leaders!! I feel as if everyone involved in LOC is a true friend of mine–I even met my closest friends (and now roommates) through LOC. I also have loved hearing stories and learning lessons from those I volunteer with, both my students and the staff members.
2) On weekends you'll find me at a nearby lake or at a tea/coffee shop–there are so many coffee shops in the area that you could go to a new one each month and still not visit them all!
3) Lychee and kiwi 🙂
---
Adele McLees
Atlanta, GA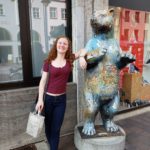 1) My favorite thing about LOC is the community the program creates. While I volunteered in high school, I did so independently. Having the LOC community, full of individuals similarly motivated to myself, has provided a space for me to intentionally reflect on my experiences and come to have a deeper understanding of myself, on top of having support while continuing my commitment to volunteering.
2) It's difficult to pick one favorite thing of mine to do in the Twin Cities – there are so many wonderful places and activities! If I have to pick, though, I'd say eating. There are so many amazing restaurants with all different types of food, from Indian to Vietnamese to Ethiopian, not to mention the carbs available right across the street from campus at Breadsmith and Nothing Bundt Cakes.
3) If I could make an ice cream flavor that doesn't exist, it would be rose chocolate.
Meet the LOC Student Coordinator, Isaac Hart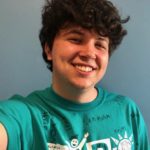 Hi all! I am a senior from Evanston, IL majoring in Educational Studies and Creative Writing. At Mac, besides LOC, I volunteer in a fourth grade classroom at a local elementary school, I play intramural soccer, I am a part of Macalester's climbing club, and I am a member of the transgender identity collective. I am so excited to be the student leader for next year and to continue in my third year a part of LOC.
I love meeting new people and making connections with those around me, and that draw toward community is what brought me to LOC. Over my years in this group, I have found such a genuine sense of love. I have made such incredible relationships through this community and the way that these friendships function is so different than anything I've ever experienced. LOC has provided me with a space to be completely honest and open with myself and in doing so, I have been able to build stronger bonds with people inside and out of LOC. I feel so proud and privileged to be a part of a community where members are so dedicated to loving themselves and others.
Through LOC, I have worked with CLUES (Comunidades Latinas Unidas en Servicio) a Latinx community center where I volunteered as a teacher in their Creando Juntos youth program. I also volunteered at Rondo Community Library where I was a tutor in their homework help center. Outside of LOC, I have also volunteered in St. Paul with Keystone Community Services' Community Kids program where I was a teacher's assistant and tutor in an after school program for 5th and 6th graders. In many ways, these civic engagement experiences have been very different, but they all fostered trusting mentoring and teaching relationships with communities throughout the Twin Cities and I have found so much joy in connecting this work with youth with my path in the Educational Studies major. Despite coming to Mac from the midwest, I was pretty unfamiliar with the Twin Cities before coming to Macalester. LOC has really helped me to expand my conception of the Twin Cities by pushing me to become familiar early on with so much of what the Cities have to offer and by enabling me to get off campus every week.
I'm looking forward to another year of engagement, reflection, and community with new faces here at Mac. I can't wait to meet you all and begin to explore the Twin Cities and our passions and commitments together!