Off Campus Student Employment
Off-Campus Student Employment (OCSE) is an opportunity for students to earn their financial aid awards (work-study) while working at a local nonprofit organization or elementary school.

The program is designed to create institutional partnerships between Macalester and local community organizations. The focus of the program is to encourage students to serve as a bridge between the local organization and Macalester, enabling both to build on the varied resources of the other. Community organizations receive assistance from a college student approximately 7-10 hours per week. The college pays the student's entire wage.
The program provides an opportunity to contribute to community change by dedicating a significant amount of time to a local project. Students in the program learn about community issues and develop new skills while providing a needed service. All of the students in the program are required to attend a monthly training workshop on nonprofit issues, models of social change, and skill building techniques. Workshops are held one Monday evening each month.
How are Organizations Chosen?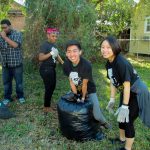 Organizations that meet the following criteria are encouraged to apply:
Nonprofit status (501-C3) or public sector (local school, local government)
Have significant projects suitable to a student worker. Federal guidelines require that the work not be administrative in nature. Having contact with clients or direct service is important.
Can identify a supervisor who will provide training and on-going supervision and a community work site.
Supportive of the idea of developing a deeper partnership relationship with the college and have some type of current involvement with the college.
How are Students Chosen?
Students submit a resume and apply to be part of the program. Only sophomores, juniors and seniors who have been granted a student employment award are eligible to participate. Awards cannot be split between off-campus and on-campus positions. The entire award must be earned off-campus.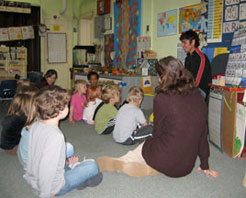 Once approved by the Community Engagement Center, students are eligible to interview with any of the approved organizations. Students are responsible for their own transportation to the sites and are encouraged to think through the logistics of transportation before applying to the program. They also must agree to attend monthly training sessions at Macalester. Preference will be given to students who can articulate how they will serve as a bridge between Macalester and the nonprofit they work with. The Community Engagement Center and the nonprofit organization can help students brainstorm ways to further develop a partnership between the two organizations.
Call Derek Johnson with any questions at 651-696-6363 or email [email protected].