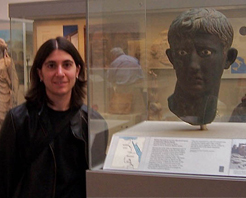 Renee Schaefer '04
St. Paul, Minnesota
Classics
A passion for classics and computers
In what at first seems like a departure from her classics and psychology double major, Renee Schaefer's career post-Macalester has taken her into the world of information technology. After graduation in 2004, she studied computer network engineering at Saint Paul College and has worked at young and growing product companies, helping build teams and shape products. Her IT work has focused on technical communications but also included technical support, product documentation, and training. She currently works at Code 42 Software in Minneapolis, the makers of CrashPlan backup software.
But Renee emphasizes that her classics foundation is never far away. "Few days go by where I don't hear Beth Severy and my other classics professors in my head, critiquing my writing as I work on technical documentation or a post for our company's blog," Renee says. "They really pushed me when I was at Macalester, in particular with my writing, and for that I am extremely grateful."
When she was a student, Renee focused her classics studies mostly on Roman civilization and culture, with a particular interest in art history. Her art history work included an independent project
exploring the influence of Egyptian elements in Roman Imperial portraiture. For her capstone project, Renee drew on her experience as president of the college's Student Athlete Advisory. She used the Socratic dialog format to explore the role of athletics in a modern liberal arts education, a topic at the forefront of the NCAA following the 2001 publication of the Mellon Foundation's book The Game of Life.
Even though her days are focused on IT, Renee's love for classics hasn't faded. She attends classical plays, reads fiction based on Roman history, and visits her old friends Hadrian, Augustus, and Septimus Severus at museums whenever possible. Outside her office, you can find Renee around the Twin Cities at concerts, running, bicycling, or coaching Nordic skiing. She also currently serves on the Saint Paul College Computer Science Advisory Committee and was on Macalester's M-Club's Board of Directors from 2004 to 2007.