Welcome to Educational Studies
The Educational Studies Department, in collaboration with colleagues on campus and in the community, strives to:
provide opportunities for students to engage in the study of education as an interdisciplinary field of inquiry and advocacy;
prepare teachers to provide social service and leadership in culturally diverse, economically challenged, public educational systems; and
develop both contributions within the context of Macalester's continuing commitments to academic excellence, internationalism, cultural pluralism, and civic engagement.
As a selective liberal arts college in a resource-rich urban setting, Macalester offers distinctive opportunities to fulfill this multifaceted mission.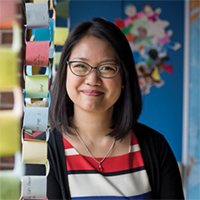 I'm Different, Just Like You
Regina Santiago '07 has her own immigration story; sharing it helps students feel safe to share theirs.
---