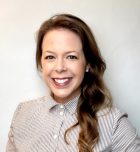 Assistant Professor, English
Modernism; 20th/21st-century British literature; Irish studies; Caribbean and diasporic literature; Art theory, archives & visual culture; Eco-studies; Queer theory and gender studies
Old Main, 206
651-696-6515
aelkins@macalester.edu
she/her/hers

Amy E. Elkins (Ph.D., Emory University; M.A., University of Virginia; B.A., Hendrix College) teaches courses on modern and contemporary literature and interdisciplinary studies. Professor Elkins has special interests in art theory and visual culture, intersectional feminist approaches to the archive, and experimental academic writing. She also serves as the Modern Language Association's elected delegate for Women and Gender in the Profession and has received fellowships from Yale University's Beinecke Rare Book and Manuscript Library, the Rare Books School, and the Fox Center for Humanistic Inquiry. Her first book Crafting Feminism from Literary Modernism to the Multimedia Present is forthcoming from Oxford University Press. Her essays have appeared in journals such as PMLA, Contemporary Literature, Interdisciplinary Literary Studies, and Tulsa Studies in Women's Literature. Professor Elkins also interviews writers on visual culture for the Los Angeles Review of Books . As an artist, theorist, and scholar, she emphasizes a dynamic, global approach to research and student-driven inquiry across media.
Areas of Study:
Modernism
20th/21st-century British literature
Irish studies
Caribbean and diasporic literature
Art theory, archives & visual culture
Eco-studies
Queer studies
Fall 2021 Courses:
ENGL 294-04: Zadie Smith and Ali Smith
ENGL 401-01: Projects in Literary Research: Research-Creation as Social Justice
Selected Essays:
"'Draw deep from your palette': Lorna Goodison's Poetics of Pigment," Contemporary Literature 61.1 (Spring 2020): 89-117.
"Typestruck: On Women and Writing Machines," co-written with Glenn Adamson,
Modernism/Modernity Print+ Visualities series, edited by Alix Beeston, July 2020. online
"Uncovering Jean McConville: Seamus Heaney's Poetic Cartography of the Disappeared," with Roan O'Neill (collaborative research project with Macalester advisee, funding from Mellon Foundation Lifelong Learners), Interdisciplinary Literary Studies 22.3 (2020): 218-39.
"From the Gutter to the Gallery: Berenice Abbott Photographs Mina Loy's Assemblages," PMLA Little Known Documents 134.5 (2019): 1094-1103.
Selected talks:
"The Weaver's Handshake at the Edge of the Archive." Modern Language Association, Tactile Poetics panel. Washington, DC, January 2022.
"Collage Theory at the Activist Border." Modern Language Association, Feminist Ethics of Protest and Assembly panel. Virtual, January 2021.
"Lo-Fi Modernism" roundtable speaker. Modernist Studies Association. Toronto, October 2019.
"Process & Praxis: Creative Pedagogies in Literary Studies," Cardiff University, public teaching workshop, June 2019.
"'Homemade Tech': Virginia Woolf, Zadie Smith, and the Art of Critical Making," University of Southern California, April 2019.
Links:
Website: http://amyelkins.net
Making "Splendid Things" Online Archive: https://potterswheel.omeka.net