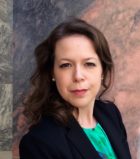 Assistant Professor, English
Modernism; 20th/21st-century British literature; Irish studies; Caribbean and diasporic literature; Visual culture and art history; Art theory; Material culture; Gender, sexuality, and feminism
Old Main, 206
651-696-6515
aelkins@macalester.edu
she/her/hers

Professor Elkins teaches courses on modern and contemporary literature from Ireland, the U.K. and the Caribbean, visual culture, and the politics of aesthetics. She completed her PhD in English at Emory University, where she specialized in the intersection of visual art and literature, modernism, and feminist approaches to the archive.  She's working on her first monograph entitled Crafting Modernity, and her writing has appeared or is forthcoming in PMLA, The Los Angeles Review of Books, Journal of Modern Literature, Tulsa Studies in Women's Literature, South Atlantic Review, and The Space Between: Literature and Culture 1914-1945.
Areas of Study
Modernism
20th/21st-century British literature
Irish studies
Caribbean and diasporic literature
Visual and material culture
Art theory
History of art and craft
Gender, sexuality, and feminism
Nonviolence
Fall 2020 Courses
ENGL 262-01: Reading Nature in the Global Novel (Mod 1)
ENGL 400-01: Special Topics in Literary Studies (Mod 2)
Publications
Articles:
"A Stitch in Time: H.D.'s Craft Modernism as Transhistoric Repair, The Space Between: Literature and Culture 1914-1945 12 (2016): online.
"Cross-Cultural Kodak: Snapshot Aesthetics in the Fiction of Virginia Woolf," South Atlantic Review 77.3&4 (2012): 1-20.
"Old Pages and New Readings in Virginia Woolf's Orlando," Tulsa Studies in Women's Literature 29.1 (Spring 2010): 131-36.
Book reviews:
"Touching on Modernism," Review Essay of Haptic Modernism: Touch and the Tactile in Modernist Writing by Abbie Garrington, Journal of Modern Literature 38.1 (Fall 2014): 183-89.
Review of Savina Stevanato, Visuality and Spatiality in Virginia Woolf's Fiction, Woolf Studies Annual 19 (2013): 274-77.
Selected talks:
"The Craft of Survival," American Craft Council Library Salon Series, Spring 2017.
"Modernism Across the Arts" Roundtable, Modernist Studies Association Conference, Fall 2016.
"Multimedia/Multicultural: Art, Literary Craft, and Disorientation in the Political Present," Emory University Fox Center for Humanistic Inquiry Fellows' Luncheon, November 2015.
"Crafty Women: Art, Protest, and the Politics of Making in 20th Century Literature," Emory University Women's Club, October 2015.
"Mina Loy in the Age of Occupy: Trash Assemblage and the Aesthetics of Nonviolent Protest." Association for the Study of the Arts of the Present, September 2015.
"Mother(board) Ireland: Technology, Nature, and Gender in Irish Literature." Modernist Studies Association Conference, November 2014.
"Fractured Optics: Modernism's Glass Aesthetic." Modernist Studies Association Conference, August 2013.
"Elizabeth Bowen's Haunted Cartographies: The Cuala Press and the Visible Wor(l)d of Irish Politics in Seven Winters." American Conference for Irish Studies, February 2013.
Education
Ph.D. Emory University
M.A. University of Virginia
B.A. Hendrix College
Links
Website: http://amyelkins.net
Making 'Splendid Things' Archive: https://potterswheel.omeka.net