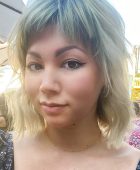 Visiting Assistant Professor, English
Fiction (short story and novel) Fable, folktale, and fabulism, The New England gothic, Genre bending
Cody Klippenstein is a fiction writer. Her work has won the Zoetrope: All-Story short story prize, The Fiddlehead short story contest, and been published in Epoch, The Malahat Review, the anthology After Realism: 24 Stories for the 21st Century, and elsewhere. She holds an MFA from Cornell University, where, as a lecturer, she also taught creative writing workshops and courses in English literature and composition. She is currently working on a novel.
Areas of Study:
Fiction (short story and novel)
Fable, folktale, and fabulism
The New England gothic
Genre bending
English course for Spring 2023:
ENGL 150-05 Introduction to Creative Writing