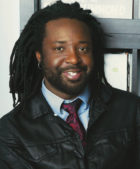 Writer in Residence and Associate Professor, English
Creative Writing, fiction, post colonial literature, southern literature, Latin American fiction, criticism and blogs.
Old Main, 214
651-696-6643
mjames1@macalester.edu
Marlon James joined the English department as Professor in 2007, long enough to see some of his own students published. He was born in Kingston, Jamaica, in 1970. James' second novel, THE BOOK OF NIGHT WOMEN, won the 2010 Dayton Literary Peace Prize, The Minnesota Book Award and was a finalist for the 2010 National Book Critics Circle Award in fiction, and an NAACP Image Award. He was also Go On Girl Book Club's Author of the year. His first novel, John Crow's Devil (2005), was a finalist for the Los Angeles Times Book Prize and the Commonwealth Writers Prize, and was a New York Times Editor's Choice. James graduated from the University of the West Indies in 1991 with a degree in Language And Literature, and from Wilkes University in 2006 with a Masters in creative writing. His short fiction has appeared in Esquire, Kingston Noir, and Silent Voices, and his nonfiction has appeared in Granta, Publisher's Weekly and The Caribbean Review of Books. In his third novel, A Brief History Of Seven Killings, James is exploring multiple genres: the political thriller, the oral biography, and the classic whodunit to confront the untold history of Jamaica in the late 1970's; of the assassination attempt on Bob Marley, and the country's own clandestine battles of the cold war.
Fall 2018 Courses
ENGL 282-01 Crafts of Writing: Fiction: Creative Non-Fiction (How to Tell a True Story)
ENGL 494-01 Advanced Workshop: Fiction (Fifteen Weeks to the Novel)
Fellowships and Honors
Man Booker Prize (2015)
Minnesota Book Award for Fiction (2015)
Anisfield-Wolf Fiction Prize (2015)
OCM Bocas Fiction Prize for Caribbean Literature (2015)
Council For The Institute Of Jamaica Silver Musgrave Medal For Distinguished Eminence in the Field Of Literature (2013)
Go On Girl Book Club Author Of The Year (2012)
The Dayton Literary Peace Prize (2010)
Finalist, National Book Critics Circle Award For Fiction (2009)
Finalist, NAACP Image Award (2009)
Finalist, Commonwealth Writers Prize (2006)
Publications
Fiction
A Brief History of Seven Killings (novel) Fall 2014
The Book Of Night Women, (novel) 2009
John Crow's Devil, 2005
"How To Be A Man" (Esquire Magazine) 2013
"Immaculate" (Kingston Noir) Akashic Books, 2012
"Look What Love Is Doing To Me,"(Bronx Noir) Akashic Books, 2007
"War In Babylon,"  (Silent Voices) Ex Machina Press, 2007
"The Last Jamaican Lion," (Iron Balloons: Hit Fiction From Jamaica's Calabash Workshop) Akashic Books, 2006
Nonfiction
"The Other Caribbean City" [New Orleans: What Can't Be Lost: 88 Stories And Traditions From The Sacred City] Lee Sophia Barclay, ed. The University of Louisiana at Lafayette Press, (Fall 2010)]
"Growing Up With The King Of Pop," [Granta. John Freeman, ed. (June 2009)]
"Jean Rhys' Worthless Women," [The Caribbean Review Of Books. Nicholas Laughlin, ed. MEP Publishers (2008)]
 "When You're Not White Enough To Write a Black Novel." [The Caribbean Review Of Books. Nicholas Laughlin, ed. MEP Publishers (2006)
Review: The Island Beneath The Sea, by Isabelle Allende  [Publisher's Weekly. Jonathan Segura, ed. Reed Business (April 2010)]
Review: Wonder Boy: Junot Diaz's The Brief Wondrous Life Of Oscar Wao [The Caribbean Review Of Books. Nicholas Laughlin, ed. MEP Publishers (2008)]
Review: Words To Our Now: Imagination and Dissent,  by Thomas Glave" [The Caribbean Review Of Books. Nicholas Laughlin, ed. MEP Publishers (2006)]